Apple (NASDAQ:AAPL) seemed to have pleased Wall Street today, and added about 12% to the company's liquid marketable assets. That now totals $110 billion or about $116.60 per share.
To be clear, this amount includes cash, short-term investments and long-term marketable securities.
These charts show how the company's cash balance has grown over recent quarters, first the total amount: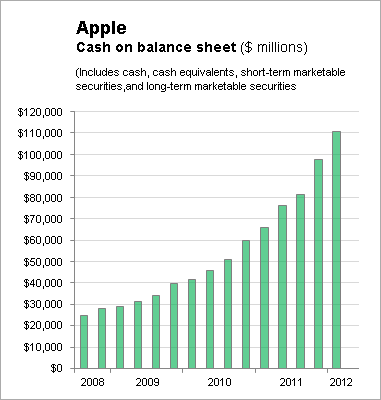 And here's the total amount per share: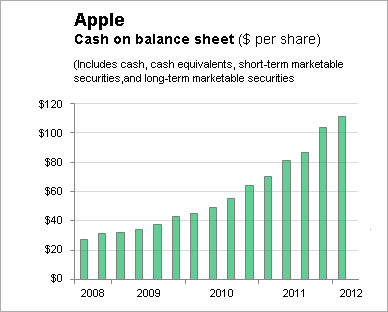 All told, the company's cash is up about 67% compared to a year ago and it has well more than doubled over two years.
As of the close, that $116.60 represented about 20% of the price of the stock (although I note that it's up in the after-hours market).
Dividend, Not "Toga Party"
As CEO Tim Cook said back in February, the company will not "have a toga party and do something outlandish," and that people don't have to worry that the cash is "going to burn a hole in our pocket."
No, instead of a toga party, the company is planning to repurchase shares, $10 billion worth. And the company is expected to pay a dividend of $2.65 per quarter, which amounts to $10.60 per share. That would cost another $10 billion or so.
Can the company afford it? Looks that way to me. Apple's net income can certainly support it, and even if its net income was zero, there's plenty of cash in Apple's coffers - and it's still growing.
Disclosure: I am long AAPL.