I know a few savvy folks who are trying to invest in Chinese stocks whose incredible gains over the last year have certainly fattened some pockets. "Security," they say, "has got to be a big play there – it's China! You know, Big Brother and all." Generally, I'd tell them to take a look at England – to London, specifically – where there are more still and video cameras per capita than anywhere else in the world. But the EWU's not sexy to them (perhaps it should be, considering its performance vs the S&P 500 this year). So I ruminate: There are two pure plays currently traded as ADRs on US exchanges that have different takes on security: China Fire & Security Group (NASDAQ:CFSG) and China Security & Surveillance Tech (NYSE:CSR). Perhaps folks are interested in these.
China Fire & Security Group, through its subsidiaries, "engages in the design, development, manufacture, and sale of various fire safety products for the industrial fire safety market." (Yahoo!) They also build equipment that monitors temperatures and other conditions in industrial settings, infrared detectors for the petrochemical industry, and various types of extinguishing systems for the telecom, chemical, construction, and electronics markets. Finally, CFSG retrofits older buildings' suppression systems to bring them up to code.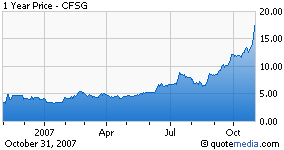 China Security & Surveillance Technology, Inc., through its subsidiaries, "engages in the manufacture, distribution, installation, and maintenance of security and surveillance systems, as well as in the development and integration of related software in China." (Yahoo!) While many of CSR's products are recorder-based – DVRs, mobile and embedded – much of their product line is inherently electronic in nature: DVR compression boards, video capture cards, decoders, switches, and fiber optic systems. As you might have guessed, much of the company's product line goes to the government, airports, construction sites, tunnels, hotels, banks, mines, and railways.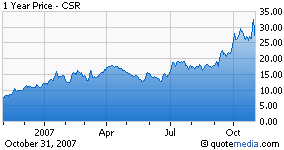 Are either of these seemingly fundamental infrastructure plays worth your attention? CSR is capitalized at roughly double that of CFSG, but with market caps of ~$1B and ~$0.46B, respectively, both of these companies are small. Looking forward, CSR sports a P/E of 10.16, compared to CFSG's 26.92 (they currently serve up P/Es of 33.65 and 47.95). Through June of 2007, though, both companies had nearly the same net income - $4.26M (CSR) and $4.24M (CFSG). And both carry more total liabilities than some investors would care to hold: $166.75M (CSR, yielding a D/E of 1.30) and $20.11M (CFSG, yielding a D/E of 0.56). With that load of debt, we're looking at ROE for CSR of 14.69% and 52.19% for CFSG. The profit and operating margins are better at CFSG by a hefty, uh, margin, and CFSG's cash from operations, while light at $0.22M, is better than CSR's -$2.21M.
Further, I offer a cautionary note: while CSR might, as a reasonably established play in a frothy, yet-to-settle market, march along solo, I fear that a company such as CFSG could easily be upstaged by a larger conglomerate that would not consider acquiring it (though it could be), but rather overtake its business. There are petrochemical and industrial companies that do not use CFSG's products. Some of those companies develop proprietary components, and others source from external suppliers. If any of the hyper-industrial companies including Sinopec, Petrochina, Yangzhou Coal, or others, decided that it was in their interest to build up and/or spin off their componentry fabs, we could see a specialized supplier such as CFSG "go up in smoke".
Most of you will probably want to run more numbers before considering either of these equities. I've been watching both, but I have to say that the companies' debt load is off-putting: they are both expensive – from a present earnings, cash flow, debt, and product line standpoint. And if predicted contracts don't materialize, then they'll both be costly on a future earnings basis, as well. While I nearly opened a position in CFSG around $12/share, where it languished for several days, I ultimately didn't, because I feared it was somewhat rich at that level. And this isn't a case of "if you loved it at $12, you'll love it at…" I'm not chasing an equity that's appreciated by nearly 50% in roughly two weeks. And I don't think I believe in the product array enough to stomach a significant pullback that might "improve" its financials. As I write this (at 11AM EST on Wednesday), CFSG is positive by 2.5%, but CSR is being taken to the cleaners again: it's down 13%.
Disclosure: none