Mad cow disease was discovered in a dairy cow from central California, according to a new report from the U.S. Department of Agriculture. This was the first case of mad cow disease in over six years and was found by the USDA's routine testing procedures. According to a Bloomberg article on the story, the cow meat was not at a facility that would introduce the meat to the human food supply.
Mad cow disease first hit the U.S. livestock industry in 2003. According to the International Trade Commission via Bloomberg, it had a significant impact on the beef industry.
In the year following the discovery of the 2003 case, U.S. shipments of beef plunged 82 percent to 460.3 million pounds as dozens of countries closed their borders to exports, government data show. Losses to livestock producers and meatpackers including Tyson Foods Inc. (NYSE:TSN) and Cargill Inc. ranged from $2.5 billion to $3.1 billion annually from 2004 through 2007, the International Trade Commission has said.
Today's mad cow report could present trading opportunities in the marketplace. Besides individual companies and livestock futures there are currently three ETN products that focus on livestock. It's important to note that livestock includes live cattle and most often lean hogs. All of the products track futures based indexes. Here's the list from ETFDB.com.

Of the three ETNs, COW clearly stands out in assets and daily volume. It was the first livestock ETN to launch in 2007 and has an expense ratio of 75bps. COW tracks an index with a target of approximately 63% livestock and 36% lean hog exposure. In addition there is a U.S. Treasury income component to this total return index.
The UBC ETN was launched second in April of 2008 and was priced to compete at 65bps. It tracks an index that is does not simply buy front month futures but instead owns contracts three and six months out in an effort to avoid contango.
Finally, LSTK has a surprisingly low level of assets and volume but it is the newest of the group having launched in April of 2011. It tracks an index that uses a dynamic futures strategy based off market conditions. LSTK charges a 75bps expense ratio.
A quick check of the markets today showed volume in just one of the ETNs, COW. COW traded 111,000 shares according to Yahoo Finance and was down 1.78% for the day. Here's the Yahoo Finance trade data.

Taking a step back and viewing a one year chart comparing COW to its closest competitor, UBC, shows a performance advantage in COW's favor during this period. Here's the comparison chart from stockcharts.com.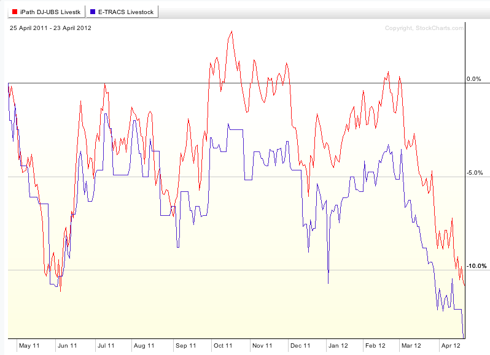 Clearly COW appears to be the best option to position a livestock trade in the ETP space. COW has more attractive AUM, volume and recent performance and offers a convenient benchmark for this volatile sector in commodities.
Disclosure: I have no positions in any stocks mentioned, and no plans to initiate any positions within the next 72 hours.