1. How is Conoco Phillips (NYSE:COP) dividing itself?
Conoco is breaking up its upstream and downstream businesses. The upstream business will retain the Conoco Phillips name and ticker symbol COP. The downstream business will be called Phillips 66 and trade under the symbol PSX.
2. Which company is the current CEO going to?
James Mulva, the current CEO, is retiring after the spinoff. Ryan Lance will be the CEO of the new Conoco, and Greg Garland will be the CEO of Phillips 66.
3. What does the distribution arrangement look like for current shareholders?
For every two Conoco Phillips shares that you own as of April 16th, you will receive one share of Phillips 66. If you own an odd number of Conoco Phillips shares, your odd share will be sold on the open market and you will receive a cash payment for the odd share.
4. When does the distribution take place?
After the market close on Monday, April 30th.
5. Can I buy Phillips 66 or the post-spinoff Conoco now?
Yes. Shares of each company are trading on a "when issued" basis. The temporary ticker symbol for Phillips 66 is PSX-WI. The temporary ticker symbol for the post-spinoff Conoco is COP-WI. After next Monday's close, each share will lose the "-WI" and start trading under their respective standalone names.
6. How's the "when issued" market for the shares looking right now?
The Phillips 66 shares are currently trading at $35.68. The post-spinoff Conoco is currently trading at $54.52. The combined Conoco is trading at $72.33. Let's say you owned 100 shares of Conoco, worth $7,233. Your 50 shares of Phillips 66 would be worth $1,784. Your post spinoff Conoco shares would be worth $5,452. That equals $7,236 in total, implying that the "when issued" market is trading at a negligible premium right now.
7. What will Conoco's dividend look like after the spinoff?
Ryan Lance, the incoming CEO of Conoco Phillips, said he believes that large shareholder distributions enforce discipline. According to the most recent press release from Conoco, the company expects to offer a roughly 4.5% current yield based on market price expectations. Here's the slide from Conoco's PowerPoint presentation:
Click to enlarge image.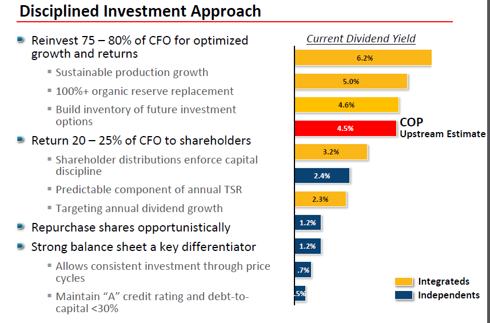 8. What will the Phillips 66 dividend look like?
Greg Garland, the incoming CEO of Phillips 66, mentioned that the initial quarterly payout will be $0.20 per share. If we assume that Phillips 66 pays out $0.80 annually, that is a 2.24% initial yield.
9. What are the expectations of dividend growth going forward?
Both Lance and Garland have told shareholders to "expect annual increases." In the short term, both companies plan to fund dividend growth through asset sales. In the long term, they expect to rely on growing cash flows to provide dividend growth.
10. What if I plan to buy or sell shares after the April 16th cutoff, but before April 30th?
The shareholders who sell the pre-split Conoco stock that is currently trading around $72 per share will be selling their right to receive shares of Phillips 66. If you are looking to buy shares of Conoco before April 30th, you will be buying the right to receive shares of Phillips 66.
Sources for the data above can be found here, here, and here.
Disclosure: I have no positions in any stocks mentioned, and no plans to initiate any positions within the next 72 hours.