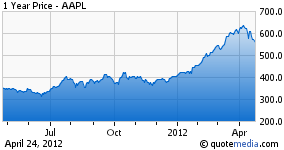 In case you haven't been paying attention, here's something to remember. Apple (NASDAQ:AAPL) doesn't miss. They don't over promise and they certainly don't under deliver. And this quarter was no exception as they notched $39.2 billion in sales, well ahead of analysts' $36.8 billion predictions.
Heading into Apple's Q2 earnings report, investors took the stock down from $644 to $560. It's likely some of those sellers would like those shares back given earnings rose 94% to $12.30 per share year-over-year in Q2. That's impressive growth for a mature company like Apple.
What is truly telling is Apple's guidance back in January. The company predicted earnings would come in around $8.50 per share. Today, that guidance just seems silly. Clearly, Wall Street bean counters underestimated Apple's ability to squeeze profits out of suppliers. Its buy power helped the company expand gross margins to 47.4% from 41.4% last year - likely to the mass chagrin of its supply chain partners including Qualcomm (NASDAQ:QCOM), Broadcom (BRCM) and smaller players such as Triquint (TQNT), Skyworks (NASDAQ:SWKS) and Avago (NASDAQ:AVGO).
The iPhone remains Apple's workhorse. They sold 35.1 million of them in Q2. That was 88% more units than they sold in the white hot Q2 of 2011. Sales of iPads were no slouch either. Consumers bought 11.8 million of them, which doubled last year. Investors interested in seeing who the iPad suppliers are, you can read my previous article here.
And a lot of its success came from successful launches overseas, with international sales responsible for 64% of the company's quarterly revenue.
Going forward, Apple's accountants want folks to believe they'll earn $8.68 on $34 billion in Q3 sales. That's well below the Street's $9.93 and on a $37.45 billion forecast. Should analysts listen and drop their expectations? Probably not.
Disclosure: I am long QCOM.