Procter & Gamble Co (NYSE:PG) is on tap to release last fiscal quarter's results before the opening bell on April 27, 2012.
Who They Are:
The Procter & Gamble Company provides consumer packaged goods in the United States and internationally. The company was founded in 1837 and is based in Cincinnati, Ohio. Procter & Gamble Co trades an average of 11.4 million shares per day and has a marketcap of $183.6 Billion.
Book Value: $23.34
Float Short: 0.51%
What To Expect:
On average, 14 Analysts are expecting a drop of $-0.17 in earnings per share compared to last quarter's results of $1.10. Investors will be looking to see a number north of $0.93 per share based on the earnings estimates.
Analyst estimates range between $0.86 and $0.96 per share.
Here is a look at the fiscal year revenue for Procter & Gamble Co.:
Recent Stock and Valuation Performance:
The current trailing twelve months P/E ratio is 17. The forward P/E ratio is 16.82. From a month ago, the stock has decreased in price -1.20%, with a change from a year ago of 5.34%. When comparing to the S&P 500, the year to date difference is -8.08%.
Revenue growth relative to last year appears to be problematic for management. Comparing year-over-year fiscal years, revenue has declined to $82.56 billion for 2011 vs. $78.94 billion for 2010. The bottom line has falling earnings year-over-year of $11.80 billion for 2011 vs. $12.74 billion for 2010. The company's earnings before interest and taxes are falling, with an EBIT year-over-year of $15.82 billion for 2011 vs. $16.02 billion for 2010. The short interest is relatively low at 0.51%.
Here are the last few quarters, to get an idea how well they perform compared to estimates: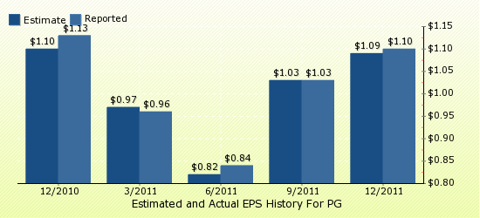 Reported earnings per share compared to the mean estimate. Differences are rounded.
Disclosure: I have no positions in any stocks mentioned, and no plans to initiate any positions within the next 72 hours.
Disclaimer: Robert Weinstein uses information believed to be correct, but is not guaranteed and is not independently checked for accuracy You may wish to use this article as a starting point of your own research with your financial planner.