By Renee O'Farrell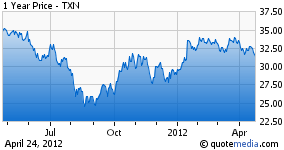 Texas Instruments trumped analyst estimates when it reported its first quarter 2012 performance after the bell on April 23, 2012. The company reported earnings of 22 cents a share, beating estimates of 17 cents a share. Its revenue also surpassed analyst predictions, coming in at $3.12 billion versus expectations of $3.06 billion. "As we expected, our business cycle bottomed in the first quarter, and early signs of growth began to emerge," said CEO Rich Templeton. "Orders were up 13%, and backlog is growing again.
Particularly encouraging is the breadth of increased orders across geographical regions and markets, including the industrial sector. For the second quarter, Texas Instruments is estimating earnings per share from 30 cents to 38 cents and revenue from $3.22 billion to $3.48 billion. "The second quarter's results will be negatively affected by about $100 million of acquisition charges and about $10 million of restructuring charges. Combined, these items will impact EPS by about 6 cents."
Texas Instruments rose from $31.89 at market close on April 23 to open up 2.6% at $32.71 share on April 24, but it all burned off by 10:30 a.m. The company goes ex-dividend on April 26, paying a quarterly dividend of 17 cents on May 21. You'd think with beating analyst estimates and the upcoming dividend, the price would be driven higher.
So, what gives? Is Texas Instruments worth the investment?
Texas Instruments is trading at roughly $32 a share. Last year, the company boasted earnings per share of $2.21, beating consensus estimates of $2.12. This year, analysts are expecting the company's earnings to fall to $1.76 a share, rising to $2.37 a share next year, making its forward P/E 13.5 - a discount to its peers' average of 18.83. Texas Instruments' 68-cent dividend (2.10% yield) looks pretty solid. The company has a payout ratio of just 30% and a history of increasing its dividends that dates back more than 10 years.
Texas Instruments also has strong hedge fund interest. Andreas Halvorsen's Viking Global initiated a new position in the company during the fourth quarter, while Jean-Marie Eveillard's First Eagle Investment Management and Legg Mason Capital Management only marginally reduced their respective positions in the company.
UBS downgraded its action on the company from buy to neutral on April 2, 2012, but I disagree. I think Texas Instruments is in a good position to meet customer demand - both physically and in terms of features. It has the acquisition of National Semiconductor to its credit that should serve to increase its already large open capacity. Moreover, while its clients have recently reduced their inventories of Texas Instruments chips, right now they are keeping those levels steady, boosting the company's sales. While the company's growth could be constrained somewhat due to lackluster baseband sales, going forward, I think Texas Instruments is going to see growth from an increased demand in smart phone, PC, TV and automotive markets. There is also solid opportunity for the company in its higher-margin analog and embedded businesses. I recommend the company as a buy.
In contrast, competitor Qualcomm (NASDAQ:QCOM) is warning that supply constraints could limit its revenue. "At this stage we cannot secure enough supply to meet the increasing demand we are experiencing," said CEO Paul Jacobs. "Demand went so far ahead of availability that we've decided to start spending more money to get more supply as soon as possible." Jacobs told Reuters, "Any time we can't make a customer totally happy I'm going to worry. You don't want to give a customer a reason to go elsewhere." But isn't the company not being able to meet demand a cause to change suppliers? Almost 50% of mobile devices use Qualcomm's technologies and it has roughly two-thirds of the device chipset market share, but if it can't deliver those numbers could fall drastically.
Qualcomm recently traded at $62 a share. The company beat analyst earnings estimates last year, reporting $3.20 a share on expectations of $3.18. The consensus is that Qualcomm will earn $3.74 a year this year, rising to $4.17 next year, making its forward P/E roughly 14.89. But, if the company doesn't have the capacity to meet that demand, these numbers could be a bit high. Qualcomm pays a $1.00 dividend (1.60% yield) on a 32% payout ratio. Plus, the company has increased its dividend every year since 2003. In spite of these numbers and strong demand for its products, I can't recommend Qualcomm until there is something to indicate it will be able to rise to the occasion.
Nvidia (NASDAQ:NVDA) is also warning of delays as it ramps up its manufacturing technology - and its numbers aren't much better. It recently traded at $13 a share. Last fiscal year, the company's earnings were 95 cents a share, beating estimates of 94 cents. This year, analyst consensus puts Nvidia's earnings at 69 cents a share, rising to 91 cents next year, making its forward P/E 14.29. Nvidia does not pay a dividend. With numbers like this, Qualcomm or Texas Instruments looks far better, especially the latter.
Intel (NASDAQ:INTC) has its own risks, but the company could be another option for investors wanting to dip into the "chip" game. It is trading at roughly $27.50 right now. Last year, the company beat analyst earnings estimates, bringing in $2.39 a share over a $2.37 consensus. Analysts expect Intel will be able to grow its earnings to $2.49 a share this year, moving to $2.68 next year. This makes Intel's forward P/E 10.26 - the lowest of the companies considered here. Intel also pays a higher dividend than Qualcomm or Texas Instruments, at 84 cents a share (3.00% yield) and it has a low 34% payout ratio.
Disclosure: I have no positions in any stocks mentioned, and no plans to initiate any positions within the next 72 hours.