Ford Motor Co (NYSE:F) is scheduled to release last fiscal quarter's results before the opening bell on April 27, 2012. Let's take a look at how Ford Motor Co has done in recent quarters.
Who They Are:
Ford Motor Company engages in the development, manufacture, distribution, and service of vehicles and related parts worldwide. The company operates through two sectors, Automotive and Financial Services. The company was founded in 1903 and is based in Dearborn, Michigan. Ford Motor Co trades an average of 43.7 million shares per day and has a marketcap of $43.1 Billion.
Book Value: $3.94
Float Short: 3.87%
What To Expect:
Analysts estimate an advancement of $0.16 in earnings per share compared to last quarter's results of $0.20. The reporting quarter's estimated mean earnings are $0.36 per share. For the last analyst update, a low of $0.30 and a high of $0.45 per share is what Wall Street is anticipating.
Here is a look at the fiscal year revenue for Ford Motor Co.:
Recent Stock and Valuation Performance:
Looking at the price movement over the last month, the stock has fallen in price -9.05%, with a one year change of -26.44%. When comparing to the S&P 500, the year to date difference is -2.95%.
Revenue growth relative to last year appears to be problematic for management. Comparing year-over-year fiscal years, revenue has declined to $136.26 billion for 2011 vs. $128.95 billion for 2010. The bottom line has rising earnings year-over-year of $20.21 billion for 2011 vs. $6.56 billion for 2010.The company's earnings before interest and taxes are falling with an EBIT year-over-year of $11.37 billion for 2011 vs. $12.81 billion for 2010. Rising revenue along with rising earnings is a very good sign and what we want to see with our companies. Be sure to check the margins in the earnings release to make sure the bottom line is keeping up with the top line.
Here are the last few quarters to get an idea how well they perform compared to estimates: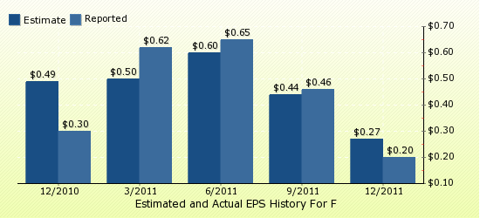 Reported earnings per share compared to the mean estimate. Differences are rounded.
Disclosure: I have no positions in any stocks mentioned, and no plans to initiate any positions within the next 72 hours.
Disclaimer: Robert Weinstein uses information believed to be correct, but is not guaranteed and is not independently checked for accuracy You may wish to use this article as a starting point of your own research with your financial planner.