According to Paul La Monica at CNN Money, the level of insider selling is near the highest that it has been in a decade. Specifically, close to 1,800 S&P 500 executives cashed in shares over the most recent three-month period.
Does this mean that the "smart money" is leaving equities? Or do perma-bears love to point at everything and anything that strengthens their permanently pessimistic viewpoint?
Historically, insider buying is far more "trade-worthy" than corporate insider selling. Execs may sell shares to diversify assets, prepare for retirement, make a large discretionary purchase or protect against stock price depreciation. On the flip side, however, an insider's chief motivation to buy company stock is to make money from capital gains - he/she thinks the stock price is going higher.
Still, the potency of insider info - buying or selling - is suspect. For example, the majority of execs in 2008 were buying before the systemic collapse. In fact, according to Mark Hulbert, most insiders were more bullish in January 2008 than they were in October 2007 - when the bear and the recession first began.
Questions regarding the helpfulness of insider purchasing info also arise when one compares the Guggenheim Insider Sentiment Fund (NYSEARCA:NFO) against an appropriate benchmark. This ETF seeks to replicate the performance of the Sabrient's Insider Sentiment Index where Sabrient developed a quantitative stock picking method based on insider buying trends. NFO is classified as a mid-cap blend fund which implies that it should be compared against the S&P Mid Cap 400. Note: iShares tracks the index with iShares S&P Mid Cap 400 (NYSEARCA:IJH).
Click to enlarge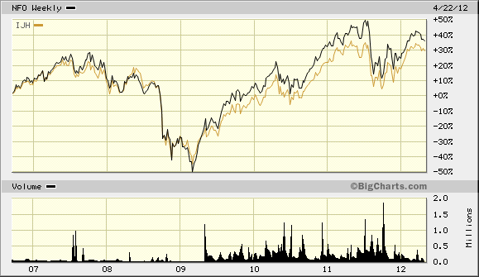 Click to enlarge
Since the September 2006 inception date, NFO has outperformed IJH by 8%. This may give some credence to the notion that insider purchases can provide insight on when to buy.
Keep in mind, however, there is only one reason a corporate big-wig would buy his/her stock ... to make money. The fact that execs may sell for reasons other than to protect principal may make insider selling data less powerful.
Consider July of 2011. Corporate insiders were selling shares of their NYSE- and AMEX-listed companies at the fastest rate since the early 1970s. The reality that many were selling near the summer time lows rather than selling near the spring time highs of April likely demonstrate that execs can come unglued ... just like the general public.
Nevertheless, when one considers the accumulation of information - falling treasury bond yields, dollar outflows from global equity funds, benchmark declines since earnings season began, increasing CBOE VIX volatility, sovereign debt crisis flare-ups – the insider selling data begins to look prescient. You don't have to run screaming for the exits, though. It makes far more sense to employ appropriate ETF hedges as well as use sensible stop-limit loss orders; in that manner, you won't be prone to selling stock ETFs in an undisciplined frenzy.
Disclosure: Gary Gordon, MS, CFP is the president of Pacific Park Financial, Inc., a Registered Investment Adviser with the SEC. Gary Gordon, Pacific Park Financial, Inc, and/or its clients may hold positions in the ETFs, mutual funds, and/or any investment asset mentioned above. The commentary does not constitute individualized investment advice. The opinions offered herein are not personalized recommendations to buy, sell or hold securities. At times, issuers of exchange-traded products compensate Pacific Park Financial, Inc. or its subsidiaries for advertising at the ETF Expert web site. ETF Expert content is created independently of any advertising relationships.