Wasn't this supposed to be a very, bad Apple (NASDAQ:AAPL) quarter? End Apple's dominance over everything tech? Justify an 80 point share price decline in just 2 weeks, a drop that wiped out $75 billion in market capitalization?
It turned out the myriad of Apple naysayers prophesying doom were out-and-out wrong.
Apple once again rose to the occasion, easily topping analyst expectations, earning $12.30 a share on $39.2 billion in revenue. The company surpassed consensus by 22%. Gross margins rose by 600 bp to a startling 47.4%.
The iPhone Juggernaut
Weren't iPhone sales going to be abysmal? Didn't Verizon and AT&T's "disappointing" iPhone numbers tell us that? Instead, Apple beat forecasts, selling 35.1 million units, almost a double from year-ago quarter as international sales caught the pundits flat-footed. For each of the last 5 Q2 quarters, Apple has seen exponential growth, nearly doubling its iPhone units sold. At this pace, Apple will sell 70 million iPhones next year's Q2.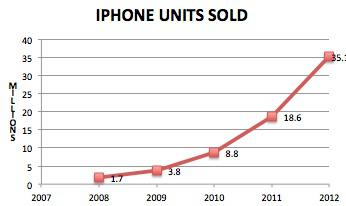 Apple Sets A New Record In Profits Per Unit
All in all, Apple sold 58.6 million devices (iPhones, iPads, Macs, and iPods) at an average operating profit of $263 a unit, an all-time profitability record. That means that each device sold -- whether an iPad or the lowly Shuffle -- on average earned Apple $263 before taxes. To put that in perspective: Nokia (NYSE:NOK) made $3 per unit while Research in Motion (RIMM) made $57 per unit last quarter reported.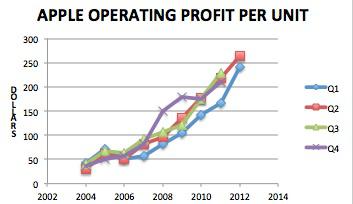 Operating Cash Flow Nearly Doubles
Apple reported $32 billion in operating cash, almost twice last year. The company added $12 billion in cash, short- and long-term investments.
The market has sent Apple's share price tumbling over the past 2 weeks. The sensational quarter justifies reversing this undeserved fall. Apple remains a strong buy. Unwarranted fears gave investors an excellent entry point.
Disclosure: I am long AAPL.