The average steel stock as represented by the Market Vectors® Steel ETF ($SLX) is up about 7% YTD, but that after a brutal 2011 when the index was down 34%, based on fears of a global recession, overcapacity in the global steel industry and an increase in the prices of some raw material inputs. However, the fundamentals of the sector may begin to improve in the second half of 2012, bolstered by strengthening pricing and a possible drop in the price of raw material inputs.
Furthermore, the long-term outlook for the steel sector is bullish, driven mostly by economic growth in China and India. China now accounts for almost half of global steel output of 1.3 billion tons annually, and the Indian steel market is expected to grow from 124 million tons in 2012 to 275 million tons by 2020. Meanwhile, U.S. market share, at 6% of the global steel production, is shrinking, and it will slide to 5th place by 2020.
In this article, via an analysis based on the latest available Q4 institutional 13-F filings, we identify the steel sector companies that are being accumulated and those being distributed by legendary or guru fund managers, such as Warren Buffet, George Soros, Carl Icahn, Steven Cohen and Mario Gabelli, that are well-known for their savvy in picking winning stocks year after year.
Taken together, these guru managers are bullish on the group, adding a net $205 million in Q4 to their $5.10 billion prior quarter holdings in the group (for more general information on these guru funds, please look at the end of the article). The steel sector is defined here as including companies involved in the production of steel products, and also those involved in the mining and processing of iron ore that is used in the manufacture of steel.
The following are the steel sector companies that these guru fund managers are most bullish about, and that are also trading at a discount to the peers in their group, and also sport a high dividend yield (see Table):
Steel Dynamics Inc. (NASDAQ:STLD): STLD is a U.S. manufacturer of flat-rolled, structural, bar and rail steels, and recycles ferrous and non-ferrous scrap metals. Guru funds together added a net $54 million in Q4 to their $23 million prior quarter position in the company, and taken together guru funds hold 2.8% of the outstanding shares. The top buyer was billionaire star fund manager Stephen Cohen's hedge fund SAC Capital Advisors, with over $15.7 billion in 13-F assets ($34 million), also the top holder at $43 million.
STLD reported its Q1 last Wednesday, missing on both analyst revenue and earnings estimates; its shares as a result have trended lower and currently trade at 7-8 forward P/E and 1.2 P/B compared to averages of 9.4 and 1.0 for its peers in the steel producers group, while earnings are projected to go up a strong 22.7% annual rate from $1.19 in 2011 to $1.79 in 2013. Also, it sports an attractive 3.1% dividend yield compared to the 1.4% average for its peers in the group.
POSCO (NYSE:PKX): PKX, formerly known as Pohang Iron & Steel Company Ltd, is South Korea's largest steel producer, and manufactures and sells hot and cold rolled steel products, heavy plate and other steel products for the construction and shipbuilding industries. Guru funds together added a net $47 million in Q4 to their $396 million prior quarter position in the company, and taken together guru funds hold 1.7% of the outstanding shares. The top buyer was guru Charles Brandes investment firm Brandes Investment Partners, with over $34 billion in assets under management, including $10.9 billion in 13-F assets ($46 million), and the top holder was veteran value investor Martin J. Whitman's mutual fund company Third Avenue, with $16 billion in assets under management ($367 million).
PKX shares are flat YTD, after a 38% drop in the prior two years, far weaker than the performance of the average steel stock that dropped about 19% during that period. Its shares trade at a current 8.7 P/E and 0.8 P/B compared to averages of 12.7 and 0.9 for its peers in the steel producers group.
The following are some additional steel companies that guru fund managers accumulated in Q4 (see Table):
Besides these, guru fund managers based on their Q4 trading activity indicated that they are bearish on the following steel companies (see Table):
Table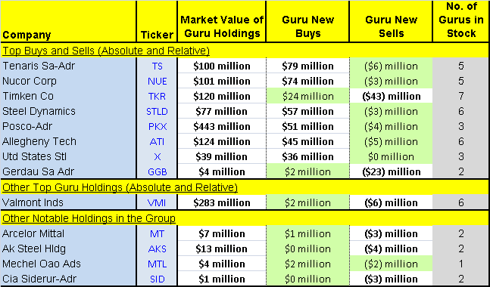 Credit: Fundamental data in this article were based on SEC filings, Zacks Investment Research, Thomson Reuters and Briefing.com. The information and data is believed to be accurate, but no guarantees or representations are made.
Disclosure: I have no positions in any stocks mentioned, and no plans to initiate any positions within the next 72 hours.
Disclaimer: Material presented here is for informational purposes only. Nothing in this article should be taken as a solicitation to purchase or sell securities. Before buying or selling any stock you should do your own research and reach your own conclusion. Further, these are our 'opinions' and we may be wrong. We may have positions in securities mentioned in this article. You should take this into consideration before acting on any advice given in this article. If this makes you uncomfortable, then do not listen to our thoughts and opinions. The contents of this article do not take into consideration your individual investment objectives so consult with your own financial adviser before making an investment decision. Investing includes certain risks including loss of principal.