On Monday, Beam Incorporated (NYSE:BEAM) announced their acquisition of specialty vodka brand Pinnacle. Along with Pinnnacle, the company also acquired the Calico Jack rum brand. Both liquor brands were purchased from White Rock Distilleries. The move will cost $605 million for Beam, but will grow its vodka line and market share.
The acquisition now extends Beam's Vodka line to include:
Pinnacle
Pucker
Effen
VOX
Kamchatka
Wolfschmidt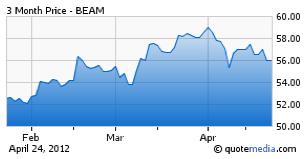 The move doubles Beam's vodka presence and will give it a 7% market share of the current vodka market. Three million cases (9 liter) are expected to be sold of Pinnacle Vodka in 2012. The brand was the fastest growing premium vodka brand prior to the purchase.
Listen to some of these mouth watering vodka brands offered by Pinnacle:
· Atomic Hots, Berry, Blueberry, Cake, Cherry, Cherry Lemonade, Cherry Whipped, Chocolate Whipped, Citrus, Coconut, Cookie Dough, Cotton Candy, Grape, Gummy, Kiwi-Strawberry, Le Double Espresso, Mango, Marshmallow, Orange, Orange Whipped, Pineapple, Pomegranate, Raspberry, Tropical Punch, Vanilla, Whipped Cream, Whipped Key Lime
Pinnacle's website lists a wide range of flavor combinations on its recipe page.
This is a smart acquisition by Beam, in my opinion. Similar to the Skinnygirl deal, Beam takes advantage of a growing niche market of drinks and will be able to use its size and distribution to increase sales of the Pinnacle brand. Skinnygirl sales increased over 400% last year due to the Beam acquisition. Pinnacle sales have seen a ten-fold increase since 2007 and Beam is likely to increase that even further.
Beam's Chief Executive Officer Matt Shattock had this to say about Pinnacle Vodka:
Pinnacle is an excellent strategic fit for Beam, giving us a strong and exciting growth platform in the sweet-spot of the attractive vodka category. With the synergy-driven addition of Pinnacle, which will become one of our largest power brands, Beam will further enhance its ability to maximize value for shareholders.
Prior to the Pinnacle deal, Beam was mainly looked at as a bourbon company. With the Jim Beam and Maker's Mark brands, Beam Inc. controls over 30% of the United States whiskey market. Along with a growing market share in the tequila market, and ready to drink (Skinnygirl), the Pinnacle deal will make vodka a main category for Beam Incorporated.
The move does make a buyout of Beam less likely by a larger rival. Beam had long been a possible target of larger spirits companies like Diageo (NYSE:DEO), Bacardi, and Pernod Richard. Diageo is the leader in the vodka market, so it would likely have to sell off brands if it acquired Beam. Since Fortune Brands split Beam and Fortune Brands Home and Security (NYSE:FBHS), investors have been picking up shares of Beam as a takeover target. Many investors may flee after this deal, so be patient with acquiring shares of Beam. I think the company becomes more attractive now as a standalone company.
Shares of BEAM are up 10% since the beginning of the calendar year. Investors who held shares of Fortune Brands have been rewarded for keeping both Beam and Fortune Brands Home shares. Both companies have gained since activist investor Bill Ackman pushed for the company to spin off into several separate companies. Ackman has increased his position and is the largest shareholder in both companies.
The acquisition will have no impact on 2012's earnings per share, but will add $0.05 to $0.10 in 2013. Beam Inc. reports earnings on May 3rd and will likely discuss the deal further. Another thing to look forward to during the conference call is this summer's introduction of Skinnygirl Wine. This will likely be a larger deal than many investors are giving the company credit for. The brand has immediate name recognition and is one of the few liquor products out on the market that identifies itself as a healthier option. Consumers will hopefully receive low calorie wine with flying colors and reward Beam shareholders.
Shares of Beam remain 14% off from their fifty two week high. Look for the shares to decline a little further as people counting on a takeover exit their positions. I will be watching shares and would love to begin acquiring around $52 for the long term. Shares will likely see a bounce during quarterly earnings and with the rollout of Skinnygirl Wine products.
Disclosure: I have no positions in any stocks mentioned, but may initiate a long position in BEAM over the next 72 hours.