Baidu (BIDU) reported its 1Q12 results last night.
Revenue: $677 million, +75% y/y, below Street consensus of $678 million
Operating profit: $332 million, +75% y/y
EPS: $0.87 per share, beating Street consensus of $0.84 per share
What I liked: Additional color on mobile and strong growth in customer base
More color on the mobile initiative. As I mentioned in my earnings preview titled, "Baidu 1Q12 Earnings Preview" dated April 11th, mobile search will be critical to Baidu's future growth as its desktop search market share has reached a plateau.
In the conference call, management provided additional color on Baidu's mobile initiative and monetization, most notably:
Mobile search traffic accounts for 20% of total search on Baidu
Mobile Phoenix Nest monetization platform is currently under development
Continued focus on scaling the cloud infrastructure that can deliver data, content, and apps to mobile devices
Baidu is also focusing on building its app library. In Q1, the company held its first developers' conference, in which it introduced three products: Baidu Application Engine, Mobile Test Bed, and Personal Cloud Service.
Baidu Application Engine allows developers to create and develop app for open platform at lower cost.
Mobile Test Bed allows developers to test their apps across multiple platforms, which effectively lower the barrier to entry to small size developers that lack capital.
Personal Cloud Service is a cloud infrastructure which supports many cloud-based products and services. For example, one product that is under development, Baidu Net Disk, allows users to store manage and share vast amount of data for free across all terminal devices and has no storage limitation.
Continued growth in online marketing customers. As of Q1, Baidu has 321,000 online marketing customers, an increase of 17.2% y/y and 3.2% q/q.
Over the past quarter, Baidu's sales and marketing team has made significant push into second tier markets by implementing innovative sales method and optimize employee incentive scheme that ties compensation more closely to sales.
The company implemented a structural change in the sales force by separating the inside and outside sale, in which one team focuses on site visit and another team on telemarketing. This resulted in efficient customer acquisition, which is reflected in this quarter's customer base growth.
click to enlarge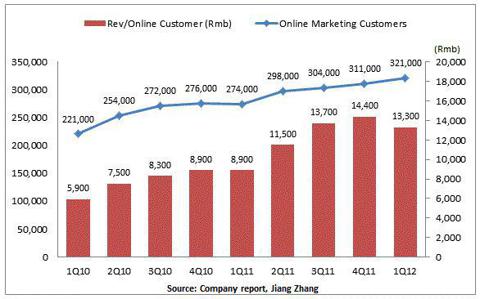 However, I would like to point out that revenue per online customer declined in the quarter, partially due to the lack of spending power from the SME. Going forward, we could see continued decline in revenue per customer as Baidu adds more SMEs in the customer mix.
The top five customers for the quarter are healthcare, machinery/equipment, education, travel and software and games.
What concerned me: weak guidance indicates that days of "Beat-and-Raise" are over.
Baidu guided Q2 revenue to be $847 - $867 million, compared to the Street forecast of $860 million. The midpoint of Baidu's guidance represents a 58% y/y increase.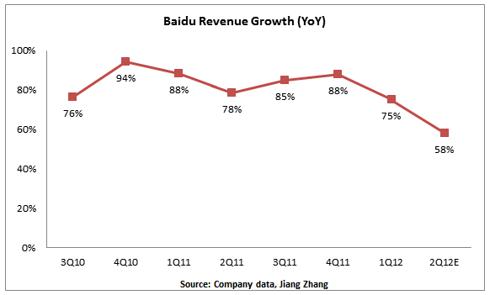 Over the past two years from 2010 to 2011, Baidu's share price was driven mostly by:
Share gain from Google (GOOG)
Large advertisers
Transitioning into Phoenix Nest
Margin expansion
The weak guidance indicates that Baidu can no longer enjoy the strong momentum at the cost of Google, but has to ramp up on larger advertiser spend to offset the weakness of slowing economy and rising operating cost. Margin contraction will be the biggest concern heading forward as the company invests in mobile and cloud platforms. I note that R&D expense has been increasing faster than revenue in two of past three quarters.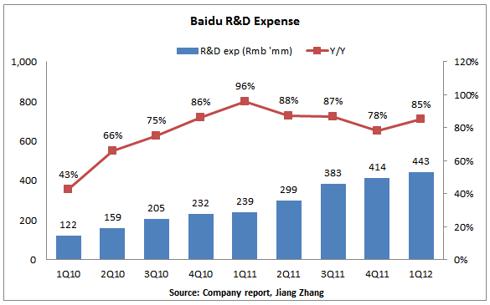 Finally, Baidu's price appreciation will unlikely come from the historical "beat-and-raise" quarters. I note that revenue beat in 2Q11 and 3Q11 were 5% - 6%, <1% in 4Q11, and no beat this quarter. In my view, Baidu's earnings momentum days are over, and price appreciation can only come from sound strategic execution from this point forward.
Disclosure: I have no positions in any stocks mentioned, and no plans to initiate any positions within the next 72 hours.