The E-Mini S&P 500 traded in a tighter range with lower volume as the market attempts to anticipate the Fed's action Tuesday, the US Conference Board April Consumer Confidence index decreased to 69.2 from the revised lower 69.5 in March. US Home Sales decreased 7.1% to a seasonally adjusted 328,000 unit annual rate from February's adjusted 353,000 units.
The Case-Shiller report showed prices decreased about 3.5 percent in February for the 20-city composite the index tracks, compared to about 4 percent in January. Gross Domestic Product increased at a 2.5 % annual rate the first-quarter. It is also anticipated that the US consumer spending which is considered about 70% of the GDP to have increased at a 2.5 % rate. The last US Unemployment report for March created only about 120,000 jobs.
Earnings from about 153 companies that comprise the S&P 500 have come in with 75% exceeding expectations. 3M (NYSE:MMM) was up 3.0 % $89.71 as profits were up 4.0%. United Technologies Corp. (NYSE:UTX) was up 1.0% to $80.51. Today, the Federal Open Market Committee meeting convenes to wind up the two day meeting releasing its policy statement at 16:30 GMT. At 18:15 GMT, Federal Chairman Ben Bernanke will hold his press conference to discuss the projections of the meeting.
It is anticipated that the Fed will keep the official borrowing costs at or near zero until 2014. What investors will be looking for is any hint of a QE3. Analysts are not anticipating QE3 at this stage. "Operation Twist" is still in effect as the Treasury sold $35 billion of two-year notes Tuesday and will offer $35 billion of the five-year notes today along with $29 billion in the seven-year notes on Thursday.
The Fed, on the other hand, bought $4.758 billion of the longer-term instruments per the 1960's twist revival. It may simply be a wait and see tactic to monitor growth for a couple of solid months, as the next Fed meeting will take place in June when "Operation Twist" ends. Today may be extremely volatile with some traders perhaps hoping for a whisper of stimulus from the Fed. Of course, if the Fed did suggest that QE3 was still on the table, we may rally. If the Fed negates any potential QE3, there may be a sharp sell-off.
The market is vulnerable to a downslide at these levels. It is essential that traders stay aware of these events. The Euro Zone debt contagion fears were put on hold for now as the yields on the Dutch, Spanish and Italian debt were lower and demand was good. French tire manufacturer, Michelin was up 6.1%. The Dutch government has received their Moody's warning that they may lose their AAA rating if the fiscal discipline is not adhered to. Previously, Fitch's had given a warning. The European Financial Stability Facility had decided to set an appealing price on the seven-year bond with a positive response. For the moment, the Fed announcement should eclipse any global concerns.
On the stock side: JP Morgan Chase and Co. (NYSE:JPM) was up 1.00 % to $43.28. Citigroup Inc. (NYSE:C) was up 0.51 % to $33.42. Bank of America (NYSE:BAC) was up 0.37 % to $8.21. Alcoa Inc. (NYSE:AA) was up 0.31 % to $9.68. Boeing Co. (NYSE:BA) was up 0.48 % to $73.21. Caterpillar Inc. (NYSE:CAT) was up 1.40 % to $108.22. General Electric Co. (NYSE:GE) was up 2.46 % to $19.53. Halliburton Co. (NYSE:HAL) was up 1.31 % to $33.38. Hewlett Packard Co. (NYSE:HPQ) was up 0.70 % to $24.39. SPDR Select Sector Fund - Financial (NYSEARCA:XLF) was up 1.13 % to $15.27.
E- Mini S&P 500 Chart.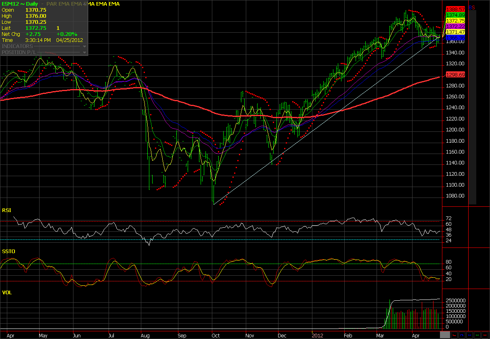 Wednesday, what to expect: We maintain a bearish bias unless the E-Mini S&P 500 penetrates $1388.50. Today, we anticipate an inside to higher day. Tuesday's range was $1371.25 - $1361.00. The market settled at $1370.00. Our comfort zone or point of control for this market is $1366.50. Our anticipated range for Wednesday's trading is $1385.50 - $1365.50. We are in a range of $1365.00 to $1400.00, where the market may consolidate.
Disclosure: I have no positions in any stocks mentioned, and no plans to initiate any positions within the next 72 hours.