Johnson & Johnson (NYSE:JNJ) has released its results for the first quarter of 2012 and its earnings-per-share of $1.37 was just above the consensus estimate of $1.35. Revenues for the quarter at $16.1 billion were marginally lower than the expectations of $16.26 billion. Revenues for the quarter were affected by the expiry of the patent on Levaquin, which is a treatment for bacterial infection and is now open to generic manufacturers. A shortfall in production at a third-party supplier of Doxil, which is an anticancer drug, also depressed revenue. On the positive side, the growth in revenues was largely due to the strong performance from Neutrogena skin care products and global sales of oral care products.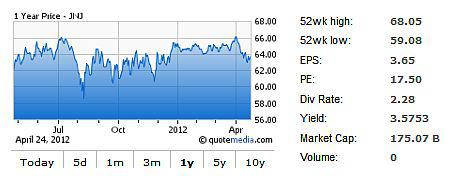 At around him the same time, European regulators announced that they were approving the $21 billion acquisition of Synthes, which is a maker of medical equipment. As a quid pro quo for the approval, Johnson & Johnson has agreed to divest its European trauma care business. Those regulators had been concerned that because of the strong foothold the company already has in the European markets, competition would be affected by the acquisition of Synthes, which manufactures the essentials for the treatment of trauma such as surgical tools and bone implants. This is by far the largest acquisition that Johnson & Johnson has ever made and it has taken the company roughly one year to accomplish.
Johnson & Johnson is itself a holding company and business is conducted in almost every country in the world through a network of more than 250 operating companies. The number of employees globally is in excess of 100,000 and the wide range of products that are sold focus mainly on the health and well-being of people. Management is highly decentralized. The operating companies are organized in three broad segments. The consumer business includes the well-known baby care business as well as in areas such as oral care and women's care. There are a number of well-known brands in this business segment including Listerine, Band-Aid and Johnson & Johnson's baby line of products.
The pharmaceutical business segment includes products in a large number of areas such as cardiovascular, contraceptive, cancer-related treatment and so on. Important products in this business include Remicade, for inflammatory diseases, and Procrit, which stimulates the production of red blood cells. The product range is large and highly respected by patients and medical practitioners alike. The Medical Devices and Diagnostics business segment also has a wide range of products aimed at hospitals and medical professionals such as physicians, nurses and diagnostics labs. Once again there are a large number of well-known brands examples of which are Cordis and Ethicon.
Though the first-quarter results were not spectacular, they do present a solid performance and there are a number of developments that would have a positive impact. These include the launches of some promising new drugs and the major European acquisition. A flat top line continues to be of concern even though the bottom line was slightly better than expectations. In the pharmaceutical business, Remicade was the star performer and there is good reason to believe that both Stelara and Zytiga are going to be money spinners. The device and diagnostics business is strong and the orthopedics business looks as if it is stabilizing.
Legal woes
I would like to examine the implications of the lawsuit in connection with the antipsychotic drug, Risperdal, and its side effects. Johnson & Johnson and its subsidiary Janssen Pharmaceuticals has been found guilty of hiding and minimizing risks in the state of Arkansas and a fine of $1.2 billion has been imposed on Janssen. In Texas, Johnson & Johnson has been forced to pay out $158 million to settle a Medicaid problem. Several cases are pending in other states. In all fairness, I should point out that Pfizer (NYSE:PFE) also has its share of legal problems. Johnson & Johnson has pointed out that there is a strong case in its favor and that it is planning to appeal the judgment in Arkansas. Because of its strong financial position, these fines and penalties are unlikely to have a substantial adverse effect.
Competitors
Let us now turn our attention to the competition. Pfizer quotes at a slightly lower earnings multiple, but EPS growth is going to be relatively flat in 2012 and 2013. The company is overhauling its business portfolio in a quest for earnings growth and has just sold its baby nutrition business to Nestlé (OTCPK:NSRGY). Until this business reshuffle is completed, I would recommend that you stay away from Pfizer. Merck (NYSE:MRK) is also looking at flat earnings growth on Fosamax, as well as lawsuits relating to Vioxx. Merck has pleaded guilty to a criminal misdemeanor as part of a $950 million settlement related to Vioxx. For Bristol-Myers Squibb (NYSE:BMY), analysts are expecting a decline in earnings over the next two years and it is not particularly cheap even now. Despite a dividend yield of just over 4%, this particular stock is best avoided right now.
Johnson & Johnson is starting to look more solid as an investment especially when you consider the dividend yield and the fact that it is one of the few AAA rated companies in America. It is certainly the most diversified of all the large pharmaceutical companies, which makes for consistent and stable growth in earnings and operating cash flows. In addition to that, the company has some interesting drugs in the drug development pipeline in both the pharma (an Alzheimer's drug, an HCV program, and a RA/lupus drug) as well as new renal products in the devices business. Growth should get a significant boost when the Synthes acquisition has been fully integrated and the synergies start to kick in.
In my opinion, especially when compared to its peers, Johnson & Johnson looks like a good buy. If you are particularly conservative as an investor or a little skeptical about the pharmaceutical business, I would suggest continuing to hold if you already have an existing investment. As the story unfolds over the next few months, you could reassess prospects and buy if the stock price is right.
Disclosure: I have no positions in any stocks mentioned, and no plans to initiate any positions within the next 72 hours.