It is amazing how the bullish hard sell lines continue to attempt to push and prop the market up. Bullish investment preachers tout an 80% 'beat the estimates' rate that is far ahead of the 58% in the Q4of 2011. Even my favorite financial big bank stocks are doing it. Wells Fargo (WFC) beat estimates by $0.02 and JP Morgan (JPM) beat the street by $018.
But is this something positive? Is our actual growth rate (in profits) from a year ago that much better? Statistically speaking, Jim Bianco says:
When you've had about 150 companies report - since the end of the recession in 2009, about 77% of companies have beaten estimates and at least 50% topped estimates every quarter since 1998.
And in all honestly, my JP Morgan stock better beat last year's performance!
When all was said and done, Q4 of 2011 led to a 10 year low of 62% beating forecaster estimates. So the positive spin we are seeing now is not much more than hype.
It has been happening for the last 4 weeks. We continue to get weak economic reports. Just last week we heard: The Labor Department said applications for unemployment benefits dipped 2,000 to 386,000. When the number is above 375,000, investors take it as a sign that hiring isn't strong enough to lower the unemployment rate. With this In mind, and since the market has turned bearish since the beginning of April, I am bearish short term on JP Morgan among other financial stocks.
Since we are short term bearish on the financial stocks, we really like the price of JP Morgan options for safety and a short term income play.
(click to enlarge)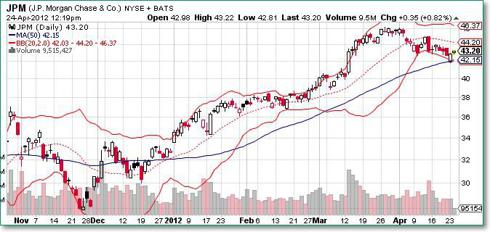 The Options Play
The stock is gradually moving down and last lost about 8% in value in the last 3 weeks. Presently trading at $43.28 we are looking at a Bear Put Spread.
Buy the June 2012 put with a '43' strike (priced at $1.64)
Sell the June 2012 put with a '42' strike (priced at $1.25)
Net Debit to Start: $0.39
Maximum Profit: $0.61
Reasoning behind the Trade
The stock is bearish and has been for 3 weeks.
Poor economic news continues to drive the market.
European problems are also surfacing again influencing the markets.
Even though earnings look good, we believe the markets are favorable for a continued bearish move in the short run. Since JP Morgan is a financial stalwart, and is also bearish we believe it will continue this way for a short spell, but not through the whole year. For this reason, picking up extra income on a short term bearish play makes sense.