With Nu Skin's (NYSE:NUS) upcoming earnings release on Thursday, April 26, 2012, an investor who is long the company's stock can use a protected covered call in order to protect a gain for the stock, as an investor in the company over the last year has doubled their money as shown below: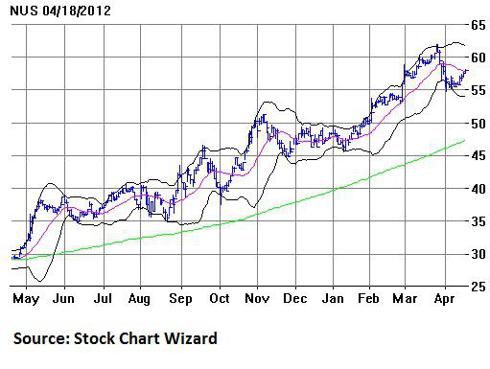 Additionally, an investor can also select a protected covered call in order to take advantage of receiving the company's expected dividend payment in May/June. Since Nu Skin's ex-dividend date was near the end of May in 2011, a search will be performed for a protected call for the month of June. A protected covered call may be entered by selling a call option against an existing or purchased stock and using some of the proceeds from selling the call option to purchase a protective put option.
Using PowerOptions tools, we found a protected covered call for Nu Skin with a potential return of 2.7% (18.6% annualized) and a maximum potential loss of 12.9%, even if the price of the stock goes to zero, the maximum potential loss is 12.9%. The position with other potential positions are shown below:

Including an expected dividend payment of $0.20 in May/June for the protected covered call position results in a 2.8% potential return with maximum loss of 12.6%. As a bonus, if the price of the stock is greater than or equal to the $60 call option strike price at expiration, the position will return 4.8%. The specific call option to sell is the 2012 Jun 60 at $2.20 and the put option to purchase is the 2012 Jun 50 at $0.65. A profit/loss graph for one contract of the protected covered call is shown below: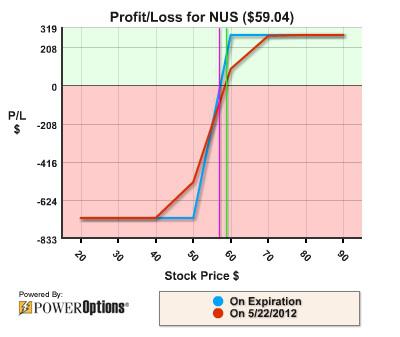 If the price of the stock increases to around $65, the protected covered call position can most likely be rolled in order to realize additional potential return.
Nu Skin Enterprises apparently made a smart move when it participated in the Backstage Bag Luxury Lounge' at the 2012 Academy Awards, garnering useful publicity for its ageLOC anti-aging products given to photogenic and newsworthy celebrities, stylists and media representatives, as most Hollywood celebrities have two major investments to take care of: their face and their youthful appearance. Three weeks later Nu Skin was in the news again, this time in a feature article in Women's Wear Daily (pdf) concentrating on the company's business success rather than touting the effectiveness of its merchandise.
There is no doubt about that success. Nu Skin's February 2012 investor presentation(pdf) opened with the 23% year-on-year global revenue growth achieved in the fourth quarter of 2011, including the record-breaking $100 million product launch of R² dietary supplements and Galvanic Spa anti-cellulite treatments. FY 2011 total revenue was $1.74 billion, and other results in the record year included a 27% increase in earnings per share and a lift of 120 basis points in operating margin. The importance of the company's Asian markets is underlined in the figures for revenue by region: North Asia 43% (27% from Japan alone), Greater China 20%, South Asia/Pacific 14%, Americas 14%, Europe 9%. Q4 2011 quarterly fact sheet (pdf) Emerging markets grew by 27% in 2011, and further double-digit growth is forecast for 2012. Net income for 2011 was $153 million ($2.38 per diluted share). Cash from operations has grown each year since 2007 in line with earnings, reaching $224 million in 2011. Company guidance puts 2012 revenue in the range $1.81-1.84 million, and EPS between $2.84 and $2.94. (Q4 2011 earnings press release)
Revenue is divided between Nu Skin anti-aging skin care treatments, generating 57% of the 2011 total, and Pharmanex anti-aging and weight management dietary supplements, contributing the remaining 43%. The company prides itself on the scientific basis for its merchandise, bolstered by the recent acquisition of its technical collaborator, genomics company LifeGen Technologies. Nu Skin's Chief Scientific Officer, Dr Joseph Chang, was the co-founder of Pharmanex, the company Nu Skin acquired in 1998 as the basis for its dietary supplement range. He is the author of a New York Times best seller The Aging Myth', which is proving to be an excellent source of positive publicity for ageLOC. The company spent $13.6 million on R&D in 2011.
The ageLOC product line has already produced $1 billion in revenue since its 2008 introduction, and the company's future growth plans are based on new product development within this range of merchandise and on aggressive expansion in emerging markets. Except in mainland China, Nu Skin's global sales are conducted through commission-based face-to-face contact by distributors, a business model which appears to be working particularly well. The total number of active distributors has grown to 855,000 at the end of 2011, while 'Executive' distributors (earning at least $4,968 in annual commission) rose by 17% to around 42,000.
Revenue growth is clearly linked to growth in distributor numbers. Distributors are no doubt attracted and motivated by the company's generous commission rates (which it says amount to 42% of sales), the ability to cash in on retail mark-ups, and the opportunity to develop an independent business based on subsidiary distributors they have themselves recruited. Nu Skin provides distributors with training and support. However, many of the people classified as 'distributors' do not earn commission, and are in fact customers who purchase products directly from Nu Skin at discounted prices through an automatic subscription program. Sales in mainland China are conducted through a blend of genuine distributors, an employed sales force and direct resellers.
Since 88% of Nu Skin's revenue comes from markets outside the United States, it is acutely exposed to the effects of foreign currency fluctuations, particularly in the Japanese yen, and to the impact of global economic, business and political conditions. It also faces a considerable risk in its reliance on agreements with four major suppliers, whom it does not name, for the bulk of the products it sells. The company only engages in its own manufacturing to a limited extent, at two production facilities in China.
A direct selling model introduces another set of problems, making it necessary for Nu Skin to demonstrate to government agencies that it is not a promoter of a 'pyramid' scheme. The laws covering direct selling activities are particularly restrictive in Japan, South Korea and China, whose governments also impose other regulatory hurdles that impact on Nu Skin's business. The company is working hard to protect the 27% of its total revenue generated in Japan, where it has received a large number of complaints from consumer protection groups. Nu Skin's competitors in the direct selling of personal care products include Herbalife (NYSE:HLF), privately-held companies Amway, Mary Kay and Forever Living, and Avon (NYSE:AVP).(Form 10-K 2011)
Nu Skin's president and CEO, Truman Hunt, confirmed the approximately 42% of revenue paid as commissions when he remarked, during the Q4 2011 earnings conference call, that a record $750 million was paid to distributors in 2011. He fully expects 2012 to be another record year, and that the best is yet to come in 2013 with two major new product launches. (Q4 2011 earnings call webcast)
There is no doubt that many women (and men), not just Hollywood celebrities, are prepared to pay top dollar for the possibilities of youthful vitality and regeneration that come with Nu Skin's products. Its distributor model has served it well in those countries where direct selling is an accepted way of retailing. However, in spite of its recent healthy growth and its future prospects, Nu Skin does face a number of problems created by its dependence on overseas markets, particularly in Asia. As is the case with its products' promises, the best advice may be 'believe with caution' and use protective investment strategies, like a protected covered call, just in case.
Disclosure: I have no positions in any stocks mentioned, and no plans to initiate any positions within the next 72 hours.