Randgold's (NASDAQ:GOLD) profit fell almost 7% in the third quarter due to higher costs, and its net income and earnings per share slipped.
With rising gold prices during this year, one must be very cautious when the company cannot use such a higher price to its benefit. Now, one must be fair: increased gold prices are offset by increased mining operational costs. Miners, such as Randgold, struggle to find safe locations to deplete their shrinking reserves, and are forced to drill in very risky countries. These risky operations require higher salaries for its employees, and other needed safety and mining equipment.
So, its not really the company's fault, and to be fair, the company has already issued a guidance that incorporated this cost increase. So, great. But does that mean that one should be long this stock at this price, $37, right now? My answer is no.
Yes, Randgold's CEO is bullish on gold (hey, that's his job!), and predicts gold to hit $1,000 this year. Not sure about that. It certainly might hit $1,000, but not right now. Yes, there is a shortage of gold, but market first has to find its equilibrium again. Right now, the price needs to stabilize first before it continues higher. With the monstrous run that gold commodity already had, I can't foresee another 25% by the end of year.
Add to that the perfect setup outlined here and you can say that gold is due to correct. At least in my world it is. I have been bullish on gold since last year (was not bearish even for a day). But now, it appears, the stars have lined up.
Now, just in time, Randgold came out with its earnings, and although falling short on earnings by 3 cents! (16 cents versus estimated 19), the stock was up yesterday. Perfect! Right in time to hit its major resistance above (see the chart and description below).
Now, don't get me wrong. This company has a great potential, and is going to find more resources in undeveloped world, that's for sure. They could soon be stronger than Newmont (NYSE:NEM) in my opinion, as they forecast further gold production growth. But not right now, not at exact this moment. It needs to accurately reflect what happened during the last quarter first. Therefore, I recommend selling GOLD here.
As we can see from the chart below, Randgold is approaching a major overhead resistance at $37.50-$38.20 area (circled in yellow). Its first major support is at $28.50-$29 area. There is a minor support right below at $35, so that could be your trigger point for either bullish or bearish action. I'd say: Sell GOLD between $37.50-38.00, Short GOLD below $35, and let it drop to $29 (first target). Then we will re-evaluate if it has a potential to go to the second target at $26 (unlikely, but never say never).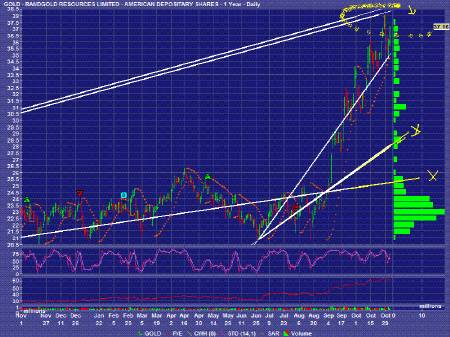 Just for your reference, here is the chart of "the perfect setup". In a nutshell, a very long commodity bull market might soon be ending! We may be approaching a screeching halt in gold, materials and oil. It appears to be a perfect setup, at least temporary, for a major decline in commodities. Commodities have already fully priced in the Fed's cut, so it's time to take some profits off the table after this massive rally we just had. And you can see that on the Street Tracks Gold (NYSEARCA:GLD) chart below. It's hitting a major double long-term resistance at $78-78.50 area. A perfect setup. Do you know that there is no real long-term support line until GLD reaches about $70 level (more than 10% down)- see below? In anyway, it doesn't look good from here, in my opinion. And GLD technical outlook right now fully coincides with Randgold (GOLD) technical outlook (compare the two charts here- almost identical). Therefore, sell, don't buy.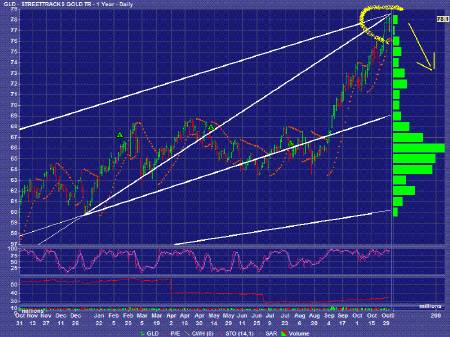 Disclosure: Author has a short position in GOLD