I list below my opinions on a few companies today for traders to consider for some possible nice short term gains. As always, please do your own careful due diligence. I offer my observations here as a guide for traders to engage in their own due diligence.
Antares Pharma (AIS) 4/25/12 pps: $3.00. Short term target: $3.25
Moving factor: Buy out speculation, expectation of news coming, and a run up coming towards the Q1 12 earnings call. It's my opinion some news is on the way soon based on the trading pattern I have been observing with the stock lately.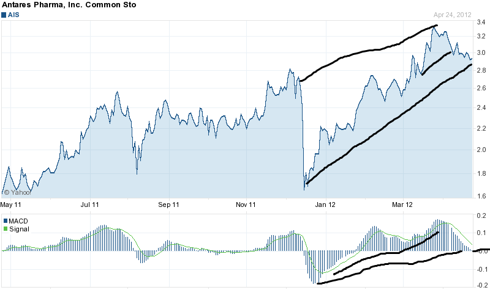 Click to enlarge
The MACD and signal is coming out of an over negative condition along with the selling drying up as indicated on the chart above. The uptrend channel is still in tact. Some people have noted a head and shoulders pattern, but experienced traders know a head and shoulders pattern needs to occur over a much longer time frame in an uptrend channel.
iBio (IBIO) 4/25/12 pps:$1.89. Short term target: $2.20
Moving factor: A catalyst trade associated with Protalix (PLX) which is currently awaiting approval of its lead drug candidate, taliglucerase alfa, with a PDUFA date of 5/1/2012. Protalix is producing proteins using plant cells but in isolation. PLX uses poly bio reactors and derivative of carrot cells in isolation. IBIO uses no bio reactors as the plant is the reactor. IBIO has much less CAPEX and a quicker growth from start to finish with higher yields due to the patented vectors delivering DNA to plants to grow the proteins.
The only other company with a similar type of technology to iBio is Protalix. Its catalyst event is tied into iBio for this obvious reason.
Protalix 4/25/12 pps: $7.13 Moving factor: Mentioned above.
Arena Pharma (ARNA) 4/25/12 pps: $2.24 short term target: $2.50
Moving factor: Grossly oversold on a reaction stemming from an article written on the The Street.com which I wrote about, offering a few of my observations on the article's conclusions.
A run up catalyst for Vivus's (NASDAQ:VVUS) virtual FDA approval, certainly of its lead drug Qnexa, a weight loss prescription drug.
Disclosure: I am long AIS.