On Tuesday, April 24, 2012, after the markets closed, Hatteras Financial (NYSE:HTS) reported financial results for the first quarter of 2012. Hatteras reported it earned net income of $69.3 million or $0.89 per share, compared with $70.6 million, or $0.92 per share, during the Q4 of 2011 and $0.96 per share during Q1 of 2011.
See a recent performance chart for HTS: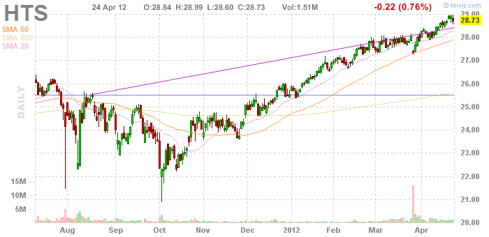 Click to enlarge
Hatteras buys agency mortgages that are backed by federal agencies. Other well-known agency mREITs include American Capital Agency Corp (NASDAQ:AGNC) and Annaly Financial (NYSE:NLY). Index ETFs for mREITs include the FTSE NAREIT Mortgage REITs Index ETF (NYSEARCA:REM) and the Market Vectors Mortgage REIT Income ETF (NYSEARCA:MORT), though both of these ETFs also hold mREITs that invest in non-agency backed securities.
Hatteras reported that its net interest margin increased to 1.58 percent during Q1 of 2012 from 1.56 percent during Q4 of 2011 and 1.64 percent during Q3 of 2011. Hatteras also reported that its weighted average coupon during the first quarter of 2012 was 3.38 percent, compared with 3.42 percent during the fourth quarter of 2011, and noted that the reduction was due to lower rates on HTS' new security purchases. During Q3 of 2011, Hatteras sported a 3.54 percent weighted average coupon.
Hatteras' annualized cost of funds was 1.03 percent, compared with 1.04 percent during the prior quarter, while its annualized expense ratio increased to 0.98 percent of shareholder's equity, compared with 0.93 percent last quarter. At least part of this increase is due to an increased in operating expenses for Q1, which came in at $5.2 million, an increase of $500,000 compared with Q4 of 2011.
Hatteras noted that its repo debt-to-shareholders' equity ratio, or leverage rate, as of the end of Q1 was 6.2x, down from 7.8x at the end of 2011 and 7.9x at the end of Q3 2011. Hatteras also explained that this difference in this leverage rate was largely due to a secondary stock offering in that HTS announced on March 26, 2012, just before the end of the quarter and just after going ex-dividend. This likely means that Hatteras subsequently increased its leverage rate, but such is no certainty. Hatteras shares are up nearly five percent since the secondary.
During the fourth quarter of 2011, Hatteras cut its dividend by 10 percent, from $1 to $0.90 cents, which it maintained during the first quarter of 2012. Prior to that cut, HTS maintained a $1 dividend for four quarters. Hatteras' current annual yield would work out to about 12.5 percent.
Many agency mREITs, including Annaly (the largest public mortgage REIT) lowered their dividends throughout 2011. American Capital Agency, which had maintained a $1.40 per share quarterly dividend for 10 quarters, ended up reducing its dividend to $1.25 during Q1 of this year. Several have speculated that further cuts may be forthcoming this year, as margins appear likely to continue narrowing and some mREITs have opted to reduce their use of leverage.
Hatteras also stated its book value per share at the end of Q1 was $27.30, a 0.81 percent increase, from the end of 2011. Over the last several quarters, most agency mREITs, and especially the more leveraged ones, have recorded increasing book values as interest rates remain near historical lows. Rising interest rates would likely reduce the value of RMBSs, because their value must decline to a rate where their yield will meet the new, higher rate being offered by comparable securities.
With costs increasing, margins decreasing and the risk-free rate of return looking riskier than ever, it appears likely that several mREITs, including HTS, may be required to reduce their dividends or increase their leverage in order to maintain them. This could create a scary scenario, where a dividend reduction may be preferable to increasing the interest rate risk at a time where so many expect rates to rise in the coming quarters. As such, a minor dividend reduction may actually be healthy for Hatteras, though certainly disappointing to investors.
Because of the risks associated with agency mREIT leverage and the potential peaking of Treasury valuations, exposure to the asset class should be limited to a reasonable percentage of a portfolio, based upon each investor's risk profile, time-horizon, income needs and other investments. Additionally, most REIT dividends are taxed as regular income and not at the lower corporate dividend rate, making them substantially better performing investments when held within tax deferred or exempt accounts.
Disclosure: I am long NLY.
Disclaimer: This article is intended to be informative and should not be construed as personalized advice, as it does not take into account your specific situation or objectives.