Sino Clean Energy (SCEI) is a leading producer and distributor of coal-water slurry fuel (CWSF) in China. I see at least 6 reasons to buy the stock currently.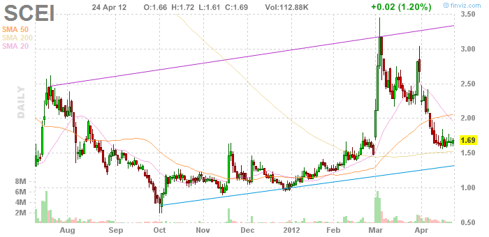 Click to enlarge
1. Very strong fundamentals
For the full year 2011 the company had earnings of $1.37 per share. That makes a P/E of just above 1. The company has cash $1.78 per share and no debt.
2. Strong outlook
SCEI management expects full year 2012 revenue of between $150 million and $168 million. The company expects full year 2012 non-GAAP adjusted earnings to be in the range of $35 million to $40 million and adjusted earnings per share of between $1.35 and $1.54. This guidance assumes total sales volume of between 1.3 million to 1.4 million metric tons of CWSF in 2012.
3. The company is expecting to increase production capacity by almost 3 times
In 2012, we plan to aggressively increase our CWSF production capacity from 1.15 million to 2.9 million metric tons, through the construction of new facilities and the acquisition of existing facilities. We anticipate increased sales volumes to follow this increase in capacity.
4. Analyst price target $6.65
There is one analyst covering the company. Crystal Equity Research has a speculative Buy rating with $6.65 price target. The price target was raised from $2.75 from November 2011.
5. CWSF demand expected to grow
According to Frost & Sullivan, overall CWSF demand in China is expected to grow at a compounded annual growth rate (CAGR) of 24.7% from 2008 to 2014.
6. Cash verification conducted by an independent third-party evaluation agency
With regard to verification of the company's cash balance, Thornhill undertook to make its verifications at December 31 2011 and January 18, 2012 (the date on which it conducted the verification). Thornhill, in its report dated February 1, 2012, reported that it was able to verify over 95% of the company's consolidated cash balance as of December 31, 2011, and January 18, 2012, respectively. These verifications were based on bank statements obtained directly by Thornhill staff from the relevant banks on January 18 2012 and confirmed and reconciled to the company's December 31, 2011 cash balance.
Conclusion
The stock trades close to its rising trend channel which I see as a good entry point for the stock. The stock could have a runup to the Q1 earnings report due in May.
Disclosure: I am long SCEI.