One of the most exciting areas of technology is medicine, not consumer electronics, as one would assume from all the media exposure. While the products can be ostensibly lackluster compared to the recognizable gadgets and software of higher-profile companies like Apple (NASDAQ:AAPL) or Google (NASDAQ:GOOG), sometimes there are diamonds in the rough. Cytomedix (CMXI.OB) may very well be one of them. It has compelling products that could be game changers in the chronic wound field (estimated to be a $25 billion industry and growing), and it is poised to be the leader of the market. And that is only the tip of the iceberg. Its products are not immediately eye-catching like iPhones, but they are intriguing from an investment and health care standpoint after taking a closer look. In addition to a trifecta of products, Cytomedix's performance record over the past year makes Apple's great year look almost mundane in comparison.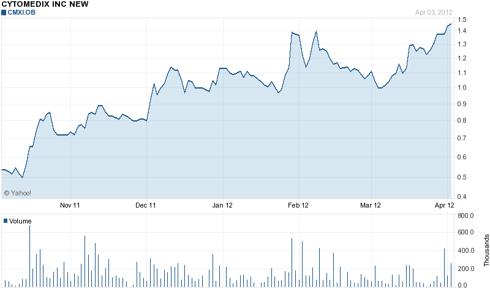 Source: Yahoo Finance.
As is evidenced by the above chart, Cytomedix had a phenomenal year in terms of stock appreciation. If you had bought it instead of Apple in October, you would have returned about 300% on your investment at the time of this writing, rather than the comparatively measly 50% that Apple would've made you in the same period. Over the past year, Cytomedix has yielded investors about a 500% return. In truth, both companies have had a stellar year, but of course there is always more to the picture than just the stock price.
So what does Cytomedix actually do? It develops and commercializes innovative autologous therapies that promote healing by harnessing the innate regenerative capacity of platelets and adult stem cells. It is a biotechnology company developing advanced tissue regeneration technologies. According to the company:
Our primary focus is on commercializing autologous cell-based therapies that facilitate the body's natural healing processes for enhanced healing and tissue repair. Our commercial portfolio is based on autologous platelet-rich plasma (PRP) platform technology, and includes the Angel® Whole Blood Separation System (Angel) and the AutoloGel System (AutoloGel).
Cytomedix uses autologous blood-derived platelet-rich plasma therapy as its chief product. The simple description is that they sell a spinning device that facilitates the concept of drawing a patient's own blood, and strategically injecting it or parts of it back into areas of the body that are not healing, or not healing fast enough. This process helps accelerate and activate healing in tissues that normally have trouble and require surgery, such as with tendons, cartilage, and tissues with poor circulation problems, among others.
For now, Cytomedix is focusing this therapy primarily into chronic wound care for diabetics and others prone to similar problems. However, there are a plethora of applications for their products that include hair restoration, cardiovascular surgery, orthopedic surgery, plastic surgery, macular degeneration, stroke victims and more. The main product for now is a topical ointment called AutoloGel (derived and refined from the patient's own blood) that speeds healing of chronic wounds such as with diabetics, and in some cases healing wounds that would not otherwise improve and eventually require amputation as a last resort. Moreover, after a recent acquisition of Aldagen, it now has a product line in Phase II trials that utilizes stem cells to improve healing after strokes, heart attacks, and the underlying ischemic causes of diabetic ulcers.

Cytomedix sells disposable one-time use products that go along with its devices (the CEO likens it to the simple razor and blades business model). While the company has flown mostly under the radar for now, only periodically getting media attention, these types of treatments could turn out to be one of the next big things in healthcare. Doctors could potentially use these therapies as a replacement for surgery. As with any new treatment, the science behind them is nascent compared to already established standards of care, and the studies and approvals necessary for mass proliferation are slowly accumulating. While it gives cause for patience from investors and potential patients, it is really good thing in the long-term viability of the products, company, and market. As with any new therapy, the science needs to pace itself so that results and any complications can be thoroughly studied so that nothing threatens the acceptance of the science and consequent products. The therapies have wide-ranging uses that can help everyone from professional athletes with aggravated joints to geriatric hospital patients and everyone in between.
While it is never good to fall in love with an investment, Cytomedix is an enticing candidate for courtship. It has the ability to shorten hospital stays, turn life altering chronic wounds into short-lived concerns, drastically reduce the cost of care for patients and insurers, improve the outcomes of stroke and heart attack victims, and improve both the quality and length of life for many (diabetes alone affects about 19 million people in the U.S., and 7 million are thought to be undiagnosed). Those sorts of results are the feel-good icing on the cake for a company whose stock price has skyrocketed. Perhaps the best part about Cytomedix is that unlike many medical and pharmaceutical companies whose products introduce foreign entities into the patients (often with long lists of frightening side effects), Cytomedix helps patients reallocate the resources that their bodies already produce naturally. Having the product being derived from the patients' own bodies is thought to reduce or completely eliminate rejection, mutation, and other unfavorable side effects.
So what are the risks with Cytomedix? If you read through its annual report, the risks are thoroughly discussed. A few of the most notable items include the fact that the company's first iteration filed for Chapter 11 bankruptcy protection and reorganization in 2001. As such, it will likely issue more stock if it requires more capital -- which is not expected, but is certainly a possibility for any company in a growth phase. That could potentially dilute shares. It currently forecasts revenues to grow and maintains a healthy cash position, but expects losses to continue as operating costs rise due to expanding sales expenditures. And it is essentially a penny stock; it has relatively low liquidity and is traded OTC for now. Additionally, a significant factor in the company's ability to grow is based on FDA approvals, federal reimbursement approval (Medicare/Medicaid), and results of ongoing trials. While Cytomedix is moving positively in all three directions at this time, setbacks in any of them would be a setback for the company and investors.
That said, revenues were up 85% for 2011, gross profit was up 97%, and gross margins are 50%-60%. Much of the rise is attributed to license fees generated from and agreement with a top-20 "Global Pharma" company; a secondary part of the agreement was entered into in February 2012. This agreement is for the AutoloGel product and could facilitate rapid proliferation if it is completed. Unlike in its first iteration, CMXI now has a stable business model with three differentiated product lines for now. To say it is positioned for growth is an understatement. A decision for Medicare reimbursement for the AutoloGel product is expected to be announced on May 9, 2012. If the decision is favorable, it will rapidly open up new opportunities for the company. Moreover, Cytomedix hopes to begin addressing international markets and greater penetration in the U.S.; 94% of sales are in only five states for now, and the U.S. of course represents only a small fraction of total customers/patients that could generate demand for AutoloGel alone. Also on the horizon is the next earning report to be released around May 15, 2012.
So should you take your profits from Apple and pick up as many shares of Cytomedix as you can? Probably not all of it for most people. Cytomedix's stock price appreciation does dwarf the gains of Apple and Google, but for the investor who is looking to get steady returns and relative low risk, something like Apple is likely a better choice for now. Cytomedix only has about $135 million market capitalization right now, which of course is tiny compared to the billions of Apple. As such, it is subject to higher volatility. For those with a shorter time horizon there are great opportunities for trading, but the information flow of company and market data is not as ubiquitous as with larger companies, and options are not available at this time (the stock was delisted from the NYSE Amex last year due to the company not meeting a minimum level of shareholder's equity, and a reverse split could be in its future if investment alone does not drive the price up). For investors, it presents a great buying opportunity -- at $1.55, you can buy about 370 shares of Cytomedix for one share of Apple. Cytomedix is probably not a stock for your grandmother to bet the farm on, unless she is passionate about medical technology and has a strong risk tolerance.
But those who are passionate about biotech or assign a part of their portfolio to growth stocks, Cytomedix is a fantastic candidate. While it is speculative compared to the large companies, it may not be for long. If it continues to plan and execute with the same acumen as over the past year, it could continue to make the rise of Apple look quite ordinary. The markets Cytomedix serves are growing right along with the cost of health care, the prevalence of diseases like diabetes and obesity, and the age of the population. As with many growth companies, there is a dearth of discussion and analysis on the company and markets it operates in compared to the big companies. For more information, aside from browsing their website, read Cytomedix's most recent 10-K, which is refreshingly straightforward but comprehensive enough to get a good idea of the small but vibrant company. For a more concise look, listen to the company's CEO present the most recent earnings call (which is only 15 minutes) and click through the accompanying PowerPoint slides. For a very brief discussion on chronic wounds and the corresponding business/market implications, a short Wall Street Journal article by Laura Landro was just posted last week, and a more comprehensive follow-up was also published.
Disclosure: I am long AAPL and long CMXI.OB.