In part one, I focused on acreage around Silo Field. This area first received positive press when Chesapeake (CHK) purchased a good portion of Samson's (SSN) acreage, and signed a JV with CNOOC (CEO). Several producers are working the Niobrara, but most of the dollars are being focused south of Silo Field in Colorado. This area is centered in southwestern Goshen and southeastern Platte counties, in Wyoming. The Niobrara is found at depths from 4000 to 11000 feet. Thickness in the DJ Basin varies from 280 to 330 feet. Total organic content is up to 10%. The Niobrara can see distinctly different types of production depending on the location. In northeast Colorado biogenic gas is produced. In Wattenberg Field there is thermogenic gas and condensate and fractured areas in Silo Field produce oil. High resistivity across the field is seen, with limited sweet spots with in the play. Most importantly, is SM Energy's Atlas 1-19 well drilled in Silo Field. This well had a 7-day IP rate of 1075 Boe/d. This result was much better than expected. Its production The picture below shows the results of the November of 2011 lease auction. The red dots are areas that have seen interest throughout the state.
(click charts to enlarge)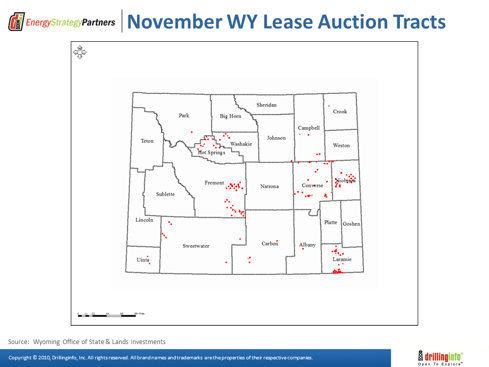 The picture below shows the amount of acreage leased and how many acres by county. Pay attention to the acreage in Laramie County.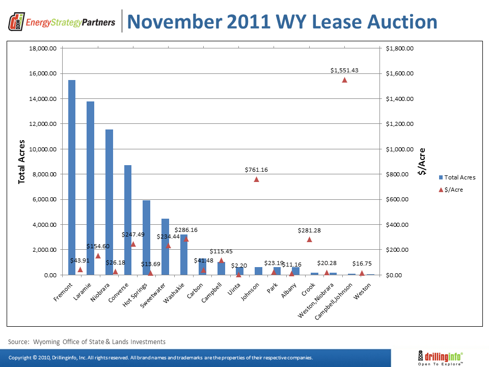 Continental (CLR) has 90293 net acres in the Niobrara with a portion just east of Silo Field. Continental has reported no results in Silo Field, but it has a large number to the northeast of Wattenberg Field. Of these 10 wells the average IP rate is 709 Boe/d. An 11th well result north of Wattenberg Field was much better than any of the wells to the northeast. It produced 1831 Boe/d in the first 24 hours. Continental seems to be focused on the Colorado portion of its acreage, and given the results there is a lot to be excited about.
Devon (DVN) is also present in Silo Field. Its acreage is completely surrounded by Chesapeake, and just to the south of Samson. It has approximately a total of 100000 net Niobrara acres. Its results have been mixed, with four wells in the Niobrara and two wells in the DJ Basin to the south. Devon has stated its early wells prove the highly fractured, specific areas (sweet spots) are better with respect to production. Areas with less fracturing but over larger areas have not been as good. Given the results to date, traveling outside the zone has been a problem. It believes greater use of 3D seismology in concert with directional drilling should improve these results. Devon has given no results in Silo Field to date.
Anadarko (APC) has over 500000 net acres in the DJ Basin, with 350000 in Wattenberg Field. It has been concentrating on Wattenberg Field, and is the leading producer in the Niobrara at 70000 Boe/d. In November of 2011, it updated location estimates to a range of 1200 to 2700. Anadarko believes EURs of 300 to 600 MBoe and initial well costs of $4 to $5 million. Average liquids ratio is about 70%. It has been good about releasing well results:
REI 31-5Hz: IP rate of 1225 Boe/d
Dolph 27-1Hz: IP rate of 1505 Boe/d (1103 barrels of oil)
Dechant 3-19Hz: IP rate of 840 Boe/d
Dechant 4-19Hz: IP rate of 980 Boe/d
Guttersen 4-5Hz: IP rate of 655 Boe/d
Pinnacle 2-2Hz: IP rate of 640 Boe/d
PSC 13N-13Hz: IP rate of 555 Boe/d
Guttersen 3-5Hz: IP rate of 655 Boe/d
PSC 12N-13Hz: IP rate of 575 Boe/d
PSC 12C-13Hz: IP rate of 795 Boe/d (Codell)
PSC 13C-13Hz: IP rate of 670 Boe/d (Codell)
The average for these wells including both Niobrara and Codell wells is 600 Bo/d and 1500 Mcf/d. The Dolph well was its best, and it had a four-month pay back. EUR for this well is 600 MBoe. It will be running seven rigs to drill 160 horizontal Niobrara wells in 2012, versus only 40 wells last year. Below is Anadarko's acreage in the Wattenberg.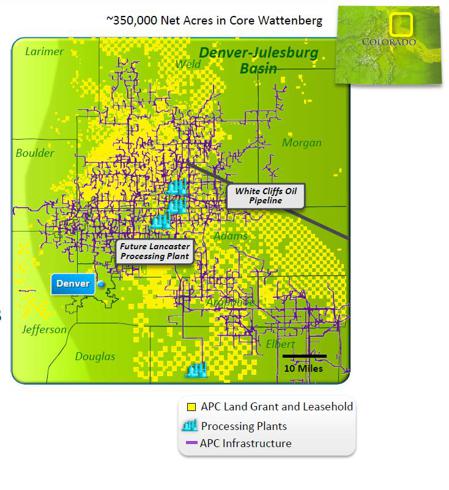 Anadarko's most exciting news is its six-well pad located five miles south of Watkins, Colorado. This would be the first big multi well pad drilled outside of Wattenberg Field. It will drill five Niobrara wells and one Graneros/Greenhorn well. It has also petitioned for a conventional vertical well two miles southeast of Watkins. This well will test these pay zones:
Niobrara
North Hays
Codell
D Sand
J Sand
Graneros
Greenhorn
Depending on the results from this well, it could significantly increase the value of surrounding acreage.
In summary, Silo Field is still a question mark. There has been little to no information on well completions, except for a couple of disappointing results. To the south, Weld County has been particularly good. These wells could have some of the fastest pay back times in the United States. These low costs create value in the right areas, and as completion methods improve margins should continue to increase. The Niobrara will continue to be a spotty play with sweet spots. This could prove to be inconsistent so picking the company with the right acreage is very important.
Disclaimer: This is not a buy recommendation.