The ever-alarmist ZeroHedge blog, predicting the end of times for years now, has a new line to scare us. Actually, it's not that new, but is nicely summed up in a single article: "The Government Is Out Of Control In The U.S." There is a comparable article from Seeking Alpha contributor John Mauldin titled "Our Government Is Now So Huge That It's Choking The Private Sector."
We'll turn to the size issue below, but first: Why is there a public sector at all?
Markets Can Fail Too
Both the Mauldin and the ZeroHege article argue that the public sector is way too large. Both do so on the rather simplistic assumption that it is the private sector that produces and the public sector is but a redistributive drag on the economy. This view simply doesn't recognize the myriad ways in which a public sector can actually benefit the private sector, rather than be a burden to it.
For starters, markets can fail too, and it's often the public sector that needs to redress that. We need a functioning law system for property rights to be meaningful. In places where they aren't, transaction costs increase and business tends to invest less, not more. Where they are largely absent, alternative mechanisms to enforce property rights emerge, like organized crime:
...after the demise of Sicilian feudalism, the lack of publicly provided property-right protection from widespread banditry favored the development of a florid market for private protection and the emergence of a cartel of protection providers: the mafia. (Buonanno, Durante, Prarolo, and Vanin)
This wasn't a one-off. Look at what happened in Russia and Eastern Europe after the collapse of communism. Markets can fail in a myriad of other ways. Monopolies (or near monopolies) are quite common in modern economies where standards and fixed cost play an ever-increasing role. The world's seas are fished empty because a free market creates what's called a "tragedy of the commons."
External effects are rife, which is why the climate is changing or people are dying from pollution. Pillars of wealth creation like infrastructure, research and development and education create much wider benefits than just the ones for those engaging in them, so they would be underprovided in a free market system. Here is Michael Kazin:
Public money and support were essential to creating the nation's infrastructure in the decades before the Civil War. State and federal funds helped build every major turnpike, canal, bridge, dock, and railroad line. As the historian Steve Fraser writes in The Princeton Encyclopedia of American Political History, all these enterprises were thus 'quasi-public creations … Governments granted them franchises, incorporated them, lent them money, invested in them, provided them with tax exemptions and subsidies and land grants, and even, at times, shared in their management.'
There exists unhealthy competition for positional goods, in which quality is relative:
...when buyers are competing for high-ranked positions in some hierarchy, the invisible hand often fails spectacularly. (Robert Frank)
The "hierarchies" mentioned here are positional goods such as access to the best schools and houses with the best location, but this phenomenon might be much bigger than many assume. Unfettered markets often produce extremely unequal outcomes, which many object to from a moral point of view, but more importantly perhaps, extreme inequality produces bad economic side effects as well.
If markets are always more efficient than any other institutional arrangement, then why are there big firms? Big firms are often every bit as big a bureaucracy as big ministries. The onus is on the free marketeers to explain why, despite all that bureaucracy, they have endured. Of course, economics has a few good answers to these questions -- firms save transaction costs. But that means markets are not always the most efficient arrangement.
Increasing complexity makes information asymmetries an ever-increasing problem for markets to deal with. The whole 2008 financial crisis is a textbook case of this, where banks sold mortgages to ill-informed customers who couldn't afford them in case all but the most rosy scenario in housing played out.
They repackaged the mortgages into inscrutable derivatives that tricked regulators and even the most sophisticated investors into believing they were safe, getting them off bank balance sheets so that they could rinse and repeat. The smartest banks even bet against their own products or let top clients devise these products and then bet against them.
If you think markets can deal with these problems through transparency or regulation and don't need regulating, you also think that we can just abolish the FDA and we'll have to take companies claims about new medicine at face value. If you want to look what unregulated financial markets look like, go to the pink sheets, a shark-infested place where little is what it seems.
It makes economic sense to insure people against the biggest uncertainties of the market. Not only will this provide a dampening effect on the business cycle, it also makes people less resistant to change, thereby aiding a market economy rather than burdening it.
The Business Cycle
Even on the macro level, markets have a tendency to produce undesirable outcomes, like deep recessions. Under certain conditions, public policies can help also here. But this can result in public deficits, and Mauldin argues that the public deficit has to be financed either by taxes (in which case there wouldn't be a deficit, but anyway...) or by issuing debt or by the Fed. He then argues:
...using taxes or savings to handle a large fiscal deficit reduces the amount of money available to private investment and therefore curtails the creation of new businesses.
Yes, this would be true if the economy would run close to full capacity, but it's not anywhere near that. Meaning there are spare resources that are not employed that could be employed if demand was larger. What's more, the longer resources lay idle, the bigger a percentage of these go to waste, shrinking future economic capacity.
Why is demand not larger? Well, households are trying to repair balance sheets as a result of the bursting of the credit infused housing bubble, so they're borrowing and spending less. In order to stop the economy from spiraling down (someone's spending is someone else's income, etc.) there must be offsetting, higher spending elsewhere in the economy. Since business is not going to invest more in an environment of low demand, that offsetting demand can only come from the public sector -- especially since monetary policy has exhausted itself, interest rates cannot fall below zero, and the economy is in a liquidity trap.
But Mauldin has a curious argument against this Keynesian-ism:
The only way that one can expect Keynesian policies to break the 'paradox of thrift' is to make the bet that people are foolish, and that they will disregard the deterioration in their balance sheets and simply look at the improvements in their income statements. This seems unlikely. Worse yet, even if individuals are foolish enough to disregard their balance sheets, banks surely won't; policies that push asset prices lower are bound to lead to further contractions in bank lending. This is why 'stimulating consumption' in the middle of a balance sheet recession (as Japan has tried to do for two decades) is worse than useless, it is detrimental to a recovery.
This is simply nonsense. Mauldin seems blissfully unaware that there are a lot of unemployed people. Surely we can agree that whatever the state of their balance sheet, if they were employed and earning a living, they would spend more -- which would translate into higher revenues for businesses, less spare capacity in factories and more reason to invest in new production capacity.
On balance sheet recessions in general, and the Japanese experience in particular, we can wholeheartedly recommend the work of Richard Koo here, the world's foremost expert on both. He arrives at the conclusion that increased public spending is the only thing that can keep an economy that is suffering from a balance sheet recession afloat. He argues that without the public spending in Japan, GDP would have fallen by 40%-50%.
The Simple Truth
The public sector is not "out of control" (as per ZeroHedge) or "choking the private sector" (as per Mauldin).
A few basic facts: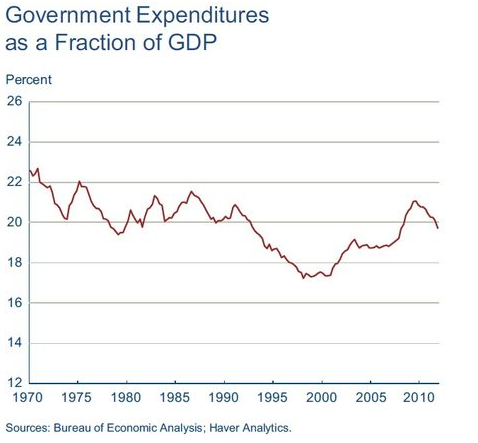 You see a fairly constant 20%-22% until the boom of the 1990s lowered that, only to be increased again by the dot-com crisis, some Bush area policies, and the 2008-09 financial crisis. But since then, it is already moving down again quite steeply: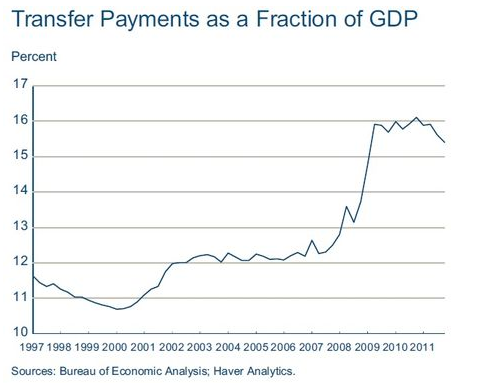 A two-step increase here, as one would expect (as these are strongly pro-cyclical; that is, they move in opposite direction from the state of the economy). The dot-com crisis and financial crisis ratcheted transfer payments up, but also here a modicum of retreat is already visible.
And since most transfer payments ratchet up during a recession and line the pockets of those most in need, they stabilize the recession as those most in need live hand-to-mouth, spending all of it.
Click to enlarge images.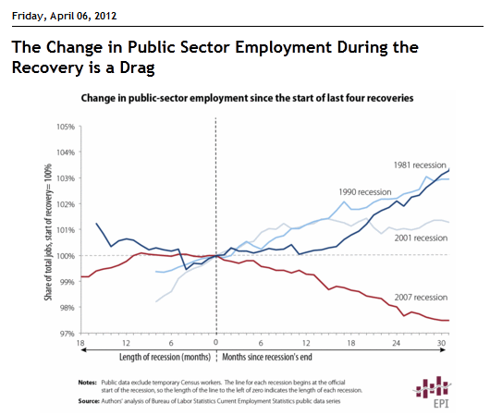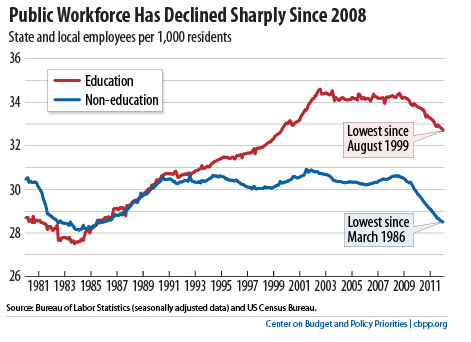 Yet another way to look at it is the following: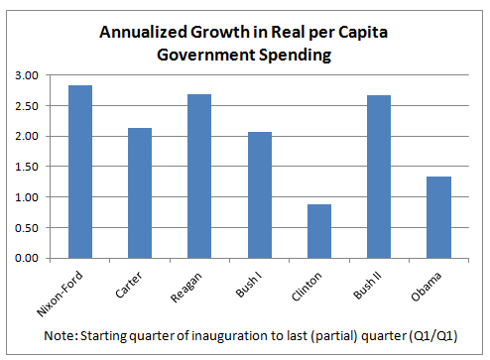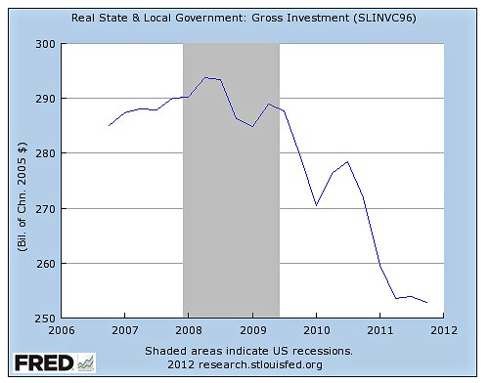 In case you're wondering where the humongous deficit comes from:
The nonpartisan Tax Policy Center's data predict that in 2011 taxes will have fallen more as a share of national income than during almost any other comparable period in U.S. history (including under Ronald Reagan) and may hit their lowest level since World War II: 14.4% of GDP, compared with the more than 18% average of the last 30 years. (Wall Street Journal)
Tax cuts plus the biggest recession since the 1930s have slashed tax receipts to their lowest level since World War II.
Why Is The Public Sector Growing?
Yet, almost anywhere, the public sector has a tendency to grow over time when countries develop economically. There are several reasons for that:
Baumol's disease
Preference changes
Increased complexity
Baumol's disease is the phenomenon that the public sector largely consists of activities for which it is difficult to raise productivity, at least to the same extent as manufacturing (if at all). To the contrary, sectors like healthcare probably face negative productivity growth as new and more expensive treatments become available. So when wages in the public sector increase with roughly the same percentage as those in the private sector, there isn't much offsetting increase in labor productivity in the public sector, which makes it more expensive. Also, when countries get richer, preferences usually change. People want better education, healthcare, safe neighborhoods and products, a cleaner environment, etc. -- all sectors in which the public sector often has a large role to play.
Increased complexity is another reason why the public sector tends to grow. Products and services are getting ever more complex as a result of advances in science and technology and the division of labor. This means that it is ever more difficult to assess products and services and opportunities to profit from information advantages and agency costs in markets ratchet up, usually transforming into demands on the public sector to regulate and reduce the ensuing transaction costs.
If you don't know what we're talking about here, ask yourself this: Would you try new drugs if there wasn't an FDA? How do you know if your lawyer (or your banker, in case your bank is Goldman Sachs and you're a "muppet") has your best interest at the center of their actions and advice? Can you really be sure the toy you bought for your kid is safe, or that brand watch or handbag is the real deal?
In short, markets are wonderful things but they can fail as well, and need surrounding institutions for them to work best. Do you really think the "free market" for academic publishing is in the public interest?
Despite some hyperventilating of ZeroHedge and Mauldin, it isn't the size of the public sector that is the most relevant. Countries like Sweden, Denmark, Germany, and the Netherlands have shown for some time that a big public sector and a developed, dynamic and more or less inclusive economy can go hand in hand. It is the quality of institutions that matter. There is a wonderful book on this called Why Nations Fail by Daron Acemoglu and James Robinson. Here is an overview by Thomas Friedman:
Why Nations Fail argues that the key differentiator between countries is 'institutions.' Nations thrive when they develop 'inclusive' political and economic institutions, and they fail when those institutions become 'extractive' and concentrate power and opportunity in the hands of only a few. 'Inclusive economic institutions that enforce property rights, create a level playing field, and encourage investments in new technologies and skills are more conducive to economic growth than extractive economic institutions that are structured to extract resources from the many by the few,' they write.
That about sums it up. The state is often the builder and executor or guarantor of those institutions. Something to keep in mind.