Last week we saw a bounce back led by the SPDR Homebuilders (XHB). This week we find that bounce was short lived (click to enlarge):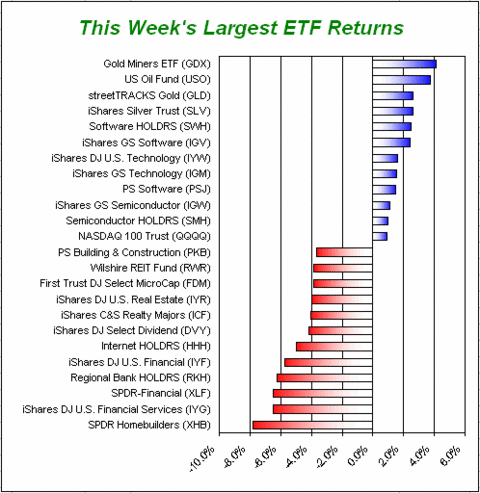 Despite a rally on Wednesday afternoon that followed the FOMC's decision to cut interest rates by a quarter point, 75% of my list is lower on the week. And some of the losses were significant.
In last week's column we saw that the SPDR Homebuilders was trying to bounce off its all-time low. With selling seen on Wednesday and Thursday, the XHB is now right back to its worst levels since the ETF began trading in February of last year.
Financials were also hit hard this week. In a column back in mid-August, I noted the propensity for the Dow Jones U.S. Financial Sector Index Fund (IYF), the Financial Select Sector SPDR (XLF), and the Regional Bank HOLDRS (RKH) to move together and that definitely held true this week. Another point to consider from that column was the longer-term performance. At the time the financial ETFs had pulled back to levels that marked support in the past and I said -
The funds are down for the year and showing only a slight gain from where they stood at the beginning of 2006. As of 8/15/2007, the financial sector was the top-weighted group of the SPDR S&P 500 ETF (SPY), so some stabilization here is important.
As the chart below shows, the IYF is back to those mid-August lows and the financials are still the top weighted sector in the SPY. Part of the struggle in financials this week was related to concerns about Citigroup (C). The stock was downgraded amid chatter that the company might cut its dividend. Given the company's well-known status and weighting in the IYF and XLF, this is a situation to watch.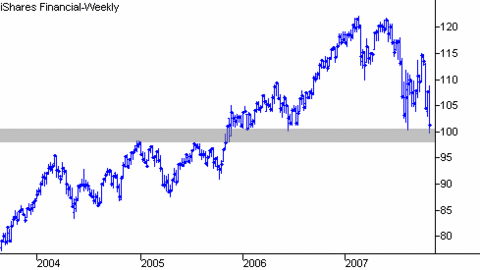 Outside of weakness in housing, real estate, and financials, we have a decline in the Internet HOLDRS (HHH). This fund, which doesn't include Google (GOOG), is dominated by Amazon.com (AMZN), eBay (EBAY), and Yahoo (YHOO). Those 3 stocks account for roughly three-quarters of the HHH weighting.
The strongest funds this week were those related to commodities. The Gold Miners ETF (GDX), US Oil Fund (USO), streetTRACKS Gold (GLD), and iShares Silver Trust (SLV) led the week. We also have some mild strength in software, semiconductors and general technology. The relative strength of tech helped the NASDAQ 100 Trust (QQQQ) rise to the top half of the list.