Investors attempting to profit from growth overseas often look to the obvious: building materials, steel, oil, financials, etc. The one sector that gets overlooked is the foreign telecom companies. How will the expansion take place without communication between the new businesses and the growing middle class? Keep in mind that most telecom companies are responsible for not only land lines, but also wireless, data, and internet. Without their services it is impossible for a country to grow.
To take advantage of global telecom expansion there are a number of options that include stocks and exchange-traded funds [ETFs]. The two ETFs that cover the sector are the iShares S&P Global Telecom ETF (NYSEARCA:IXP) and the WisdomTree International Communications ETF (DGG). Even though they both cover a small sector, investors must be cognizant of the great differences between the two ETFs.
The iShares ETF (IXP) has a 32% allocation in the US, followed by 16% in the UK, and 9% in Spain. The WisdomTree ETF (DGG) invests zero in the US and is a pure international investment. The UK is the largest country with 24%, followed by 13% in Hong Kong and 11% in Spain. DGG is a truly diversified ETF with 8 different countries represented in the top 10 holdings. Neither ETF has a large presence in the emerging markets, but DGG has a slight edge.
The top holding of IXP is US-based AT&T (NYSE:T) with 17%, followed by Vodafone (NASDAQ:VOD) with 12% and Telefonica (NYSE:TEF) making up 9%. DGG has no exposure to the US and therefore cannot own T; its largest holdings are VOD (14%), TEF (11%), and China Mobile (11%). The heavy weighting in CHL has helped DGG outperform IXP through the first 10 months of the year, 35% versus 31%. The expense ratio of IXP is 0.48% compared to 0.58% for DGG. IXP does have a modest dividend yield of 1.8% and DGG pay out 0.5% per year.
When everything is laid out on the table it is clear that both ETFs have upside that is above and beyond the overall US market. The downside is the potential of a global slowdown. If you believe a slowdown is around the corner, neither ETF is your cup of tea. I believe the growth overseas will continue to flourish, in particular in the emerging markets, and therefore would choose DGG as the winner.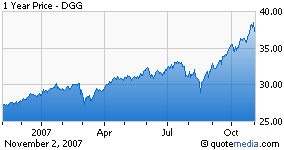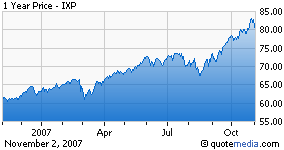 Disclosure: none