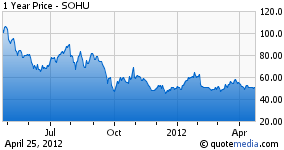 Sohu (NASDAQ:SOHU) is expected to report earnings on April 30th. The Street expects
Revenue: $225 million
EPS: $0.47 per share
Q2 Revenue guidance: $252 million
Last quarter, management guided a weak Q1 due to slowing sales from its real estate advertising business and 17173.com, and an earlier-than-usual Chinese New Year.
Heading into the earnings, investors could expect:
Continued weakness in the brand advertising segment due to a soft real estate market. Real estate advertising accounts for 20% of brand advertising revenue. In March, 37 out of 70 cities tracked by the government experienced price declines (compared to 27 cities in February), underscoring a rebound of the real estate market is unlikely in the near-term.
Steady topline growth in gaming but weaker margin amid transitioning period. Changyou accounted for 56% of Sohu's revenue last quarter but 96% of operating profit. As discussed since Q4, the unit is pursuing a platform strategy by offering more diversified products such as action and first-person shooter. The increased investment could impact margins going forward due to increased R&D and headcounts.
Possibility of Sogou Video being marginalized in the wake of Youku-Tudou deal. Youku (NYSE:YOKU) and (NASDAQ:TUDO) combine for 36% of China's online video market share, compared to Sohu's 13%, according to Analysys International. Youku-Tudou is the clear dominant player in China's online video advertising market and that could put pressure on Sohu since many advertisers prefer to allocate their advertising budgets to market leaders.
Sogou Search is the only bright spot, but growth comes at a cost. Sogou Search is once again expected to grow twice as fast as Baidu (NASDAQ:BIDU) this upcoming quarter. However, growth comes at a price as Sohu invests heavily in search to increase the scale of its platform, which ultimately impacts operating margins in the near-term.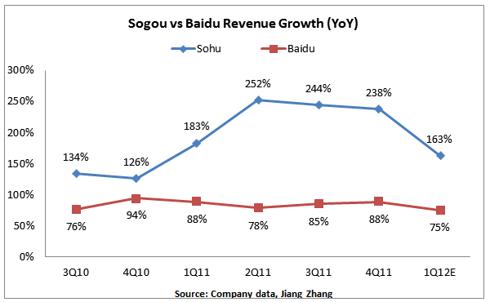 Disclosure: I have no positions in any stocks mentioned, and no plans to initiate any positions within the next 72 hours.