Berkshire Hathaway Inc. (NYSE:BRK.B) is an multinational conglomerate holding company headquartered in Omaha, Neb., that oversees and manages a number of subsidiary companies.
Berkshire now owns a diverse range of businesses including confectionery, retail, railroad, home furnishings, encyclopedias, manufacturers of vacuum cleaners, jewelry sales; newspaper publishing; manufacture and distribution of uniforms; as well as several regional electric and gas utilities and a railroad.
Its holdings include insurers GEICO, General Re, NRG, and Berkshire Hathaway Insurers, and large stakes in publicly traded companies such as American Express (NYSE:AXP), Kraft (KFT), The Coca-Cola Company (NYSE:KO), IBM (NYSE:IBM), Bank of America (NYSE:BAC) preferred stock, and many other profitable publicly traded companies.
The CEO of Berkshire Hathaway receives an annual salary of only $100,000 and gets no stock options, but don't cry for him, because his name is Warren Buffett. Buffett bought the company in 1964 and he owns 35% of the stock. The second largest shareholder and a member of the board is William Gates Jr. who made his money as a founder of Microsoft Corporation (MSFT).
Most people think that ownership of Berkshire Hathaway (BRK.A, BRK.B) is out of their reach. This is not surprising, because the BRK.A shares sell for $118,580.00 each, which makes everything else look like a penny stock. If BRK.A was added to the Dow Jones Industrial Index, it would comprise more than 99% of the index, which is calculated simply by adding together the prices of 30 stocks. This is why it is not and never will be part of the DJIA.
The stock has never split and never paid a dividend, but you can extract a dividend from Mr. Buffett all the same, if you wish. Here's how.
In February 2010 the B Class stock of Berkshire Hathaway was split 50:1 and added to the Standard & Poor's 500 index in place of Burlington Northern, a railroad acquired by Berkshire Hathaway. Currently BRK.B trades at a paltry (by the standards of Mr. Buffett) $78.90 per share.
BRK.B has options that are traded like any other stock, even though you may think it is more like a mutual fund than a company. BRK.A does not have options.
Here is an options chart for BRK.B.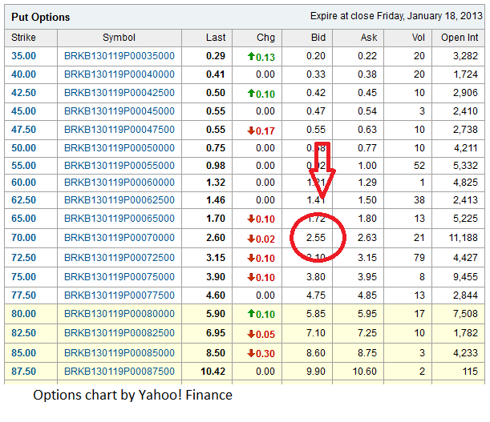 If we look at this chart, we can see that the $70 January 2013 put bid price is $2.55. This means that in an IRA account we can sell this put for $255 if we put down $7,000 in cash. This is called selling a cash secured put.
When you buy a put, it gives you the right (but not the obligation) to sell a specific stock at a specific price per share within a specific time frame. A good way to remember this is: you have the right to "put" stock to somebody.

If you sell a put, you have the obligation to buy the stock at a specific price per share within a specific time frame - that's only if the put buyer decides to invoke their right to sell the stock at that price. [The Options Playbook: Brian Overby].
If we sell this put for $255 and the price of the BRK.B stock remains higher than $70 at the close on the third Friday in January 2013, we will keep the $255, which is a return of 3.6% on our $7000 (4.6% annualized), which is the "dividend" that we would like to extract from Mr. Buffett's pocket. $70 is about 10% below the current price of the stock.
Now what if the stock is below $70 on options expiration date. Well, I'm afraid that means you will acquire the stock for $70, but there is a fairly good reason to think that this will not occur unless there is a serious macroeconomic crisis.
The argument for this is clearly laid out in a September 2011 Seeking Alpha article by hedge fund manager Whitney Tilson, Berkshire Hathaway's New Share Repurchase Program - And What It Means. I won't regurgitate the whole theory, but in a nutshell it is this.
The Berkshire Hathaway board has authorized the company to buy back billions of dollars worth of stock at no more than 10% over book value. By Tilson's calculations in late 2011, that price would be around $71 for the BRK.B stock. This should put a floor under the stock around $70.
Here's the monthly chart for BRK.B since it was added to the S&P 500 Index.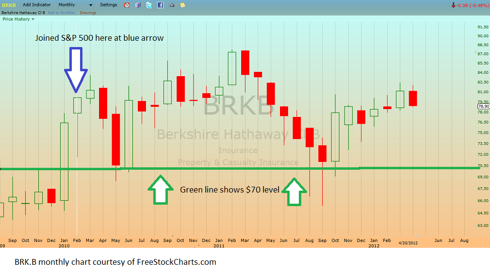 So if you do get the stock put to you for $70 you should be very happy with your purchase, because you are buying stock at close to the same price that Buffett is willing to pay.
Oh, and Buffett's biggest blunder? In 2010, Buffett claimed that purchasing Berkshire Hathaway (then a clothing manufacturer) was the biggest investment mistake he had ever made, and claimed that it had denied him compounded investment returns of about $200 billion over the previous 45 years.
A shame really, because according to Forbes Magazine, Buffett is not the richest man on the board of Berkshire Hathaway, trailing Bill Gates by a distance, and with that missing $200 billion Buffett could have been a contender.
Don't blunder like Buffett, just sell the put and take the money.
Disclosure: I am long BRK.B.