BroadVision (NASDAQ:BVSN) will report Q1 results after the market closes on Wednesday April 25. There are no analyst projections, so market share comparisons should be made to its primary public competitor, Jive Software (NASDAQ:JIVE).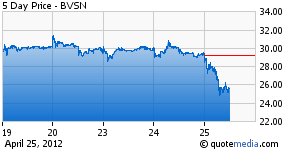 Analysts are expecting JIVE's Q1 revenue to be up more than 50% to $24.4 million versus $16.1 million in Q1 of 2011. The company has been executing extremely well, giving us confidence in its ability to meet or beat analyst expectations. JIVE will report Q1 earnings on May 8.
In contrast, BVSN will have to report revenue of $7.7 million to match JIVE's growth trajectory. By definition, matching its rival's growth is required to maintain market share. Thus, anything less than 50% year-over-year growth will imply continued loss of market share at a critical point in the market development.
While Broadvision continues to make progress with its Clearvale platform, we believe that the company is unlikely to hit the aforementioned $7.7 million number. Accordingly, we continue to believe that BVSN would be more appropriately priced in the mid-teens.
We will revisit this price target after the call, subject to how close BVSN comes to maintaining its market share relative to JIVE.
Disclosure: I am short BVSN.