Firsthand Technology Value Fund (NASDAQ:SVVC) and GSV Capital Corp (NASDAQ:GSVC) are closed-end investment funds. Both funds have Facebook (NASDAQ:FB) shares that represent approximately 10% & 7% respectively of their total assets. Both funds have recently traded well in excess of book value, arguably due to their FB holdings.
With the exception of the price target, I agree with the previous Evans Capital Seeking Alpha posts (here and here) on, both the short and the cover. I have blogged about SVVC several times.
I think the stock price maybe goes to $27-$29 per share when Facebook begins trading but that may be about it. By diluting the stock, doubling the share position, SVVC killed the golden goose. [Evans Capital.]
I believe SVVC can run to the mid $30s prior to the IPO, representing a strong buy at current prices.
1. SVVC is an illiquid micro cap and is a proven runner. At recent highs ($46.50), SVVC was trading at 190% of book value - an extreme valuation caused by liquidity and FB hype.
GSVC is a similar company to SVVC and has been trading at a large premium to book value (20% to 33% - estimated book value of $15). GSVC raised over $100m at $15 in February. The stock dropped to $15 and has since traded at previous highs. The recent pullback has been caused by yet another stock offering.
Click to enlarge.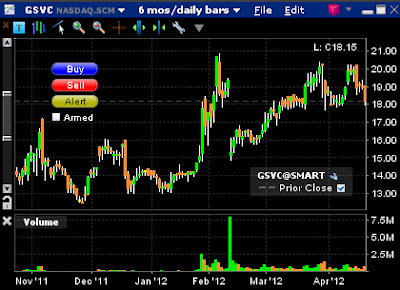 Click to enlarge
I think SVVC can perform at least as well as GSVC has done post-capital-raising. 20% to 33% over $27 (SVVC's capital raising price) gives a price a target between $32.40 and $36.90 before the FB IPO (expected in late May).
With the market digesting the recent capital raising, the current price of $26.20 gives a great entry point, offering potential profits of 40% (IRR 500%) in less than a month. Excitement over the FB IPO will be extreme over the next month, and this is the best way to play it.
Disclosure: I am long SVVC.