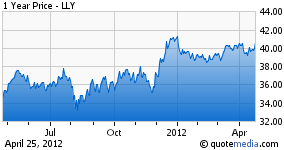 Investors reacted positively to Lilly's (NYSE:LLY) first quarter earnings report, but there was actually little in the news that impacts the long-term story here. Pressure on revenue and margins is going to accelerate as the year moves on, and the company has some make-or-break clinical data coming up. While bulls are right that favorable data will push the shares considerably higher, there is a very real chance that this stock could be yielding 6% or 7% in a year's time.
A Low-Quality Q1 Beat
Not all earnings beats are equal, and Lilly's was on the lower edge of the quality scale. Revenue declined less than expected (down 4%), but much of that upside came from slower deterioration in the Zyprexa franchise. Overall, Lilly reported a 7% decline in company-wide volume (but a 4% price improvement, and pharma sales were down 10%. Other than Zyprexa there weren't any truly significant deltas in the revenue numbers.
Margins worsened, but once again it was a case of being less-bad than the Street had forecast. Gross margin declined about a point, while operating income fell 20% on higher SG&A and R&D spending. R&D spending was actually a little light (helping fuel the earnings beat), but this is likely to head higher as the company has numerous Phase 3 programs to support (as well as earlier-stage compounds).
All in all, the first quarter outperformance looks at least partially due to timing, and it's worth noting that management's guidance revision reflects that to some extent.
Big News On The Way
The biggest delta in Lilly's valuation is the upcoming clinical data from solanezumab in Alzheimer's. Clinical data should be out in the third quarter, and good data would be starting point for what could be a multi-billion dollar opportunity. Unfortunately, I don't think the odds of approvable efficacy are strong, and I think investors looking for an Alzheimer's story would do better with Baxter's (NYSE:BAX) Gammagard or Pfizer (NYSE:PFE) / Johnson & Johnson's (NYSE:JNJ) bapineuzumab.
Other clinical data points on the way include dulaglutide - Lilly's long-acting GLP-1 analog that the company hopes will compete with Amylin's (AMLN) Bydureon and compounds under development at Novo Nordisk (NYSE:NVO), Glaxo (NYSE:GSK), and Sanofi (NYSE:SNY). Lilly is also likely to see data from another diabetes drug (empagliflozin - an SGLT-2 inhibitor), as well as incremental developmental progress on new insulin formulations.
As mentioned, there are 10 Phase III programs of note here, and investors can also look forward to data on new compounds for breast cancer and non-small cell lung cancer late in 2012 or (more likely) in early 2013.
A Solid Franchise In Diabetes
It's well worth spending a few more moments on Lilly's diabetes business. Although neurological drugs like Cymbalta and Zyprexa have indeed been quite significant, Lilly's franchise of insulin products and growing portfolio of oral/injected diabetes medications is a dependable and valuable asset.
While I do believe the company has lost some share to Novo Nordisk and the exclusion from CVS Caremark's (NYSE:CVS) formulary are troublesome, I think this business is still worth $15 to $20 a share to Lilly's investors.
A High-Risk/High-Return Pipeline
The good news/bad news of Lilly's pipeline is that drugs for Alzheimer's, cancer, psoriasis, and diabetes could be worth $4 billion to $7 billion in incremental sales by 2017. Unfortunately, there's a higher risk of failure here than most other Big Pharma pipelines and the actual 2017 contributions could be significantly less than $7 billion. Worse still, I'm not sure Lilly has the financial wherewithal to add much more through deals unless the company is willing to give up more future profitability (higher royalties) in exchange for lower up-fronts.
What's worse, the company has an elevated cost structure right now and about 60% of 2012's revenue could be off-patent by 2018. The generic competition is coming and there's not much the company can do about it, whereas management will have the option to trim costs between now and then if and when P3 programs fail to meet their goals.
The Bottom Line
At nearly 5%, Lilly does offer a healthy dividend yield. What's more, there's rampant skepticism out there about the quality of Lilly's management and the likelihood that this collection of Phase III assets is going to turn out as hoped. If Lilly winds up with a high batting average (and most especially if solanezumab succeeds), the stock is almost certainly going to outperform and could definitely jump past $50 before year-end.
On the flip side, if these late-stage drugs flame out, I would not be at all surprised to see Lilly sport a 6-7% dividend yield this time next year.
I'm in the skeptics camp, and I believe Lilly will struggle to grow its free cash flow over the coming years. Accordingly, I believe fair value is in the low $40s, and this is not a pharma stock that interests me at present.
Disclosure: I am long AMLN.