I have been inundated by questions about Apple (NASDAQ:AAPL) from my friends and investing acquaintances. Apple is covered extremely well by a cadre of Seeking Alpha authors. Nevertheless, after reading the multitude of articles regarding whether you should sell prior to earnings or wait and buy after earnings, I feel I need to throw my hat in the ring and add my two cents.
Here it is. Apple is not a trade, it is an investment. Guy Adami, of CNBC's Fast Money, stated today on the Half Time report he would take profits. Adami posits it has reached the top end of its recent trading range of $610 and is due for a pullback. I say don't bother. Don't attempt to trade Apple ... you will just get burned. The real winners are the people who bought and held Apple over the long-term. My friend Bret sent me the following message on Facebook regarding Apple's recent downturn and here was my response.
(Click to enlarge)

Let me reiterate my thoughts. My 12 month price target is $850. Apple will keep going up from there as well. Apple is a volatile stock; nevertheless Steve Jobs had a two year pipeline in place. Also, after listening to the conference call, the Jobs ethos, philosophy and attitude appears to be well ingrained on current management. This is a great company with global reach firing on all cylinders. The way to make serious money in Apple is to buy and hold the stock. See the 10-year chart below.
(Click to enlarge)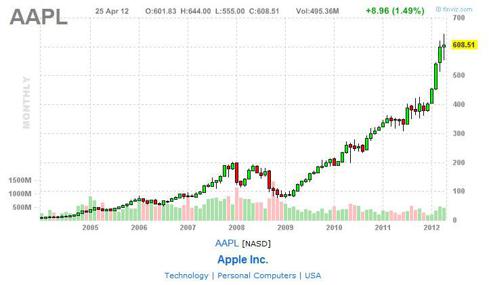 Downturn Due To Analyst Shortsighted Thinking
The downturn was due to shortsighted analysts and Wall Street traders giving too much weight to recent reports stating there was a slowdown in the pace at which its products are being put to work on AT&T's (NYSE:T) network. Additionally, the shares were affected by a disappointing report from Qualcomm (NASDAQ:QCOM) that chip supplies were tight. Finally, Apple had recently breached its 50 day SMA which is technically bearish. This caused Apple to have its worst two week performance in the past two years, dropping over 10% prior to earnings. The dynamics that escaped Apple's detractors is the fact that Apple has a multitude of suppliers and one negative report by AT&T cannot bring down Apple's house. Apple is no longer reliant on any one supplier or network.
Huge Beat Due To Margin Expansion And Chinese Sales
Apple had a huge beat. Apple performance was fueled by margin expansion and soaring Chinese sales. Goldman agrees with my price target of $850. Goldman thinks the report is evidence Apple's long-term margins will be higher than expected. A chart from Horace Deidu points out Apple's operating margin has more than tripled since Q4 of 2005, thanks to the iPhone's sky-high margins. Guidance for a quarter over quarter iPhone sales drop makes BMO more guarded. The firm believes Apple's gains will be limited until summer, when the next iPhone comes into view. Topeka Capital's Brian White, who made waves by setting a $1,001 PT three weeks ago, is raising it to $1,111 following the company's FQ2 beat. Apple trades at just 8.1 times earnings excluding cash, White's calendar year 2013 EPS estimate. He sees a new iPhone, Apple TV, iPad Mini and possible iPhone deal with China Mobile (NYSE:CHL) sustaining its momentum.
Report Highlights
The Apple ecosystem is not a myth, it's a fact and the latest earnings results reflect this. The iPhone posted healthy sales of 35 million, up 88% and growing twice as fast as its peers. iPhone sales in China were up over 500% alone. iPad sales were up 151% to 12 million units for the quarter. Mac sales were up 7% with 4 million units sold while iPod sales were the lone negative, down 15% with 7 million units sold.
Apple now has $110.2B in cash and cash equivalents with 14 billion in cash flow from operations for the quarter. One important note is R&D spending is up 45%. This bodes well for Apple's future with the new Apple TV and iPad mini products coming in the near future.
Conclusion
The bottom line is don't get caught up by the short term noise about Apple. If you are seeking alpha, buy and hold is the way to go with Apple. Trading in and out of Apple is a fool's errand. If you are bullish on Apple buy it and forget about it for the next 10 years. I believe you will be richly rewarded. Ten years ago Apple was trading at $11. I would still layer in to the stock at this time by buying a quarter position at a time over the next four months.
Disclosure: I have no positions in any stocks mentioned, but may initiate a long position in AAPL over the next 72 hours.