Cynosure Inc. (NASDAQ:CYNO) is a company that is really just beginning to hit its stride after losing money in 2000 - 2003, hitting profitability in '04 but then taking a step back in 2005. That's all changed in the past 2 years for this small, but fast growing company (revenues of just over 100 million over the past year).
After more than doubling earnings in 2006, the company is on pace to do so again in 2007 then moderate a bit in '08 with 25% growth. Those are fantastic numbers on the earnings side, but what stands out most to me is the trend of accelerating revenue growth over the past 2 years.
Net margins (currently around 14%) and ROE (currently around 11%) aren't exceptional by any means, but are solid. Add in the growing number of institutions initiating positions and 40% management ownership and what you have is a company with tremendous potential... to make you money!
TECHNICAL:
CYNO IPO'd back in late 2005 and broke out of its first base nearly a year later. After more than doubling, the stock fell into a new base which it broke out of in early October without ever forming a definitive handle. The stock needed to digest the quick run in September and it has done that by carving out a bullish triangle formation. A break from this formation (around 40 - 41) is a buy opportunity.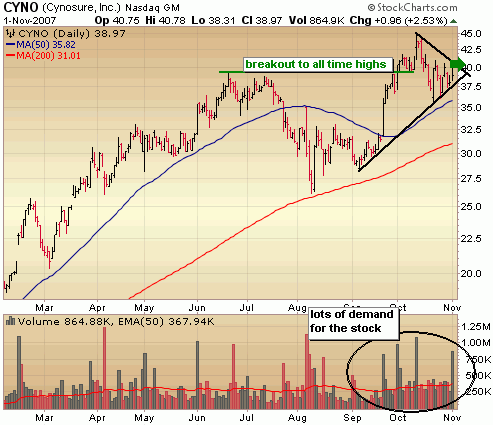 Full Disclosure/Disclaimer: The stock of the day is by no means a buy recommendation. Please do your own research and make a personal decision based on your own tolerance for risk. I currently do not own a position in CYNO.