On April 24, 2012, Apple (NASDAQ:AAPL) reported results that blew past everyone's expectations, including our expectations. Apple reported quarterly revenue of $39.2B and quarterly profit of $11.6B, or $12.30 EPS. This surpassed the $10.07 consensus estimates from the analyst community. Apple saw growth due to strong sales growth from all of its product lines. Revenue enjoyed a mammoth 59% increase versus Q2 2011 and EPS grew by over 92%. EPS Growth was also aided by a higher gross margin, which was aided by lower commodity input costs associated with Apple's products.
(Click charts to enlarge)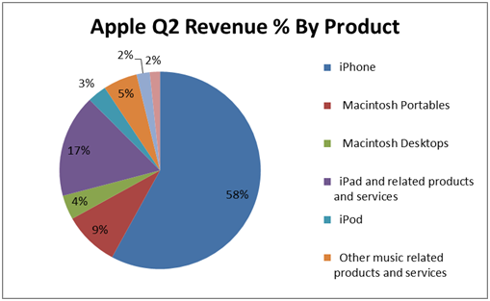 Click to enlarge
Source: Apple's Q2 Earnings Supplement
Sales of the iPhone represented the lion's share of revenue for Apple. iPhone revenue increased by 85% to $22.69B on a year-over-year basis. Units sold increased by 88% to 35.06M, which was close to what was sold over the Q1 period that included the Christmas and Hanukkah holidays. This certainly outshined the revenue and units sold by Nokia (NYSE:NOK) and Research in Motion (RIMM), even though we previously wrote about how those companies have lower wholesale and retail costs associated with phones from those two vendors. According to executives with mobile phone companies, the iPhone has lower churn than other smartphones sold by the carriers. We were especially pleased that Apple was able to shrug off sequential quarter sales declines from AT&T (NYSE:T) [4.3M iPhones activated] and Verizon (NYSE:VZ) [3.2M iPhones activated]. Motorola Mobility (NYSE:MMI) will be reporting EPS around May 1, and we are interested in seeing if MMI can be a legitimate runner-up to Apple. Sprint Nextel (NYSE:S) is reporting April 25, 2012, and we are interested in what Sprint reports for iPhone sales.


Click to enlargeSource:Most Recent Quarterly Earnings Releases from the companies
The iPad also saw gargantuan growth during the quarter. On a year-over-year basis, iPads sold increased by 151% and revenue from the iPad increased by 132%. Research in Motion should be embarrassed that Apple's iPad revenue in the most recent quarter exceeded its total company revenue in the most recent quarter RIMM reported. Of course Apple's management spends its time developing and promoting products that consumers want. RIMM's management spent its time trying to buy a hockey team and relocate it to Hamilton, Ontario, near its Waterloo, corporate headquarters. We couldn't even find a BlackBerry for sale with the Big Four mobile carriers. Let's also pray that Jim Balsillie doesn't offer to treat Tim Cook to a night out at a San Jose Sharks game or convince him to take over the naming rights of the San Jose Arena, which is currently held by Hewlett-Packard.
Other products with significant revenue growth included the following:

Click to enlarge
Source: Apple's Q2 Earnings Supplement
The iPod and Mac saw less impressive sales growth. Unit sales of the Mac Desktops and Portables collectively grew by 7%, however product revenue grew only 2% versus the comparable quarter last year. The iPod is starting to show its age, as unit sales declined by 15% and product revenue declined by 25%, both on a year-over-year basis.
On a geographic basis, all the regions saw strong revenue. Even Europe, which has been beleaguered by the sovereign debt crisis registered a 46% year-over-year growth. The greatest growth came from the Asia Pacific, which was boosted primarily by gargantuan growth out of China. Chinese revenue tripled on a year-over-year basis.

Click to enlargeSource: Apple's Q2 Earnings Supplement
Cash Flows from Operations were $14B and capital expenditures were $1.457B, resulting in free cash flows of over $12.5B for the quarter. Apple opened two new stores, one in Amsterdam, and the other in Houston. One-third of its retail store base is outside the U.S. Apple stores generated $12.2B in revenue per store in the quarter, up from $9.9B in last year's comparable quarter. Apple stores saw 85M visitors, an increase of 19% year-over-year and average about 18,000 visitors per store per week.
The iPad and iPhone accounted for all but $373M of Apple's $14.5B of increased year-over-year revenue. Because the lion's share of revenue growth is coming primarily from these products, we have some concerns that the growth will continue at the current rate. At the same time, we take comfort in the conservative guidance typically issued by Apple management, the low consensus long-term growth of the analyst community in relation to Apple's recent growth results and its track record of shattering consensus estimates from the analyst community. Also, Apple's $110B in cash and marketable securities ($74B attributed to overseas entities) represents nearly 20% of Apple's Market cap, plus Apple announced earlier this quarter that it will be paying $2.65/share in quarterly dividends, which will help keep us interested in the company. We are certainly pleased with the overall results of the company during the quarter and will maintain our long position in the company.
Disclosure: I am long AAPL.
Additional disclosure: Saibus Research has not received compensation directly or indirectly for expressing the recommendation in this report. Under no circumstances must this report be considered an offer to buy, sell, subscribe for or trade securities or other instruments.