My TradingFloor.com colleagues Peter Bo Kiaer and Matt Bolduc have written extensively on why there might be a new tech bubble underway and why Facebook (FB) is quite possibly a poor investment choice due to overvaluation ahead of its May initial public offering. While I agree with some of their arguments, my contrarian voice says we need some arguments in favor of buying into Facebook.
Those who do not learn from the past are condemned to repeat it, goes the famous quote from philosopher George Santayana. I made a big mistake with the IPO for Google (GOOG) in 2004, and that mistake colors my outlook on Facebook now.
Google's story and what old school value investors can learn from it
Back in 2004 when Google was going public, one of my good friends who had just started studying software programming asked me about buying Google shares. Being the old school value investor I was at the time, and having read "Security Analysis and the Intelligent Investor", my response back then was that the company was very overvalued based on P/E and P/B ratio - my two favorite ratios at the time. The reason for my assessment was because I understood the relationship you see in the table below. It shows the number one relationship that every old school value investor knows: high valuation leads to low returns. However, only on average.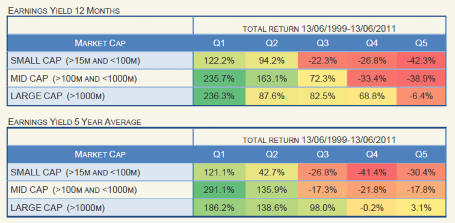 Source: Quantitative Value Investing In Europe: What works for Achieving Alpha, by Phillip Vanstraceele & Tim Du Toit - March 2012
The table shows that high earnings yield (low P/E) is associated with high return and vice versa. This "iron law" of investing is based on average observations as each quintile in the specific test above constitutes portfolios of over 50 stocks. Within the quintiles or percentiles, when researchers do their factor tests, the variance is quite large. So in the table above the lowest quintile shows on average negative returns but within the group some of the stocks might have done pretty well. This leads to a key insight. Not investment opportunity can be deduced to the law of averages and a few factors such as P/E and P/B. If so, you might have invested in Nokia a long time ago and suffered immensely in tragic value trap.
As I trust my friend in everything related to technology and software,he likewise trusted me in investment decisions. He should never have done that with regard to Google. Since the IPO, Google has returned 526 percent (from August 2004 to March 2012 based on end-of-month prices) or 27.4 percent annualised. The truth is he never bought a single share. And the reason? My incomplete view of investing at the time. But we are still friends.
The magic of growth and innovation
My view on investing changed when I read the book "Common Stocks and Uncommon Profits and Other Writings." This is essentially the book that turned Charlie Munger away from the old school thoughts of value investing and later also convinced Warren Buffett to change his views. Precisely therefore, none of Warren Buffett's investments in the last three decades are true old school value cases based on the philosophy of Benjamin Graham, the father of value investing.
In the book, Philip Fisher argues for a more growth-oriented approach to investing by focusing on the company's products, technology and management (remember Peter Lynch?) and that better results come from buying shares in growth companies with superior technology even if the price can seem lofty (however Fisher never goes all in and says you should pay anything). However, as Charlie Munger has said: "sometimes stocks are dirt cheap because they are dirt".
The magic about growth and innovation is that a superior technological position often translates into huge sustainable profits growing above the average growth rate in the economy. Sounds like Darwinism. Correct, and it is. The interesting thing is that is works in business as well. Just look at Google. The company has grown EPS at 53.3 percent annualised since the autumn 2004 (see chart below). As the high valuation multiple measured by its P/E ratio during the IPO has contracted the total return has not mirrored the earnings growth one-to-one and as such total return has "only" been 27.4 annualised or 526.4 percent cumulative.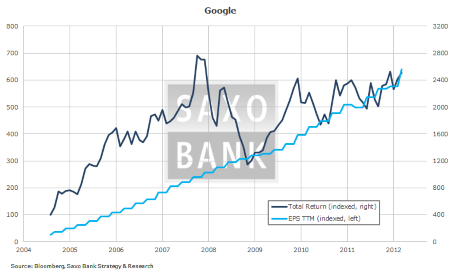 The kind of technological position and growth rate Google bought to the table in 2004 should have trumped my narrow-minded focus on valuation. With a 150 percent annual growth rate (though falling of course) when it went public should have trumped my fear of a P/E ratio of 100 (see chart below). Why? Because under the simplistic assumption of continued growth and no change in share price the P/E would have fallen from 100 to 16 in two years! Now that high growth rate could not continue at 150 percent and it did not. The growth rate year-over-year fell to 83 percent from the 150 percent in the first year of its IPO.
The magic of growth is best illustrated with Google's first two years of operation after its IPO. The EPS diluted went from USD 1.29 as of August 2004 to USD 7.29 two years later. If the share price had not moved from the observed 102.37 as of August 2004, the P/E ratio would have contracted from 79.4 to 14.0. Now, what happened was that the P/E only contracted to 51.9 instead two years later (see chart below) to reflect the still high growth expectations. In the same period the total return was thus 269.8 percent.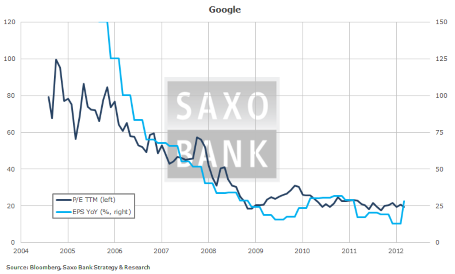 This is the magic of growth and especially exponential growth of software companies not constrained by the need for huge investment in physical equipment and protected by superior technology creating a moat. It is this dynamic you have to understand ahead of Facebook's IPO. But in order to understand the growth potential you have to understand the technology and industry.