There is no doubt that John Deere (DE) is a strong global company that is doing well and will continue to do so long term. But it has not done so well since mid-February when it peaked around $88, and it presently trades around $80. We expect the company will be a good long-term buy, but in the short term we do not expect the downward trend to stop just yet. It is possible to see the stock touch bottom between $73 and $76 before it moves up again. The reason for this may be higher production.
Samuel Allen, Deere's chairman and CEO, said, "Our business remains very strong, especially in large agriculture equipment products tied to corn and soybeans." That was the reason given for the how great the company is doing on paper (and it is). But there are a couple factors in play right now that may have influenced the stock's price, even temporarily.
While prices for soybean and corn may have meant higher profits for farmers and investment in new equipment, 2012 is not looking the same. Let's take corn as an example. We had a warm and fairly dry winter season this year, and this usually pans out to an early planting season and better yields. Corn planting is done early, so equipment is bought early. But crop product was down in 2011, so we saw record highs. As we return to a more normal crop production, that means lower prices for corn. So there may be an increase in production, but the lower prices mean no real increase in crop revenue for the year.
Not only will production pick up to create a lower-priced crop, but production costs are expected to increase possibly as high as 15%-20% between fertilizer, fuel, and cash rents. What does this mean? Net returns or profits from farmlands will also drop. Even a decline from record high levels means a decline.
And this is how Wall Street looks at it. Even though relative incomes are as strong as they have been over the last decade, a decline is a decline. And that means less equipment will be bought. Not only that, but it appears as if U.S. farm income, a key driver of equipment purchases, has peaked.
John Deere stock is using the 50-day MA as a resistance line. If this keeps up, there is no reason a short-term options play cannot take advantage of the temporary downturn.
Click to enlarge image.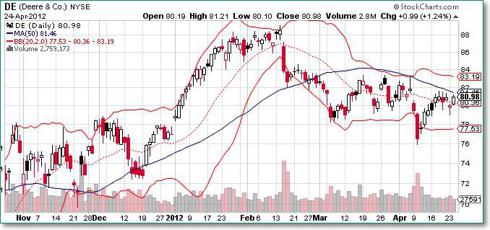 The Options Play
Buy a June 2012 put option with an 80 strike (priced at $2.74)
Sell a June 2012 put option with a 77.50 strike (priced at $1.84)
Net Debit to Start: $0.90
Maximum Credit: $1.40
Reasoning Behind The Trade
The stock is using the 50-day MA as resistance. If this is confirmed, the stock will continue down.
Farmer income peaking also plays an important role in the short-term movement of the stock.
Increased production costs and lower crop prices will also lead to less equipment being bought.