Market Recap: The market turned things around on Wednesday on the back of Apple (NASDAQ:AAPL) earnings. Wow! Apple sold 35M iPhones in Q1 ... 35M. That's a lot of phones! The stock rocketed back after faltering into earnings, and it led the tech industry, Nasdaq and market higher. Additionally, European markets were strong as Spanish bond yields continued to drop and European earnings were fairly strong. One surprisingly good report was from BBVA (NYSE:BBVA), which helped power the financial industry higher. Finally, the market got a seemingly more doveish Ben Bernanke in the latest report as well as continued talk about a gradual improvement in the economy.
We have continued to take a neutral approach on the market, and we believe that two signs of why that is important is durable goods and crude inventories. Durable goods dropped 4.2% vs. 1.5% expectations. Additionally, crude inventories were higher again, showing yet another supply jump in inventories.

Two Trades
Right now, we are liking the looks of Thomson Reuters (NYSE:TRI) long and oil short. Thomson Reuters is looking like a great buy as the stock has a great technical setup with a golden cross showing as the 50-day MA has crossed above the 200-day MA as well as solid fundamentals. The company has also just announced that they are selling the healthcare division for $1.5B. We believe that move is very positive for TRI as the company can use that money to reinvest funds into higher growth markets like financial risk. We are liking shorting oil as well. The move up on oil today was mostly ludicrous. Inventories rose above expectations and then the Fed basically once again showed no signs of QE3. Apple earnings mean higher oil prices? We don't think so. We look for oil to reverse itself from here. We would play oil short with a long in Ultrashort Proshares DJ-UBS Crude Oil (NYSEARCA:SCO).
Position #1 - Long TRI
Position #2 - Long SCO
(Click to enlarge)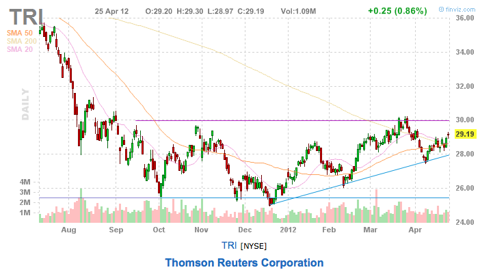 Tomorrow's Outlook
The market's outlook for tomorrow looks neutral to us. While we had a great day, we need to keep things in perspective. A lot of data as of late has been decent at best, and we have a very important jobless claims report tomorrow. If claims continue their weakness, it could potentially harm the ability for this market to continue higher. Additionally, we have pending home sales tomorrow. As for earnings, we get the reports from Las Vegas Sands (NYSE:LVS), Exxon Mobil (NYSE:XOM), PepsiCo (NYSE:PEP) and UPS (NYSE:UPS). Earnings are a little bit less impactful than Apple, but we still should see good movement off this group. As for overseas, we will be getting a number of European confidence indices tomorrow that have not been sources of upside before, so we need to watch those closely. We will also get the CPI tomorrow as well.
Analyst Moves
The interesting moves for analysts were two downgrades from Argus that we disagree with. We saw they downgraded McDonald's (NYSE:MCD) and Wal-Mart (NYSE:WMT) from Buy to Hold. Both companies are Buy-rated by us. We see both as great values that can continue to do well in tough market conditions and are actually at nice discounts currently that have allowed for buying opportunities. Recent weakness are short-term issues that have little to do with long-term success.
Commodity Talk
See discussion above.
Our Moves
We had a nice day as we took a solid 24% gain on a Coca-Cola (NYSE:KO) bull call spread in our Options Portfolio. We also had a nice 11.5% gain in our Ace (NYSE:ACE) 70/67.50 bull put spread in our Earnings Alpha Portfolio. We sold shares of Ashland (NYSE:ASH) for a 2.55% gain as well in our Earnings Alpha Portfolio. The only position we had to take for a loss was a 2% loss in an Intel (NASDAQ:INTC) short we bought. We added longs in SCO as well as Polaris (NYSE:PII) with a 75/72.50 bull put spread for May18. We also added more sold $535 puts for Jun18 in Apple as well as weekly 595/590 bull put spread in AAPL.
We have the following positions. In our Short-Term Equity Portfolio we are long SCO, TRI, Teva Pharmaceuticals (NASDAQ:TEVA) and Ventas (NYSE:VTR). We are short Biogen Idec (NASDAQ:BIIB). In our Options Portfolio, we are long Dollar General (NYSE:DG), Monster Beverage (NASDAQ:MNST), Visa (NYSE:V), Polaris Industries. We are short United States Oil (NYSEARCA:USO). We have a reverse iron condor in Direxion Financial 3x (NYSEARCA:FAS). In our Earnings Portfolio, we are long Ace Limited, Ashland, Coinstar (NASDAQ:CSTR). We are short Amazon.com (NASDAQ:AMZN). We have reverse iron condor in LVS.
Chart courtesy of finviz.com.
Disclosure: I am long ASH.