The energy sector's long-standing rally continued in October, spurred by relentlessly record-breaking oil prices. Oil futures reached $93 a barrel on Monday, and some economists argued that $100-a-barrel oil by the end of the year appeared likely—a level that would surpass the all-time inflation-adjusted high reached in 1980. (For a little perspective, consider that in 1998 oil reached a nadir of about $10 a barrel.)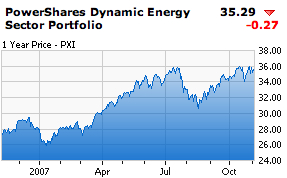 Today's soaring prices are bad news for the overall economy: They increase the cost of doing business, potentially leading to higher inflation and slower growth. They're tremendous news for the energy sector, however, where higher oil prices generally mean higher profits and profit margins. That's the main reason that for the month ending October 26, the energy sector posted the best performance of the 12 sectors Morningstar tracks, with a gain of 9.66%.
PowerShares Dynamic Energy's (NYSEARCA:PXI) roughly 5% return for the same period trailed the sector as a whole, but the fund still performed better than about half the funds in Morningstar's natural resources category (and gained about three percentage points more than the S&P 500 did). The fund's longer-term returns—to the extent that a one-year-old fund has longer-term returns—also far surpass the broad market but look less impressive compared to other energy funds. For example, PXI's 29.86% one-year gain as of October 26 beat the S&P 500 by nearly 16 points but lagged more than 80% of its category peers. One reason: PXI's diversified portfolio couldn't keep pace with funds that specialized in red hot sub-sectors of the energy market.
PXI's return numbers may not have kept up with those of its peers, but they're gaudy nonetheless. Their strength obscures their volatility: The fund's share price reached a high of $35.88 per share in July, before plummeting to $30.61 in August, and only earlier this month surpassed its previous peak. That performance stalled the fund's momentum and knocked it off its high perch on the PowerShares Momentum Tracker, where it ranked third as recently as early August. By last week PXI stood at number 10.
PXI is noteworthy among its peers in that it tends to spread assets more broadly among a range of holdings. While funds such as PowerShares Dynamic Oil and Gas Services (NYSEARCA:PXJ) and PowerShares FTSE RAFI Energy (PRFE) often invest as much as half of their assets in their respective top 10 holdings, PXI rarely holds more than about a quarter of its assets in its top 10. Recently, each of the 60 holdings that made up the fund's portfolio accounted for between 1% and 3% of total assets. Such diversification is likely to protect the fund from the risk that problems at an individual company will torpedo returns.
PXI is also weighted much more heavily toward smaller stocks than most of its peers are. The fund's average market capitalization recently stood at $6.9 billion, compared with $8.2 billion for Oil and Gas Services and more than $70 billion for FTSE RAFI Energy. Indeed, PXI holds two-thirds of its assets in stocks categorized by Morningstar as small- or mid-cap.
Energy analysts these days tend to favor shares of firms that stand to benefit from the fact that the world's remaining oil deposits exist in places that are difficult to reach, much less drill in. Number two holding Cameron International (NYSE:CAM), which manufactures drilling systems, pressure-control systems, and other equipment for the oil industry, fits that description. Growing numbers of drilling operations in deep ocean basins rely on Cameron's equipment. Nearly 90 deep-water rigs are being constructed throughout the world, each of which should provide Cameron with between $30 million and $50 million in revenues. With business like that, it's not hard to understand why Cameron's stock gained more than 80% for the year, as of October 29.
Apache (NYSE:APA), recently PXI's number one holding, offers exposure to a very different energy industry: exploration and production. Apache has succeeded by making the best of the energy sector's left-overs. The firm seeks out bargain deals on properties discarded by such giants as ExxonMobil and BP — and then wrings the real estate for all it's worth. For example, Apache moved in after many oil companies shed properties in the Gulf of Mexico due to adverse drilling conditions. The firm now extracts about 125,000 barrels a day from the Gulf, or about a quarter of its total production. Operating expenses are high, hurricanes pose a threat, and the wells often dry up quickly — but Apache can generate impressive profits as long as oil prices remain high. Shares in Apache gained more than 50% for the year, as of October 29.
The primary beneficiaries of higher oil prices are likely to be stocks in the oil services, equipment, exploration, and production industries. Other PowerShares energy funds focus more explicitly on stocks in those industries, so PXI may not keep pace with their returns if oil's current uptrend continues. But the circumstances that led to recent highs in oil prices—including supply disruptions in the Gulf, geopolitical concerns in Nigeria and Iran, strife on the Iraq-Turkey border, and OPEC's reluctance to increase production—could ease any time, and stocks that are priced for perfection may suffer as investors reassess their prospects. Investors who are looking for diversified exposure and believe the energy sector's outlook remains promising may want to consider PXI.