When we last looked at the iShares Goldman Sachs Technology (NYSEARCA:IGM) fund in July, the fund was on its way up the Sector Momentum Table, its returns juiced by expectations of a hearty second-quarter earnings season that lived up to its billing.
Since then, the market has been whipsawed by fallout from the subprime mortgage mess, the credit crunch, and the continued softening of the real estate market. IGM has chugged along through it all.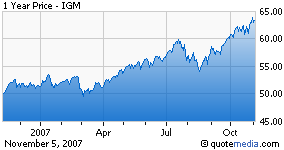 Now, in the wake of strong third-quarter earnings from many key holdings, IGM's NAV stands up 22.3% year to date (through Oct. 29), a better showing than those of 91% of technology ETFs. Last week, we added IGM to the ETF Momentum Tracker Sector Portfolio.
With a wave of good earnings-season news, tech stocks, and especially the big names that dominate IGM, led a broad market rally despite continued concerns about a slowdown, runaway oil prices, and a weak dollar.
In October, top holding Microsoft (NASDAQ:MSFT) reported a 23% rise in earnings, beating sales estimates by more than $1 billion. No. 3 Apple (NASDAQ:AAPL) posted a 67% jump in quarterly earnings. No. 4 IBM (NYSE:IBM) beat forecasts in mid-October. No. 5 Google (NASDAQ:GOOG) followed with a 46% increase in profits. No. 6 Intel (NASDAQ:INTC) reported a 43% profit gain.
In the meantime, No. 2 Cisco Systems (NASDAQ:CSCO), which reported a 25% increase in profits in August, was expected to post strong results again on Nov. 7. Hewlett-Packard (NYSE:HPQ), which confirmed its lead in world- wide computer sales in October, beat estimates in August, with sales up 16%.
At the end of the day Monday, Oct. 29, IGM's top 10 holdings averaged a one-week gain of 3.7%, led by Microsoft (13.3%), Apple (6.2%), Dell (4.6%), and Google (4.4%).
IGM's rally represents a major turnaround for the fund, which has generally lagged both the broader markets and the tech sector. In each of the last three calendar years, IGM trailed the S&P 500, a streak that extends to four calendar years when compared to Morningstar's technology category.
The reason? While the fund invests across the sec- tor—with 224 stocks in the hardware, software, semiconductors, networking, computer services, and tech consulting industries—its cap-weighted structure leads to big stakes in the sector's largest firms. Until recently, those big names lagged smaller, often value- oriented stocks in the sector. This year, that's changed.
To put the changeover in perspective, consider the difference in returns for the NASDAQ Composite against the NASDAQ 100, the exchange's largest stocks. The broader index held a five-year return of 111% (through Oct. 29), compared with 34.6% for the 100. But in 2007, the smaller index is up 25.2% vs. a 16.4% return for the composite.
In fact, while a select number of tech stocks paced a broad rally, Barron'sreported on Monday that of the NASDAQ's 450-point year-to-date rise, 230 points— nearly half—came from three stocks: Apple, Google, and BlackBerry maker Research In Motion (RIMM), which was IGM's 11th-largest holding (as of Oct. 26).
The big-tech rally (IGM carries an average market cap of $44.7 billion, not much different than those of iShares Dow Technology or S&P Global Technology) is backed by excitement over new products, from Microsoft's Vista operating system to the iPhone and many more to come. These firms are on the leading edge in a highly competitive race toward convergence.
They're also exposed to faster-growing global economies, including emerging markets, and enjoying higher profits and better competitive position granted by the weak dollar. The result? A slew of positive earnings results throughout most of 2007 and steady gains in share prices. IGM posted a one-year NAV return of 27.8% (through Oct. 29) and a three-year annualized return of 13.6%, better than the returns of 84% of tech ETFs.
The aforementioned Barron'sarticle, which postulates that both bullish and bearish markets now exist simultaneously, carries a warning from one analyst: Historically speaking, "narrow bull markets end badly."
It's impossible to predict what'll happen to tech stocks or the broader markets in the coming months. But it should be noted that IGM is a highly concentrated fund, with more than half of the ETF's assets in the top 10 holdings and more than a third in the top five.
Given that technology tends to be a volatile sector, investors here should be aware that IGM is likely to move in fits and starts. The fund carries a standard deviation of 13.18, nearly double that of the S&P 500. Morningstar's Dan Culloton recently noted that IGM lost money in 45% of the last 70 rolling three-month periods.
Of course, IGM bulls would counter that, in the last three months, IGM's NAV gained 10.6%. What's more, the ETF seems well-positioned for a time when many expect the tech sector, growth stocks, and large caps to lead the market. In that case, a small stake here could give a portfolio a nice boost in uncertain times.