Penn Virginia Corporation (PVA) is a company in transition. Primarily a driller of dry gas prior to 2010, it has begun a campaign to switch to liquids that has seen its natural gas procurement decline from 82% in 2010 to an estimated 58% of total production by the end of 2012. The steep decline in dry gas prices has dragged down most of the energy sector and PVA has not been spared in the slightest. However, it is our belief that PVA, having seen the writing on the wall almost two years before natural gas over-supply concerns were making headlines, is in a strong position to complete its transformation and reward prudent investors. We also believe that its progress can be tracked by the level of desperation it exhibits in various aspects of company management. Further, most speculative investments won't pay you north of 4% a year while you wait.
In February of this year, its 2012 Capital Expenditures budget update was met with extreme consternation. On the surface, pairing $300 million in costs with $200 million in cash flow for a company in as much debt as PVA is understandably provocative. However, PVA has the option to simply not spend that much. Even if it reduced its capex to $200 million, it would still have roughly the same budget as MHR, a company valued almost 3.5 times higher than PVA. The current market perception seems to be that PVA will be in trouble if it can't raise the extra $100 million in shortfall through asset sales, debt raises, or even dilution (a fate worse than death for the intrepid value investor). This is evidenced by S&P's recent credit downgrade citing risks that the company will be unable to access credit markets in 2012 and 2013. The reality seems to be that PVA simply isn't that desperate, at least not yet.
The curtain falls in 2016, as PVA will be on the hook for currently $400 million in debt ($100 million on its revolver and $300 million in senior notes). It is our belief that it will be able to fully fund operations with cash flow in 2013 and use 2014 and 2015 to improve its balance sheet through continuing operations alone. A rebound in natural gas prices will provide further upside, through asset sales and drilling flexibility. We follow its drilling progress in its most important asset, the Eagle Ford, through the RRC Online System.
Near-term Catalysts:
Dividend announcements will slowly dispel the perception that PVA has run out of money. Some investors think it will cut or suspend the dividend. We think a suspension is unlikely considering it has paid an unbroken stream of dividends for 115 years. A reduction would cause us to re-evaluate the "desperation" aspect of our thesis.
An acquisition of more acreage in Eagle Ford or a wet play in another popular formation (at a good price).
Higher 2012 production guidance and stronger cash flow against capex.
Risks:
A suspension or reduction in the dividend.
Weaker initial production numbers from drilling operations in the Eagle Ford. It is important to note that PVA has been employing a tighter choke on these wells than its neighbor, EOG Resources (NYSE:EOG). While it is debatable that choke rates effect total recovered ground assets, it does make for smaller 30 day production rates and less headline buzz. It also cultivates a slightly slower increase in production.
Future weakness in oil prices (approximately 47% of its oil and 32% of gas are hedged). While we are stating the obvious, the risk of dry holes is an ever present danger as well.
Stricter fracking regulations leading to higher costs per well drilled. The fact that most of its capex is being spent in Texas as opposed to Pennsylvania or New York helps to mitigate this risk a bit.
Below are the numbers for the last 5 wells drilled in the Eagle Ford for PVA and EOG: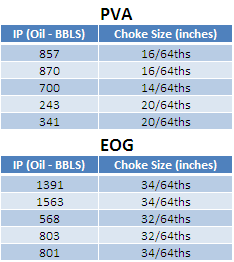 Source: RRC Online System
While speculative, PVA presents attractive upside providing the price of oil remains stable. If management pulls back on the dividend or attempts to dilute the common in any way at this depressed price level, our thesis will need to be reassessed. Because this is a speculative investment, we believe in prudent risk management and that an investor should weight riskier bets accordingly.
Disclosure: I am long PVA.
Additional disclosure: Saibus Research has not received compensation directly or indirectly for expressing the recommendation in this report. Under no circumstances must this report be considered an offer to buy, sell, subscribe for or trade securities or other instruments.