By Brendan Gilmartin
United Parcel Service UPS (NYSE:UPS) is scheduled to report 1Q 2012 earnings before the bell on Thursday, April 26. The results are typically released at 7:45 a.m. EST and will be followed with a conference call at 8:30 a.m. UPS is a closely-watched bellwether on both the domestic and global economy and therefore has the potential to impact the broader market averages when it reports earnings.

Outliers & Strategy
With the shares near a 52-week high, look for results toward the higher end of consensus estimates to support further gains. The current consensus is $1.02 per share (Source: Yahoo! Finance). The high number on the Street is $1.06.
Last month, rival FedEx (NYSE:FDX) reported fiscal 3Q 2012 EPS of $1.55, $0.20 above the consensus. Among the takeaways:
FedEx saw improving yields and volumes, along with record holiday package shipping.
Operating income of $813 million was up 107% from $393 million last year.
Recent News
04/09: UPS increased the regular quarterly dividend by 9.6% to $0.57 per share and said it expected to generate record diluted EPS in a range of $4.75 to $5.00 in 2012.
03/20: Stifel Nicolaus downgraded UPS to a Hold rating, based on limited upside at current levels, according to a post on Benzinga.com. The firm said upside is limited after recently agreeing to acquire TNT Express.
03/19: JP Morgan Chase raised its rating on UPS from Neutral to Outperform with a price target of $92, according to a report on Benzinga.com. The firm cited the acquisition of TNT Express and the impact on the core domestic packaging business. Furthermore, favorable trends in the U.S. economy should provide further momentum in 2012.
Technical Review
UPS shares are just off the 52-week high of $81.79 established on March 19 and up around 10% YTD. Since mid-March, the shares have been in a trading channel between $78.00 and $81.00. A breakout above this channel leaves little near-term resistance. Below the $78.00 level, there is support near $77, with further downside risk to $75. (Chart courtesy of StockCharts.com)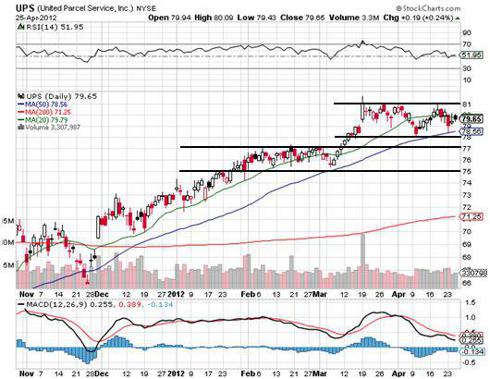 Click to enlarge
Summary
UPS shares are near the recent 52-week high in advance of what is expected to be a solid 1Q 2012 earnings release, following a strong report last month from rival FedEx. The stock also rallied in mid-March after UPS agreed to acquire TNT Express N.V. for approximately €5.16 billion ($6.77 billion), expanding its global footprint. Headed into the release on Thursday, market expectations are quite high, while UPS is now trading at 20.7x earnings, a premium to FedEx (13.9x). With that said, look for EPS to come in at the high end of analyst forecasts. Anything less may be seen as a disappointment. Last quarter, the company delivered solid financial results, but cautioned it sees a mixed outlook for economic growth around the world.
Disclaimer: By using this report, you acknowledge that Selerity, Inc. is in no way liable for losses or gains arising out of commentary, analysis, and or data in this report. Your investment decisions and recommendations are made entirely at your discretion. Selerity does not own securities in companies that they write about, is not an investment adviser, and the content contained herein is not an endorsement to buy or sell any securities. No content published as part of this report constitutes a recommendation that any particular investment, security, portfolio of securities, transaction or investment strategy is suitable for any specific person.
Disclosure: I have no positions in any stocks mentioned, and no plans to initiate any positions within the next 72 hours.