I began a screen for large-cap Chemical companies based upon a macro thesis that such businesses could benefit from very low natural gas prices. Nat gas is a key underlying commodity necessary for chemical manufacturing. An additional underlying premise included the belief that companies within the Chemical industry (a subset of the Basic Materials sector) will hit their stride in 2012 and continue into 2013.
Chemical companies are notoriously cyclical. Hence my reasoning for wanting to own a large cap company that pays a good dividend; thereby offering exposure to this industry with a level of yield support.
The resulting screen left me with the two titans of the industry: E I Du Pont De Nemours And Co (NYSE:DD) and The Dow Chemical Company (NYSE:DOW). My analysis follows.
Industry Profiles
Dupont manufactures and distributes a variety of products through nine business segments worldwide: Agriculture, Electronics & Communications, Industrial Biosciences, Nutrition & Health, Performance Chemicals, Performance Coatings, Performance Materials, Safety & Protection and Pharmaceuticals. The big guns are the Agriculture and Performance Chemicals/Coatings/Materials segments. These businesses provide about one-third and two-fifths of total revenues, respectively. These two segments combine for about 75 percent of total sales.
Dupont one-year price and volume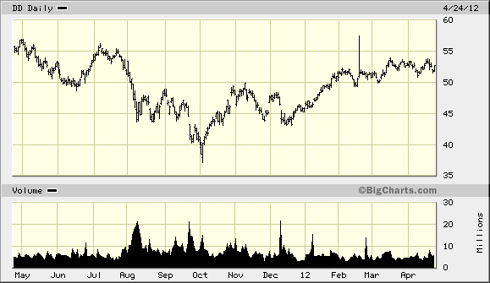 Dow Chemical is a diversified chemical manufacturer and supplier of related products used primarily as raw materials in the manufacture of customer products and services worldwide. It operates in six segments:
Electronic and Functional Materials, Coatings and Infrastructure Solutions, Agricultural Sciences, Performance Materials, Performance Plastics, and Feedstocks and Energy.
Over two-thirds of the corporate sales are generated by the Performance Materials/Plastics and Feedstocks and Energy segments.
Dow one-year price and volume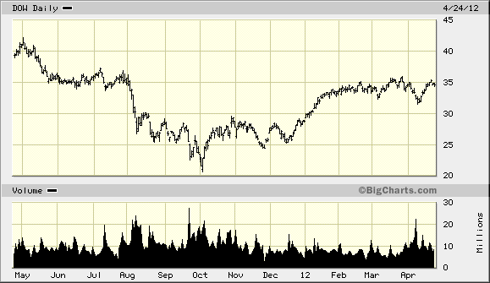 Comparing the Fundamentals
Balance Sheet
I like to start by reviewing the balance sheet. These two chemical giants offer mixed bags. Dupont has the strongest Return-on-Equity ratio: 35 percent. Coupled with an 8 percent Return-on-Assets, DD offers the investor good overall returns. Dow's RoE and RoA of 13 and 4 percent are acceptable, but lag Dupont by a significant margin.
Debt is an issue for both outfits. Dupont has a Debt-Equity ratio of 149 percent versus Dow Chemical clocking in with 97 percent. Indeed, these companies are highly levered, causing me some concern. Dupont's long-term debt has risen every year since 2007. On the other hand, Dow has stabilized their total debt over the past three years.
Debt service is another matter. While DOW has held debt flat, their ttm Interest Coverage (EBIT/Interest Expense) was 4X. This is adequate, but not exceptional. DD generated EBIT sufficient to cover interest expense by 11X; a superior cushion.
Liquidity is sufficient. Dow and Dupont both have good current ratios. These giants have several billion in cash and short-term investments on the balance sheet to boot.
Here's a table summary:
| | | |
| --- | --- | --- |
| | Dupont | Dow Chemical |
| Return-on-Equity | 35% | 13% |
| Return-on-Assets | 8% | 4% |
| Debt-to-Equity | 149% | 97% |
| Long-Term Debt | Rising | Stable |
| Interest Coverage | 11X | 4X |
| Current Ratio | 1.6 | 1.7 |
Margins and EPS Growth
I believe margins are a key metric when comparing similar companies. In this case, Dupont has better ttm margins. I compared Gross Margin, Operating Margin, and Net Margin. DD was clearly stronger on all three calculations. Notably, both companies have maintained their Gross Margins for the past two years. I particularly focus upon Gross Margin since this provides insight as to the underlying cost of materials used for manufacturing products. I would like to see margins remain the same or widen as a result of historic low natural gas prices. This may offset increases in other chemical components and materials necessary for manufacturing processes.
Dow appears to offer a somewhat better EPS growth versus Dupont based upon analyst EPS projections. However, it should be noted that analysts forecasts cover a pretty wide berth when predicting the future earnings for cyclicals like DOW and DD. In any event, I used their figures and calculated the two-year PEG ratio. Trying to forecast chemical company earnings three to five years out seems a stretch to this writer.
Summarized results are found below. Margin figures are ttm.
| | | |
| --- | --- | --- |
| | Dupont | Dow Chemical |
| Gross Margin | 28 | 14 |
| Operating Margin | 12 | 8 |
| Net Margin | 9 | 5 |
| PEG (2-year) | 1.4 | 1.1 |
Cash Generation and Valuation
As an investor, the rubber hits the road when I review cash and valuation. I've selected several measures I like to use, though there are many others.
Price-to-Earnings Ratio: Dupont has the lower multiple. Comparatively, this has been the case historically. I would expect this to continue given the growth prospects for these two giants. DD also has shown a more consistent multiple range than Dow Chemical.
Price-to-Cash Flow: A multiple of 10X or less is my threshold for a reasonable value. Both Dupont and Dow made the cut.
Dividend Yield: At current prices, Dow has a better dividend yield. However, the payout was cut drastically during the 2008-09 stock market crash. Dupont has held the dividend flat for several years. Nonetheless, the DD board has a history of maintaining or increasing the total annual cash dividend. They did not reduce it during the hard times.
These dividends appear safe. Due to large capital expenditures, DOW has pushed the dividend coverage as a function of Free Cash Flow into the red. This raised a flag, but given Dow's generally good Operating Cash Flow, I did not fret about it too much.
Price-to-Free Cash Flow: A variation of the P/CF multiple is P/FCF. In this case, neither company exhibits a strong multiple, though Dow is clearly the weaker. A multiple of 15X or less is best. Large 2011 capex drilled Dow on this measure. I checked back to YE 2010 and the answer wasn't much better. Dow is plowing a lot of cash into the business, whereas Dupont has invested more moderately, coupled with its propensity for generating more Operating Cash at the onset.
Capex / Cash Flow: This ratio offers the investor a chance to view how much management is putting back to work in the company as a function of how much cash the business is creating. A figure of 50 percent or less is sound. For 2011, Dupont is on point and Dow is high. This just confirms the P/FCF flag above.
Return-on-Capital Employed: Dupont is the better of the two. This is a good metric to evaluate management efficiency. Ultimately, an investor wants to see how well management can provide real returns on capital versus peers.
EBIT / Enterprise Value: These two titans shake out about the same. A good benchmark is 10 percent. Neither company made the cut. This indicates that they are on the cusp of being a good value at today's market price.
Here's a summary of the foregoing:
| | | |
| --- | --- | --- |
| | Dupont | Dow Chemical |
| Price-to-Earnings | 14X | 17X |
| Price-to-Operating Cash Flow | 9X | 10X |
| Dividend Yield | 3.2 | 3.6 |
| Price-to-Free Cash Flow | 15X | 36X |
| Capex / FCF | 35.00% | 70.00% |
| Return-on-Capital Employed | 13.00% | 9.00% |
| EBIT / Enterprise Value | 8.00% | 9.00% |
| EBIT / Share | $5.06 | $4.15 |
Business Case
While both Dupont and Dow are large cap chemical companies, Dupont has significantly more exposure to the agriculture business; a hybrid Monsanto (NYSE:MON), so to speak. Dow is more of a straight chemical play. I like the additional diversification Dupont has in the ag space. It's also one of their strongest segments. Having reviewed various presentation materials and filings on the company, Dupont strikes me as a diversified chemical company with a plan to broaden out the business. Part of the rationale is to reduce the cyclical nature of the commodity chemical enterprise. Dow contrasts this view by continuing to focus primarily upon chemicals and chemical-related products.
I believe that both companies can benefit from the eventual up-cycle for Basic Materials. Part of my thesis is that the economic cycle will continue a rocky ascent. We will not fall back into deep global recession. The Materials sector in general, and the Chemical industry in particular, can really juice a portfolio when it's high time. At the same time, I limited my search for chemical companies that pay good dividends to buffer my premises and hedge the portfolio. Yield support can be a very good thing.
The Bottom Line
I plan to invest in Dupont. Indeed, Dow has some strong characteristics. The earnings growth rate is forecast to be a bit higher, the company pays a better dividend, and I liked the fact that management has stabilized debt.
DD trumps these strengths with overall efficiency and better valuation. In particular, I see better RoE, RoA, RoCE and margins. Furthermore, I suggest that Dupont's agriculture businesses offer a hole card that provides both another avenue for growth while reducing exposure to the base chemical and products boom-bust cycle.
My plan is now to pick a good investment entry point. I believe that Dupont stock is not currently undervalued much. This is evidenced by the current versus historical P/E and the EBIT/EV ratio. Therefore, I am willing to start a position on a modest pullback, commensurate with the routine ups and down of the overall market, then follow on by accumulating additional shares on subsequent pullbacks.
My DD one-year to eighteen-month target price is $68. This assumes a 2013 EPS of $4.85 and a 14X multiple. Do your homework, and good luck with all your investments.
Disclosure: I have no positions in any stocks mentioned, but may initiate a long position in DD over the next 72 hours.