Illinois Tool Works (NYSE:ITW) beat and raised on Q1 2012 earnings. Shares responded to the upside, gaining 2.6% Tuesday, and have recently been trading in the $57 area. On the conference call (see transcript), management outlined three initiatives that are being developed as a result of the dialogue with activist fund Relational Investors.
This article is primarily concerned with valuation, using a sufficiently long time frame to allow for the effects of the initiatives to work their way into financial results. Management anticipates that they will provide further details during 2012: however, now would be a good time to start thinking about the potential.
Briefly, ITW shares could reach $90 by year end 2015, resulting in a return of 16% annualized, including dividends.
Background Sources
For a discussion of the role of Relational Investors, the topic is covered in my article published here on Seeking Alpha in January this year. For a good discussion of ITW's operations and performance, I suggest Chuck Carnevale's article on the company.
The Initiatives
From the Q1 2012 earnings conference call:
First of all, our business structure simplification initiative will essentially result in generally larger-scale businesses within our decentralized operating structure. These are businesses, in most cases, with similar customers, markets and products where we can improve focus, while driving better operating efficiencies and lowering overhead costs. As this process unfolds, you should expect to see larger ITW businesses of roughly $100 million annual revenues. Internally, we're referring to this as our own 80/20 review of our business structure. We're excited about its long-term benefits for ITW, but we'll move cautiously to ensure we maintain our strong customer and market interfaces that have been a hallmark of our success.

Secondly, we have hired an experienced consultant to help us develop approaches to better leverage our opportunities for strategic sourcing initiatives across the company. We're in the later stages of gathering data, but we believe this ongoing initiative will add significant value in terms of how we purchase key raw materials such as steel, resins and chemicals, as well as services such as energy, transportation and logistics and other major cost categories.

Finally, our portfolio management initiative is built around our long-term strategy to divest assets that we no longer consider core and will allow us to focus on key core business opportunities, with strong growth and returns that will help us maximize our long-term returns.
As a serial acquirer with over 800 semi-autonomous subsidiaries, ITW has no doubt accumulated some non-core business that don't have adequate size in their industries. In the aggregate, these businesses have performed well over the past 5 years. Gains on sale may be reported, and cash will increase.
The cost savings available from consolidating purchasing functions will be substantial. Most large companies have already realized them: ITW has been something of a holdout.
Merging the remaining subsidiaries into larger units will reduce expenses by eliminating one or more layers of management, as well as redundant facilities. The managers of the subsidiaries in the aggregate have performed well: selecting from among them the resulting team will be very strong.
There are implementation risks associated with any major overhaul of a company's operations. However, ITW was judicious in pruning operations during the financial crisis and resulting recession, and emerged strongly from the downturn. I see evidence that the company has the requisite skills to implement changes with a minimum of disruption.
Thinking About Valuation
Using actual earnings for 2008-2011, and adding midpoint guidance for 2012, projected 5 year average EPS works out to $3.25. Applying ITW's long-term average PE5 multiple of 17.0, a target of $55 by year-end emerges, suggesting the shares are fairly valued at today's price.
Multiples have come under compression since the financial crisis. The company's average PE5 for the 2003-2007 period would be 21.4. So, if ITW's multiple reverts to its pre-crisis range, a target price of $70 is indicated, again by the end of this year.
To clarify this approach, here is a chart of ITW's share price, compared to 20 X its 5 year average EPS. High quality companies typically trade in a range around 20X on this metric.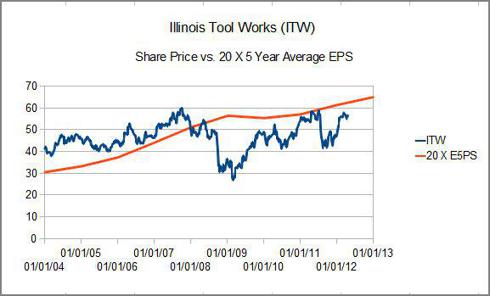 Looking forward to 2015, when the planned changes will have been implemented and worked their way down to the bottom line, as a start it should be noted that historical growth of revenue is 6.7% for the past ten years: EPS has grown 12.0% annualized over that period. Share counts have decreased 2.3% annually, again for ten years. The dividend, currently yielding 2.54%, has increased each year for the past ten.
Divestitures will initially reduce revenue growth. However, the funds released can be expected to be deployed in increasing shareholder value, as effectively as has been done in the past. ROE averages 17.3% over the past 10 years.
I believe the initiatives will increase margins by something over 1%, compared to average for the past 5 years, which includes a severe recession.
Exercises that involve compounding over substantial periods of time should be viewed with some caution. That having been said, applying the historical averages as cited going forward, and assuming the PE5 multiple reverts to the 20X average for high quality companies, $90 is feasible, by year end 2015.
Strategy and Tactics
ITW features a beta of 1.2, relatively high for a company with a long and consistent record of profitability and value creation. It's involved primarily in cyclical industries, which would explain some of the volatility.
The tactical implication is, market volatility will provide good entry points. With the VIX relatively low and stable for the past quarter, now might not be the best time to buy the stock. While my analysis suggests ample profits buying at today's price, I'm planning to look for a better price before adding to my position.
Shares are optionable, to include LEAPS. Bid/ask spreads and open interest are sufficient to make the situation easy to play with options. Implied volatility is 21.95%, down from a high of 52.6% in October last year.
I wrote ITW up favorably in October 2010, with the stock in the $47 area. At the time, I described a diagonal call spread strategy, long January 2012 35 calls and short March 2011 50 calls. That trade, as adjusted, is still running. The current position is a vertical call spread, long June 45 calls and short June 55 calls. If the stock is above $55 at expiration, the IRR will be 38%.
By way of comparison, simple buy and hold would have an IRR of 15% over the same time period, including the dividend. The pick was good, the strategy was appropriate, and performed as expected.
Disclosure: I am long ITW.