Entropic Communications (NASDAQ:ENTR) continued its pattern of, shall we say, interesting earnings reports when it released first quarter earnings after the close on Tuesday. Despite the fact that non-GAAP earnings of 12 cents per share and revenues of $59.1 million both beat consensus estimates, the stock sold off Wednesday, down 12.4% to $4.16 as of this writing.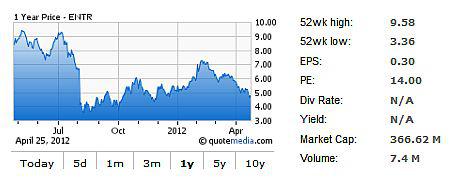 The disappointment likely stems from the company's weak second quarter guidance (announced in the conference call) of just 3 cents per share on a non-GAAP basis, as the company faces the cost of integrating its recent acquisition of the assets of bankrupt Trident Microsystems. But Entropic's move is nothing new for the stock, which has traditionally seen sharp moves around earnings:
| | | |
| --- | --- | --- |
| Quarter | Date* | Gain (Loss) |
| Q2FY11 | 8/4/11 | (38%) |
| Q3FY11 | 11/3/11 | (6.2%) |
| Q4FY11 | 2/2/12 | 15.7% |
| Q1FY12 | 4/25/12 | (12.4%) |
* -- date represents first trading day after earnings release
** -- as of 1 pm eastern time 4/25/12
Still, at its current price of $4.18 per share, ENTR looks like an interesting long-term value play after the earnings miss. The company guided for net cash of $1.72 per share after the second quarter, after accounting for some $90 million in cash related to the Trident acquisition (including the purchase price, working capital infusions, and a $19 million pre-payment to a supplier.) Trailing twelve-month earnings are 21 cents per share on a GAAP basis, but 52 cents per share non-GAAP, giving the stock a P/E below 8 on a non-GAAP basis (and below 5 when backing out the company's considerable net cash). Furthermore, the stock is trading at less than 10x trailing twelve-month free cash flow and just 1.2x its tangible book value.
These fundamentals are not necessarily striking in the semiconductor industry, whose cyclical nature and adherence to Moore's Law tend to keep valuations low relative to other tech sectors. But Entropic still has plenty of opportunities for growth. It is the market share leader in the "wired" home networking sector, with the market for Entropic's MoCA (Multimedia Over Coax) devices estimated to grow 40% annually over the next four years, according to IMS Research. The addition of Trident's assets will add to revenue and earnings starting in the second quarter; CEO Patrick Henry called the acquisition "a watershed event" which "will have a major impact on the scope and scale of our business going forward."
In 2011, according to the conference call, Trident posted $124 million in revenue, more than half of the revenue posted by Entropic. Q1 revenue fell to $20 million (and is guided for $16-17 million in the second quarter), as suppliers balked at the company's bankruptcy terms and Trident's supply chain faced "severe constraints," in the words of Entropic CFO David Lyle.
As Entropic integrates the Trident assets, it will face higher costs, and lower margins. The company expects that the issues facing Trident's supply chain won't be "fully resolved until late Q3." But, in the long-term, Entropic offers a great opportunity. The legacy MoCA business is doing well (the company expects "solid and steady" margins throughout 2012), the balance sheet is strong with about 40% of the share price in net cash, and Trident has the opportunity to add about 50% to the company's top-line and, thus, aid bottom-line growth.
There is little doubt Entropic investors will need to show some patience. The company itself does not expect Trident to become accretive to earnings until the fourth quarter of 2013, and does not expect "a return to its long-term operating model" until late 2014. Relatively large integrations such as this one-- in which Entropic is moving laterally into the set-top box business-- often face difficulties as well. But, looking past the short-term impact of Q2 guidance, Entropic has a variety of ways to prosper in the long run. Free cash flow in the legacy business was strong in 2010, and grew in 2011. The Trident acquisition will add new products, new sales, and, eventually, new profit streams. And the $150 million in net cash provides a downside cushion.
ENTR has a beta of 2.57, according to finviz.com, and its earnings movements have often been substantial, as noted above. For long-term investors willing to accept volatility, ENTR looks like a low-risk and potentially high-reward play. If the company can successfully integrate Trident and continue its market share dominance in the "wired" home networking space, it has the potential to provide sharp share price gains. Even if it struggles, the low valuation and strong balance sheet can overcome missteps along the way.
In addition, investors can use that volatility to hedge an Entropic investment through covered calls or cash-secured puts. A November 12 4 put is bid at 55 cents, offering a 7-month, 16% return, with an entry price of just $3.45, slightly above the company's tangible book value. Investors betting on the long-term bull case can use near-term options to either gain premiums or -- should the stock fall -- create a position at a cost basis lower than that currently offered. Right now, ENTR is a stock either for short-term traders or long-term value investors. Of course, using options, it can be both.
Disclosure: I have no positions in any stocks mentioned, and no plans to initiate any positions within the next 72 hours.