We all know about the high earnings beat rate that we've seen this season, but how have stocks actually been reacting on their report days? Since earnings season began on April 10th, 519 companies have reported their quarterly numbers. The average one-day change of these 519 stocks on their report days has been +0.47%. (For companies that report after the close, we use the next day's change.) If this holds, it will be the third consecutive earnings season in which the average stock has gone up roughly 0.50% on its report day. We haven't seen a streak this strong since at least 2001 when our Interactive Earnings Report Database begins.
As shown below, the only sector in which the average stock has declined on its report day this earnings season is Consumer Discretionary. The average Consumer Discretionary stock has gone down 0.88% on its report day. Interestingly, the sector whose stocks have reacted the most positively on their report days is Consumer Staples. The average Staples stock has gone up 3.16% on its report day.
Unfortunately, stocks in the two largest sectors -- Financials and Technology -- have been underperforming on their report days. The average Financial stock has only gained 0.05% on its report day, while the average Tech stock has gained 0.37%.
Energy stocks have done the second best this season with an average one-day gain of 1.35%. Materials and Health Care stocks have both averaged a gain of roughly 1.25%, while Industrials stocks have averaged a gain of 0.70%.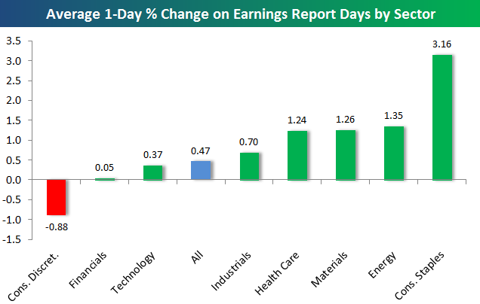 Below is a list of the individual stocks that have done the best on their report days this earnings season. As shown, Mellanox Tech (NASDAQ:MLNX) has done by far the best with a huge one-day gain of 52.11% last Thursday. Premiere Global (NYSE:PGI) and Unisys (NYSE:UIS) are the only other stocks that have gone up more than 20% on their report days.
Other notable stocks on the list of earnings season winners include Mattress Firm (NASDAQ:MFRM), Supervalu (NYSE:SVU), eBay (NASDAQ:EBAY), Polaris (NYSE:PII), Apple (NASDAQ:AAPL) and Parker-Hannifin (NYSE:PH).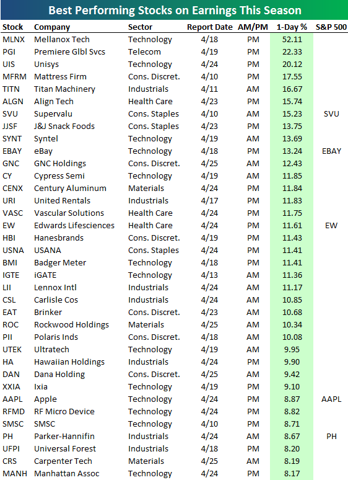 While the average stock that has reported has gained 0.47% on its report day this season, there have certainly been plenty of losers. Riverbed Technology (NASDAQ:RVBD) currently holds the unwanted title of doing the worst on its report day with a one-day decline of 28.75%. Inphi (NYSE:IPHI) isn't far behind in second, however, with a decline of 28.41%. Tempur-Pedic (NYSE:TPX) is the only other stock that has declined by more than 20% on its report day.
Other notables on the list of earnings season losers include Netflix (NASDAQ:NFLX), Infosys (NASDAQ:INFY), SanDisk (SNDK), Mattel (NASDAQ:MAT), ARM Holdings (NASDAQ:ARMH) and Altera (NASDAQ:ALTR).