Tenaris (TS) manufactures and sells steel pipe products. It is very popular for stocking and distribution services to the oil and gas, energy and mechanical industries. It is a majority-owned subsidiary company of the Argentine group Techint, headquartered in Luxembourg.
It appears the stock is in the midst of a bearish slide that is not helped by the takeover fiasco in Argentina. The government of Argentina is attempting to take over YPF Sociedad Annima (YPF) the oil and gas producer in Argentina whose majority owner is in Spain's Repsol (OTCPK:REPYF). The stock sank 30% last week and the repercussions were felt in the whole market. This includes Tenaris.
The stock is presently in a bearish pattern whereby it pushes up through the 200 day MA and then cycles back down. Today is significant to observe whether the stock will do the same thing or not. Presently trading at $37.01, it has just pushed up through the 200 day MA like it has in the past.
(Click to enlarge)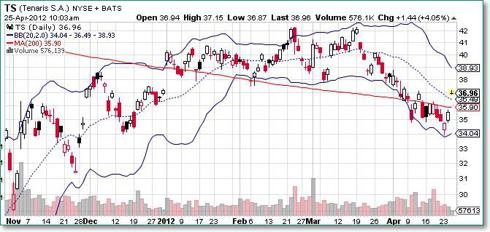 As we observe the charts, there are two things we are going to look for here that we hope give us a visual idea of where the stock is headed. First we want to see if the stock will continue to push up through the middle Bollinger Band. It can either use this for resistance or ignore it and push up through. If it pushes through we see strength, if not, we would expect it to push back down.
On the bearish side of the stock, our next support level is at about $33. There is opportunity here if the stock does bounce off resistance and holds its present pattern, it will bounce off above $35 but move clear down to $33. In the middle is the June 2012 put with a '35' strike (priced presently at $0.70. If one has a strong enough conviction that it will continue to move down, buying the '35' put would create a nice profit for the investor. There is always a safer trade by buying in the money (ITM).
Watch this stock for the opportunity. The power struggle in Argentina is also having an affect upon this stock with its majority owner from the same country.