Historically, REIT yields have exceeded dividend yields of most publicly traded stocks, making them ideal for an individual retirement account (IRA) or other tax-deferred portfolio. Their actual dividend yields tend to be somewhat correlated with - and generally higher than - yields on 10-year U.S. Treasury bonds.
It is the dividend consistency (of the REITs) that attracts most investors and the reliability of the income is measured by consistency and sustainability. In 2010, REITs paid out over $18 billion in dividends and that portion of total returns represented around 60 percent of the industry's average total return (or around 13.75 percent). (Source: NAREIT)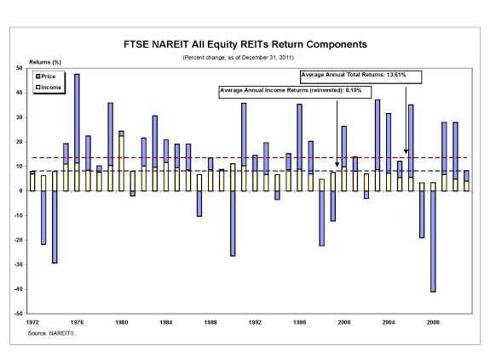 Ideally, REITs are able to generate dividends and grow capital and the notion of taking "two bites of the apple" is a compelling reason to consider this fixed-income alternative. Conversely, the attraction to the increasingly popular REIT sector is distinguished by the consistency of the dividends that anchor the total return component and provide investors with that necessary margin of safety.
Dividend Champions
When building a REIT portfolio it is essential to consider the fundamentals of risk control and evaluate the safety of the repeatable sources of revenue. REITs that have consistently paid dividends are recognized by sharper forms of differentiation and are considered "dividend champions." Because of the consistency and durability of the dividend stream, REITs are able to generate a stable and consistent income stream for investors.
Fellow Seeking Alpha writer David Fish authors the monthly U.S. Dividend Champion spreadsheet where he lists companies that have increased their dividend payout for 5-9 years ("Challengers"), 10-24 years ("Contenders") and 25 years or higher ("Champions"). Included in Fish's spreadsheet there are 16 REITs that have paid consistent and increased dividends. This list includes:
Federal Realty (NYSE:FRT), Washington Real Estate Investment Trust (NYSE:WRE), HCP Inc. (NYSE:HCP), Universal Health Realty Income Trust (NYSE:UHT), National Retail Properties (NYSE:NNN), Essex Property Trust (NYSE:ESS), Realty Income (NYSE:O), Tanger Factory Outlet Centers (NYSE:SKT), Urstadt Biddle Properties (NYSE:UBA), National Health Investors (NYSE:NHI), Omega Healthcare Investors (NYSE:OHI), Digital Realty Trust (NYSE:DLR), Equity Lifestyle Properties (NYSE:ELS), Senior Housing Property Trust (NYSE:SNH), and Dynex Capital (NYSE:DX).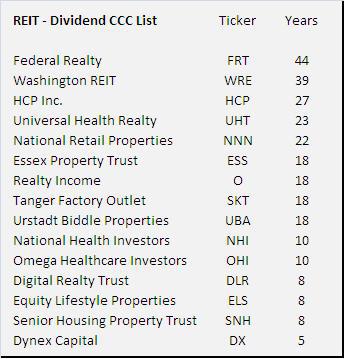 The most successful companies build their strategies on vivid and hardy forms of differentiation and for REIT investors skillful risk control is the benchmark that separates "the best from the rest". By controlling risk, all of the above-mentioned REITs were able to survive the Great Recession without cutting dividends. In addition, these skilled few REITs were able to manage the adverse conditions and intelligently grow dividends.
Legendary author and investor Ben Graham wrote, "successful investing is about managing risk, not avoiding it" and he explained that "the defensive investor must confine himself to the shares of important companies with a long record of profitable operations and in strong financial condition."
During the Great Recession many REITs were unable to sustain dividend payouts and the remarkable record of performance was interrupted. Because of the consumer impact related to housing and employment, the retail sector was hit especially hard. Most of the mall REITs cut dividends drastically and in December 2008 General Growth Properties (NYSE:GGP) filed bankruptcy (Chapter 11) after the share price fell 97 percent over the previous six months.
However, one mall REIT was able to freeze its dividend payout, without cutting it, and maintain its consistency of paying durable income. Great investing requires both generating returns but also controlling them and this "dividend angel" was able to recognize the risk - while also managing the critical mission of controlling it.
Taubman Centers Inc. (NYSE:TCO) was founded by A. Alford Taubman in 1950 and the retail landlord converted to a REIT in 1992. The Bloomfield Hills-based company has maintained a consistent cash payout history during the Great Recession and this exceptional track record for performance is worthy of its "frozen angel" status.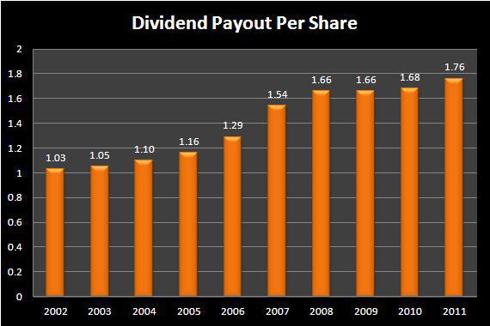 The Ingredients of a Frozen Angel
With over sixty years of experience, Taubman is considered a pioneer REIT. The company became the first publicly traded UPREIT in 1992, laying the groundwork for real estate companies in all sectors to access the public equity markets.
Taubman's 26 property portfolio (23 owned) is considered more of a "quality" than a "quantity" model. The $4.5 billion (market cap) REIT has the highest portfolio sales per square foot in the mall industry and that repeatable metric is a fundamental driver for the consistency in dividends paid.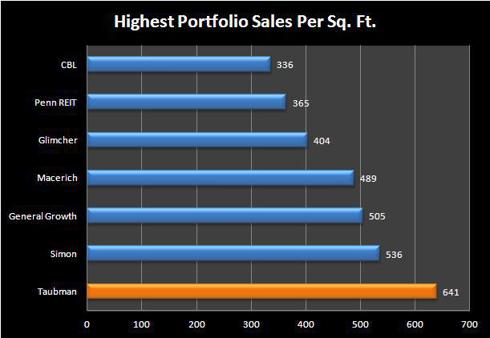 By combining tenant quality with demographics, Taubman has one of the highest overall quality portfolios in the mall sector. Taubman's strategy of securing the highest quality anchors provides superior drawing power and that differentiation is the primary reason that the REIT has reported eight straight quarters of double-digit sales per square foot increases.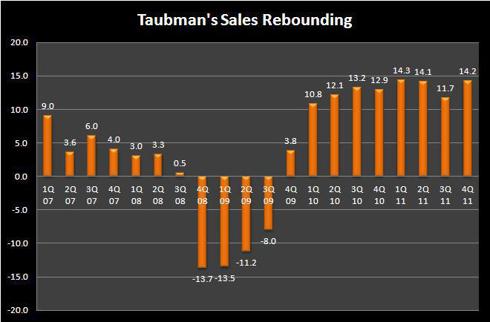 Taubman was one of a handful of U.S. REITs that were not forced to sell assets of raise equity in 2009 or 2010; consequently, the "angel freeze" REIT was able to avoid shareholder dilution. Taubman completed a $112 million equity offering in June 2011 that further enhanced the REIT's liquidity.
Because of prudent risk-management, Taubman has maintained healthy coverage ratios. As of December 31, 2011, the interest coverage ratio was 2.6x and the fixed charge coverage ratio was 2.1x. Consequently, Taubman has one of the most conservative leverage histories and its current debt to total market cap is 39 percent (as of December 31, 2011):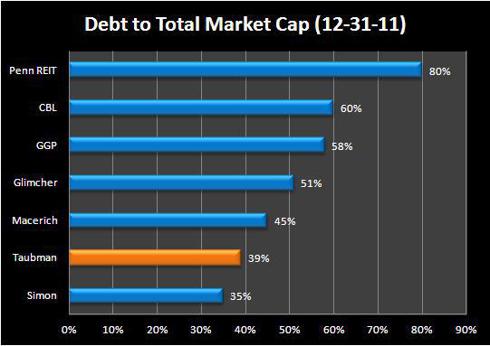 As further evidence of Taubman's sustainable revenue platform, the company recently (March 22, 2012) completed City Creek Center - a retail centerpiece and one of the nation's largest mixed-use projects - located in the heart of Salt Lake City. This unique shopping environment features a retractable glass roof, a creek that runs through the property, a pedestrian skybridge and more. This world-class fashion and dining destination offers over 90 stores and restaurants including Nordstrom (NYSE:JWN), Macy's (NYSE:M), Tiffany & Co. (NYSE:TIF), Michael Kors (NYSE:KORS), Coach (NYSE:COH), and Texas de Brazil Churrascaria, in a casual, pedestrian-friendly environment.
City Creek Center was developed under a lease structure with City Creek Reserve, Inc., an affiliate of the LDS Church. The 20-acre project is projected to produce a return of 11-12 percent with Taubman investing around $76 million. The highly accretive transaction was 92 percent leased (at the end of 2011) and Taubman's latest project (City Creek) is indicative of the depth of experience in recruiting premier tenants to extraordinary retail destinations.
Taubman - A Brand Worth Considering
As we all have learned (especially in real estate), risk is inescapable. So when you boil it all down it is the investor's job to intelligently bear risk for profit. In this case of Taubman, the consistency in dividends paid is a true indication that the "angel" REIT has acquired the necessary "traces of wisdom" to intelligently control risk for profit. As noted earlier, the first bite at the apple (dividends) is the anchor to a sustainable income portfolio.
Alternatively, the second "bite of the apple" is capital appreciation and total returns can make or break the mark of being a superlative performer. Taubman again leads the MALL sector with one of the highest ten-year total returns and the strength of the dividend and capital growth consistency is illustrated in the snapshot below: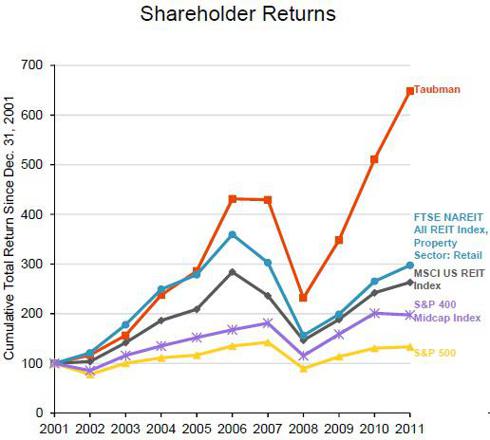 As Ben Graham wrote in The Intelligent Investor,
One of the most persuasive tests of high-quality is an uninterrupted record of dividend payments going back over many years. We think that a record of continuous dividend payments for the last 20 years or more is an important plus factor in the company's quality rating.
Taubman Centers was the only mall REIT not to reduce dividends in 2009 and the company has never reduced its dividend since the IPO in 1992 (20 years in a row). This sound revenue platform is distinguished by a high-quality tenant mix and exceptional risk-management fundamentals. The stock just hit its 52-week high and is trading at $77.48 per share. The dividend yield is 2.5 percent.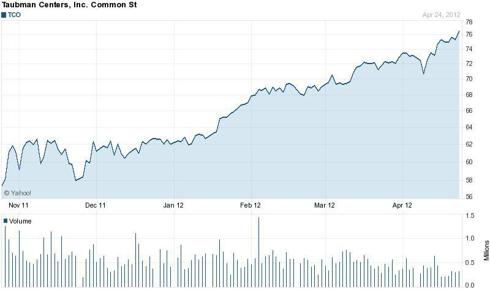 By investing in a "frozen angel" REIT you should consider yourself fortunate as the uninterrupted record of dividend payments is the difference between the "best" and the "rest". Taubman's angelic risk-averse model of consistency is the essence of a SWAN (sleep well at night) investment strategy - one that delivers sound yield and sustainable growth.
Disclosure: I have no positions in any stocks mentioned, and no plans to initiate any positions within the next 72 hours.