The E-Mini S&P 500 climbed higher on the Federal Open Market Committee rhetoric along with Apple's (NASDAQ:AAPL) stock surge. US Durable Goods report showed a decrease of 4.2% while expectations were more for a negative 1.7%. This report encompasses small appliances to aircraft and was disappointing after the increase of 2.4% in February. The decrease may have been attributed to a 12.5% decrease in bookings for transportation equipment.
Boeing (NYSE:BA) had a decrease of 237 orders from the February reading to 53 orders for aircraft. Without taking into account transportation, the orders decreased by 1.1% after the 1.9% increase in February. Friday's Gross Domestic Product is forecast at 2.5% while the fourth quarter of 2011 expansion was at 3.0%. The US jobless rate has decreased to 8.2%.
The Fed saw the US economy growing by 2.2% - 2.7% last January. Apple ignited confidence in the earnings reports as their quarterly profits almost doubled. Apple stock was up 8.9 % to $610.00. Earnings from the 200 companies reporting so far that make up the S&P 500, show 75% of them exceeding expectations.
The Fed purchased about $2.3 trillion in government and mortgage bonds as part of their "Operation Twist". The Treasury has been well received with its $35 billion in five-year T-Notes. The Treasury sold $35 billion of two-year notes Tuesday and will sell $29 billion in the seven-year notes Wednesday. The Federal Open Market Committee convened Wednesday with an, as expected stance.
Federal Reserve Chairman Ben Bernanke mentioned that the US central bank would not hesitate to initiate another round of bond buying "if necessary". Further, he stated that interest-rates should remain unchanged until late 2014. The Fed also increased its US economic growth forecast for 2012, but lowered it for the following two-years. They regarded the US economy as expanding moderately.
On the stock side: JP Morgan Chase and Co. (NYSE:JPM) was down 0.28 % to $43.26. Citigroup Inc. (NYSE:C) was up 0.78 % to $33.67. Bank of America (NYSE:BAC) was up 0.61 % to $8.24. Alcoa Inc. (NYSE:AA) was up 1.66 % to $9.81. Boeing Co. (BA) was up 5.29 % to $77.05. Caterpillar Inc. (NYSE:CAT) was down 4.58 % to $103.69. General Electric Co. (NYSE:GE) was down 0.46 % to $19.48. Halliburton Co. (NYSE:HAL) was up 0.48 % to $33.50. Hewlett Packard Co. (NYSE:HPQ) was up 1.60 % to $24.77. SPDR Select Sector Fund - Financial (NYSEARCA:XLF) was up 0.85 % to $15.38.
E- Mini S&P 500 Chart.
(click to enlarge)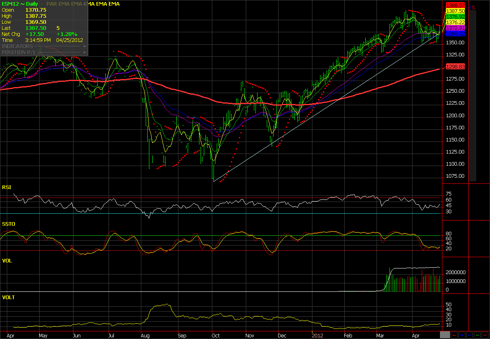 Click to enlarge
Thursday, what to expect: We maintain a bullish bias unless the E-Mini S&P 500 penetrates $1354.00. Today, we anticipate an inside to higher day. Wednesday's range was $1387.75 - $1369.50. The market settled at $1387.50. Our comfort zone or point of control for this market is $1380.50. Our anticipated range for Thursday's trading is $1395.50 - $1372.50.
Disclosure: I have no positions in any stocks mentioned, and no plans to initiate any positions within the next 72 hours.