Canada supplies more oil and gas to the United States than any other foreign nation, but Canada has more gas than it supplies to the United States. Several Canadian oil and gas companies have come under intense selling pressure over the last few weeks. Some pressure is a result of a bottleneck issue, with pipelines to the United States already at or near capacity, and regulatory hurdles making pipeline expansion difficult. Another key issue is that many Canadian energy equities contain significant natural gas exposure, with gas prices falling to historical lows.
The present apparent bottoming process for natural gas and the recent U.S. government's denial of the keystone pipeline made many investors exit positions in Canadian oil & gas equities that would be expected to benefit from greater pipe capacity and higher gas prices. Pipelines take time to build and alternative plans take time to prepare, so it may take a while for certain capacity issues to be resolved.
Additionally, because the Canadian dollar is primarily natural resource-backed, the Canadian dollar has come under weakness versus the U.S. dollar over the last several quarters, since oil and gold peaked last year. Nonetheless, the Canadian dollar continues to trade at or near parity with the U.S. dollar, a historically strong valuation, and many may now feel that these commodities and the Canadian dollar are due for additional declines.
All this has resulted in an atrocious recent performance for my multiple Canadian oil & gas equities. In particular by those that provide high yields, many of which investors have deemed likely to be cut due to natural gas prices. Still, as many savvy investors are fond of saying, the time to buy is when there is blood in the streets, and shares of multiple Canadian energy equities have fallen into a sea of red recently.
Below is a recent performance table for six high yield Canadian oil and gas equities that trade within the United States (listed in alphabetical order): Baytex Energy Corp. (NYSE:BTE), Cenovus Energy Inc. (NYSE:CVE), Enbridge Inc. (NYSE:ENB), Enerplus Corporation (NYSE:ERF), Pengrowth Energy Corporation (NYSE:PGH) and Penn West Petroleum Ltd. (NYSE:PWE). I have included their one-week, one-month and 2012-to-date equity performance rates, as well as their current yields.
(Click to enlarge)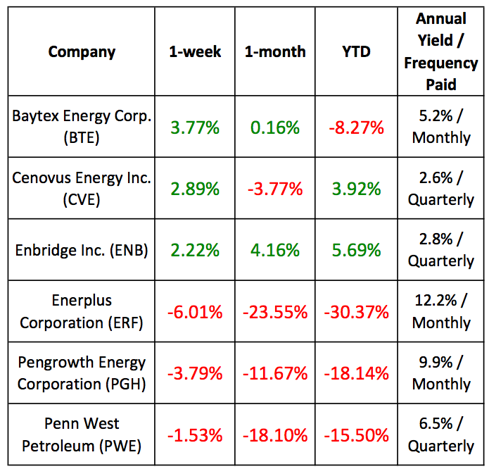 Click to enlarge
And below is a 2012-to-date share performance comparison chart for the six above-mentioned Canadian petroleum producers:
(Click to enlarge)

Click to enlarge
In the last month, the above-listed equities averaged a decline of 8.8%, and the group now averages a decline of 10.45% since the start of the 2012. These performance rates do not include dividends paid, which are substantial for several of these companies. These companies all provide above-average dividends compared to the broader market, and an average annualized yield of about 6.5%.
Natural gas prices have trended lower for years, with new technology increasing gas supplies far faster than demand growth for gas. Most Canadian oil and gas equities followed oil and gas price fluctuations, and haven't changed their dividend policies in several quarters. Recent low gas prices have caused some investors to question the sustainability of several of these lofty dividends.
So far this year, the higher yielding equities of those listed have generally underperformed the lesser yielding equities. The highest yielding listed equity, Enerplus (ERF), is the worst performer year-to-date, with the second highest yielder, Pengrowth Energy (PGH), being the second worst performer. The same essentially holds true for all of these companies, with the exception of the two lowest yielding equities, Cenovus (CVE) and Enbridge (ENB), which are also the only two that are positive so far this year.
On April 12, PGH reported its monthly dividend, which it did maintain at 7 cents, where it has kept its monthly payout since the Fourth Quarter of 2009. On April 18, ERF held an analyst day where the company indicated that, provided natural gas prices stay where they are and/or the company sees no material change to production or revenue through a strategic sale or venture, the present dividend would likely not be sustainable through the end of 2013. ERF refrained from providing any shorter-term guidance. The company is expected to announce its May dividend on April 30, or next Monday.
Many may argue that a dividend cut has already been priced into these equities, given their significant declines. Of course, whether this current level equals a bottom is certainly up for debate, given that such cuts have not yet occurred.
Over time, it is expected that a growing amount of both oil and gas might find its way to western Canada for export to China, but such transfers take time, as a pipeline build-out can be expensive and slow. Also, an additional Canadian pipeline to the U.S. could become a key issue of political debate during this election year, potentially helping to push through the previously denied Keystone pipeline, or perhaps a less controversial pipeline compromise. Either such announcement would be a major boon for many Canadian energy companies.
Disclosure: I am long PGH.
Disclaimer: This article is intended to be informative and should not be construed as personalized advice as it does not take into account your specific situation or objectives.