Breakout Inevitable - EUR/USD Consolidating
Will the Euro break out or break down? The current consolidation pattern of the EUR/USD provides only two options. A deciding factor for this directional thrust could hinge upon the coming French election next month.
Francois Hollande, French presidential candidate, won the first round of the election with 27% of the vote. This is the first time an incumbent has come in second in a French presidential election, which forces a run-off. Hollande's potential nomination could pose an immediate threat to the value of the Euro, as he is not planning on ratifying the European agreement pushed by Germany to tighten budget rules.
The outcome of this election could be the straw that brakes the camels back. There is already enough unrest in the EU to weaken investor confidence.
Indicators on watch this week
EUR German Consumer Price Index (Thursday)
Euro-Zone Economic Confidence (Thursday)
Euro-Zone Industrial Confidence (Thursday)
Euro-Zone Service Confidence (Thursday)
EUR German GFK Consumer Confidence Survey (Friday)
Technical Insights
On the daily chart, the EUR lost strength against the USD from September 2011 to January of 2012, inevitably due to the economic unrest that is present in the EU. In mid January the pair hit a pivot point and began a trend reversal that could sustain itself depending on how this trend breaks after consolidating.
(click to enlarge charts)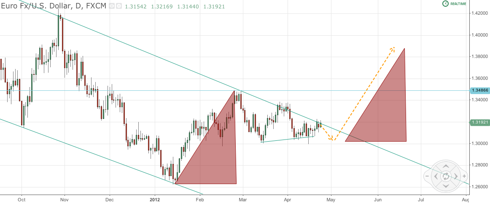 Click to enlarge
My projection is that IF the Euro can break through the trend line (as noted below), this pair will climb just south of $1.3855, which would be approximately a 7%, increase yielding over 860 pips. This would obviously indicate that investor confidence has temporarily returned.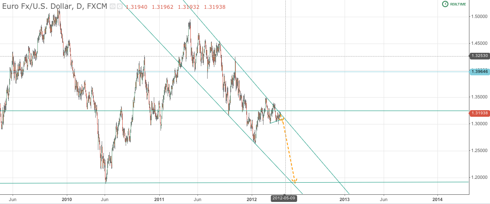 Click to enlarge
If the pair does not break through this trend line then I am projecting that the downward spiral could very well continue through the $1.20 level which would be an 8% regression that would yield 987 pips.
We should have a general idea regarding the overall direction of the Euro once the outcome of the French election has been decided upon.
Disclosure: I have no positions in any stocks mentioned, and no plans to initiate any positions within the next 72 hours.